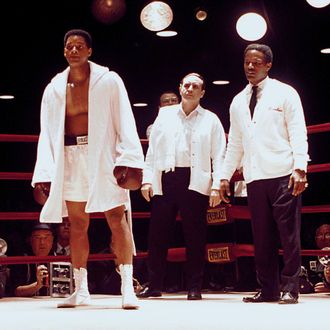 At the beginning of (and during) every month, Hulu adds new movies and TV shows to its library. Below, you'll find our recommendations for March 2017. For more comprehensive coverage of the best titles available on Hulu and elsewhere, check out Vulture's What to Stream Now hub, which is updated throughout the month.
Because you need more Antonio Banderas in your life: Once Upon a Time in Mexico
Robert Rodriguez's finale to his Mexico Trilogy of films following El Mariachi's bloody path of vengeance is a case study in ridiculous, yet masterful, escalation. Once Upon a Time in Mexico turns what was a small but violent revenge story into a tale of revolution, a riff on Les Miserables that also happens to star Johnny Depp and Enrique Iglesias. It's B-movie that manages to feel like the biggest blockbuster, an absurd spectacle that never never stops feeling so damn cool. Available August 1.
Because the champ is here: Ali
The best biopics don't bother trying to adapt their subjects' entire lives, but rather hone in on definitive moments. Ali, Michael Mann's film about the greatest boxer of all time, chooses a fascinating window of time to depict in its hero's life: The period where Ali, having converted to Islam and dodged the draft, was banned from fighting and stopped being the greatest fighter of all time. With a remarkably transformed Will Smith in the lead — who manages to both remain recognizable in his Will Smith-ness while also disappearing into the role — Ali methodically takes us down the road to Ali's return an older, slower boxer on the journey to win his title back in the Rumble in the Jungle against George Foreman. Available August 1.
For a quick fix of smart comedy: Better Things
It was easy to miss Better Things when it premiered. Arriving in a crowded fall TV season that included groundbreaking shows like Atlanta and crowd-pleasing juggernauts like This Is Us, Pamela Adlon's comedy gem flew under the radar during most of its first season. Co-created by Adlon and Louis C.K., and partially based on Adlon's life, Better Things stars Adlon as Sam Fox, a divorced woman with three children trying to juggle both parenthood and her acting career. If you're into Louie and Atlanta, you owe it to yourself to check Better Things out. Available August 15.
Noteworthy selections in bold.
Available August 1
The Bachelorette: The Men Tell All Special
Ali
Among Friends
Arthur
As Good As It Gets
Bad Boys
Bad News Bears
Bad Company
Benny & Joon
The Big Chill
Bill & Ted's Bogus Journey
Bill & Ted's Excellent Adventure
Bloodsport
Box of Moonlight
Breakdown
Center Stage
Center Stage: On Pointe
Center Stage: Turn it Up
Charley One-Eye
Charlotte's Web
Clue
Clueless
Coming to America
Criminal Law
Cujo
Dead Gamers
The Dead Zone
Delta Force
Eve's Bayou
Far From Home
Final Fantasy VII: Advent Children
Final Fantasy: The Spirits Within
Finding Forrester
The Foot Fist Way
Friends and Lovers
The General's Daughter
Get Rich or Die Tryin'
Ghost
Hannie Caulder
Harlem Nights
Harsh Times
Hey Arnold! The Movie
High Noon
Higher Learning
Honey, I Shrunk the Kids
The Italian Job
Mars Attacks!
Men in Black II
The Mod Squad
New in Town
Once Bitten
Once Upon a Time in Mexico
Paycheck
Puppetmaster: Axis Termination
The Pursuit of D. B. Cooper
Rachel Getting Married
Reds
Sahara
Saving Private Ryan
Saw
Saw II
Saw III
Saw IV
Saw V
Sleepy Hollow
Spider-Man
Spider-Man 2
The Swan Princess and the Secret of the Castle
The Swan Princess
Teen Witch
Teen Wolf
Teen Wolf Too
Terry Factor: Live in Concert
The Toy
Ulee's Gold
Vanilla Sky
Wayne's World 2
Available August 2
CMA Fest 2017: Special (ABC)
Cup of Culture
Valkyrie
Available August 5
Billy on the Street: Complete Season 5
Hacker
Available August 6
Mosquito
Available August 7
You're the Worst: Complete Season 3
Available August 8
Difficult People: Season 3 Premiere
Earth Live!: Special (National Geographic)
Available August 9
Tall Men
Available August 11
We Bare Bears: Complete Season 2 (Cartoon Network)
Available August 15
Bachelor in Paradise: Season 4 Premiere (ABC)
Better Things: Complete Season 1
Beneath
Felony
Hamlet
Invasion U.S.A.
It Takes Two
Ladybugs
Love Story
Missing in Action
Missing in Action 2: The Beginning
Narc
Next
The Prince and Me
The Ruins
Sabrina
Universal Soldier
Yours, Mine and Ours
Available August 16
Regular Show: Complete Season 8
Available August 17
Marlon: Series Premiere (NBC)
Available August 18
Mary Kills People: Complete Season 1 (Lifetime)
Stan Against Evil: Complete Season 1 (IFC)
Available August 19
My Bloody Valentine (2009)
Available August 20
In Secret
Available August 21
Air Bound
Available August 27
Florence Foster Jenkins
Available August 29
Gimme Shelter