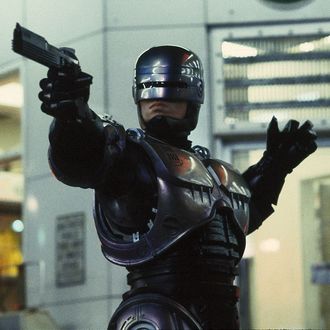 At the beginning of (and during) each month, Hulu adds new movies and TV shows to its library. Below, you'll find our September 2017 recommendations along with a full list of new titles. For more comprehensive coverage of the best movies and TV shows available on Hulu and elsewhere, check out Vulture's What to Stream Now hub, which is updated throughout the month.
Because it really does hold up: Robocop (1987)
It's funny how, if you haven't seen it in a long time, Robocop just looks like another exercise in '80s action-movie excess. That's a testament to how sharp its criticisms are and how biting its satire is: Robocop is a condemnation of excess: in corporate overreach, economic largesse, sensational media, and capitalism taken to its logical end. Robocop is the action movie that saw the future, even as it showed it to us in the bloody death and rebirth of beat cop Alex Murphy. It's stunning how relevant it is today, and uncomfortable how close to home its barbs still hit. Arrives September 1.
If you like white-knuckle thrillers: I Saw the Devil
I Saw the Devil starts where most revenge films end: after a woman is brutally murdered by a deranged man, her fiancé, Korean National Intelligence Service agent Kim Soo-hyun, vows revenge. Instead of killing or arresting him, though, Kim plants a tracker on him, and vows to haunt his fiancée's killer and torment him for every further crime he tries to commit. What results is a thrilling and disturbing twist on the cat-and-mouse game you won't soon forget. Available September 27.
For a one-of-a-kind vampire movie: Let the Right One In
Hollywood has sort of shied away from vampires and that's kind of a shame. After the YA-fueled late-aughts peak of dreamboat vampires, few films have bothered approaching them, even as they remained ripe for reinvention. Let the Right One In was proof of this opportunity: The 2008 Swedish film based on the novel of the same name tells the story of Oskar, a lonely, bullied boy in 1980s Stockholm, who befriends Eli, a lonely girl who is secretly a vampire. Equal parts chilling, warm, and thematically rich, Let the Right One In achieves much in its restraint, including carefully orchestrated moments of horror. Arrives September 9.
Available September 1
Keeping Up With the Kardashians: Complete Season 13 (E!)
A River Runs Through It
Addams Family Values
The Addams Family
Akeelah and the Bee
American Loser
An Inconvenient Truth
And You Thought Your Parents Were Weird
Autopsy
Barnyard
Batman
Batman Returns
Best Seller
Bio-Dome
The Black Stallion
The Blue Lagoon
Butterfly Effect 3: Revelations
Carrie (1976)
Contact
The Cove
The Cup
Dances With Wolves
Dare Not Walk Alone
The Dark Half
Disturbing Behavior
Dead Hands Dig Deep
Defiance
Down to Earth
Dr. Strange
Dying Breed
Eternity: The Movie
Fools Rush In
Fright Night (2011)
The Golden Child
Gridiron Heroes
Harriet the Spy
History of Jazz: Oxygen for the Ears
Hitch
Home Sweet Hell
Indecent Proposal
Invasion of the Body Snatchers (1956)
The Invincible Iron Man
Kama Sutra: A Tale of Love
Kill Me, Deadly
L.A. Twister
Lars and the Real Girl
Last Chance Harvey
The Last Godfather
The Levenger Tapes
The Loved Ones
Mad Hot Ballroom
Man About Town
The Men Who Stare at Goats
Mistress
The Monster Squad
My Girl
My Girl 2
Nacho Libre
The Neverending Story
The Object of Beauty
Offspring
Ordinary People
Outbreak
The Pelican Brief
Planet Hulk
Poseidon
Princess Kaiulani
Pumpkinhead
The Rage – Carrie 2
Red Garters
Remember the Goal
Return to the Blue Lagoon
River's Edge
Robocop (1987)
Robocop 2
Sanctuary
Secretary
Shooter
The Silence of the Lambs
Silent Hill
Sinbad: Beyond the Veil of Mists
Sleepover
Spring Broke
Something to Talk About
Stomp the Yard
Surfer, Dude
Switchback
Tiger Raid
Thor: Tales of Asgard
Ultimate Avengers: The Movie
Ultimate Avengers 2
Ultraviolet
Walking Tall
You Got Served
You Got Served: Beat the World
Available September 2
Adventure Time: Complete Season 8 (Cartoon Network)
Ben-Hur
Freaky Friday (1977)
Freaky Friday (2003)
Available September 3
The Eye
Available September 5
The Emperor's New Groove
Insatiable: The Homaro Cantu Story
Lilo & Stitch
The Lodge
Returning Citizens
Survivor
Available September 6
Crash (2005)
Available September 7
Total Bellas: Season 2 Premiere (E!)
Burden
Available September 9
The Magnificent Seven (2016)
Available September 11
The Orville: Series Premiere (FOX)
Top of the Lake: China Girl (Sundance TV)
Available September 12
The Mindy Project: Season 6 Premiere (Hulu)
Filth
Available September 13
Anomaly
Once Upon a Time in Shanghai
Available September 14
South Park: Complete Season 21 (Comedy Central)
Robo-Dog: Airborne
Available September 15
Good Behavior: Complete Season 1 (TNT)
An American Werewolf in London
Child of God
Endless Love
The Lookalike
The Road Within
Skating to New York
The Thaw
These Final Hours
The Women of Brewster Place
Available September 16
Tyler Perry's Madea Goes to Jail
Available September 19
Straight/Curve: Challenging the Beauty
Available September 20
Pirates
Available September 21
The Commune
Food Evolution
Available September 22
Doc McStuffins: Complete Season 4 (Disney Jr.)
Interview With a Hitman
Kiki
Killers
McCanick
Sword of Vengeance
Vengeance of an Assassin
Available September 23
Grey's Anatomy: Season 13 Premiere (ABC)
Your Pretty Face Is Going to Hell: Complete Season 3 (Adult Swim)
Available September 25
Miles From Tomorrowland: Complete Season 2 (Disney Jr.)
Power: Complete Season 3 (Starz)
The Double
Available September 26
The Brave: Series Premiere (NBC)
The Voice: Season 13 Premiere (NBC)
Available September 27
Brooklyn Nine-Nine: Season 5 Premiere (FOX)
Law & Order True Crime: The Menendez Murders: Series Premiere (NBC)
Lethal Weapon: Season 2 Premiere (FOX)
The Mick: Season 2 Premiere (FOX)
This Is Us: Season 2 Premiere (NBC)
The ABC's of Death
Frankie & Alice
Hammer of the Gods
I Saw the Devil
Kiss of the Damned
Let the Right One In
Splinter
Survival of the Dead
V/H/S
V/H/S 2
Available September 28
Chicago P.D.: Season 5 Premiere (NBC)
Empire: Season 4 Premiere (FOX)
Law & Order: Special Victims Unit: Season 19 Premiere (NBC)
Star: Season 2 Premiere (FOX)
Dance Flick
Available September 29
Family Matters: Complete Series
Full House: Complete Series
Hangin' With Mr. Cooper: Complete Series
Perfect Strangers: Complete Series
Step By Step: Complete Series
Chicago Fire: Season 6 Premiere (NBC)
Ghosted: Series Premiere (FOX)
The Good Place: Season 2 Premiere (NBC)
Gotham: Season 4 Premiere (FOX)
Great News: Season 2 Premiere (NBC)
Superstore: Season 3 Premiere (NBC)
Will & Grace: Season 9 Premiere (NBC)
Available September 30
Hell's Kitchen: Season 17 Premiere (FOX)
The Evil in Us
Once Upon a Time in Venice