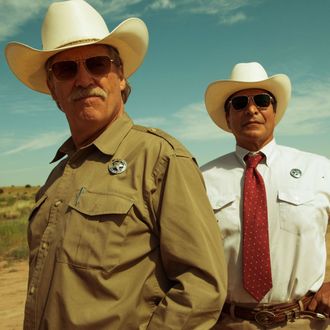 At the beginning of (and during) every month, Showtime adds new movies and TV shows to its library. Below, you'll find our recommendations for August 2017. For more comprehensive coverage of the best titles available on Showtime and elsewhere, check out Vulture's What to Stream Now hub, which is updated throughout the month.
If you're a Chris Pine fan: Hell or High Water
Thanks to Wonder Woman, Chris Pine is back in the running for Hollywood's Best Chris. Although his first Star Trek movie was plenty to go on, some may have needed more convincing. Late last summer, that convincing arrived in the form of Hell or High Water, a modern Western about two brothers who rob banks to save their homes. Pine delivers a great performance as a morally troubled criminal, as does Ben Foster, who plays his far-less-reluctant brother. A fantastic film that's secretly one of the best of 2016. Available August 5.
Because the meme is funny, but the movie is terrifying: The Babadook
One of the weirdest things about 2017 is how much time we've spent laughing about the Babadook. Maybe that'll make it easier to watch the actual film, because holy crap, is it nightmare-inducing. Taut, tense, and displaying an incredible level of depth with surprising economy, The Babadook is a modern horror classic, one that takes something you think you've seen before — a young mother and her son haunted by a creature that springs from a storybook — and instead delivers a thoughtful, cathartic story about loss and grief. Available August 1.
For your next stand-up fix: Tiffany Haddish: She Ready! From the Hood to Hollywood
Sometimes stars align to give us wonderful moments of serendipity. Tiffany Haddish, the breakout star of Girls Trip, is getting her own stand-up special on Showtime this month, and the timing is impeccable. If you liked Girls Trip, you'll want to check this out. Available August 18.
Noteworthy selections in bold.
Available August 1
The Babadook
Comet
The Parent Trap
Bicentennial Man
Billy Elliot
Available August 4
Max Steel
Available August 5
Hell or High Water
Available August 6
Ray Donovan Season 5 premiere
Available August 11
The Recruit
Available August 18
Tiffany Haddish: She Ready! From the Hood to Hollywood
Available August 20
Dice Season 2 premiere
Episodes Season 5 premiere
Available August 25
Whitney Houston: Can I Be Me?