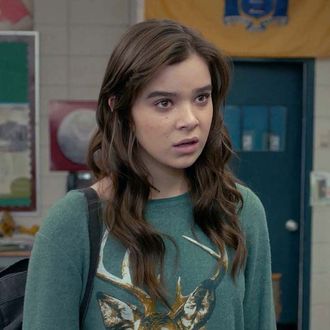 At the beginning of (and during) each month, Showtime adds new movies and TV shows to its library. Below, you'll find our September 2017 recommendations along with a full list of new titles. For more comprehensive coverage of the best movies and TV shows available on Showtime and elsewhere, check out Vulture's What to Stream Now hub, which is updated throughout the month.
If you're looking for a great teen comedy: The Edge of Seventeen
When done well, there's nothing like a good coming-of-age film, especially when they're as straightforward and frank as The Edge of Seventeen. Vulture's own Jackson McHenry said it best: "The film's hero, Nadine, is recovering from the death of her father, and as played by the 19-year-old Hailee Steinfeld, she's bitter, distant, and ultimately enthralling. It would be a breakout performance for any other actress, except that Steinfeld is already an Oscar nominee who, as many young stars seem to these days, moonlights as a pop star. And sure, the music is fine, but The Edge of Seventeen is proof that we really, really need Hailee Steinfeld to keep being a movie star." Available September 16.
Because Daniel Day-Lewis is retiring: Gangs of New York
In retrospect, Gangs of New York is a strange movie. Ambitious and sprawling but still extremely accessible, Martin Scorsese's 19th-century period epic is a straight-faced and earnest film with a brutality that walks just right up to kitschy. Even though it's one of the pulpier of Scorsese's films, it's still riveting and tremendously rewarding to rewatch, in large part thanks to Daniel Day-Lewis's scene-stealing, larger-than-life portrayal of Bill the Butcher, who was and remains a complete joy to watch. Let's hope he rethinks that whole retirement thing. Available September 1.
If you're a fan of Tim Burton–Johnny Depp team-ups: Sweeney Todd: The Demon Barber of Fleet Street
October is still a ways out, but there's nothing wrong with spooking yourself when there's a chill in the air. Sweeney Todd is one of the better film adaptations of a musical, and a lot of it comes down to aesthetics. This film does not hold back on the promised spectacle of its violent Gothic revenge-singing. Rivers of blood flow, and Johnny Depp tries his best to sing, and the whole thing comes together surprisingly well, even though it probably shouldn't. Available September 1.
Available September 1
Gangs of New York
Jaws
James and the Giant Peach
Sweeney Todd: The Demon Barber of Fleet Street
No Man's Land
Notting Hill
Available September 5
A Season With Navy Football
Available September 8
Gary Owen: I Got My Associates
Available September 16
The Edge of Seventeen
Prince: Sign O' The Times