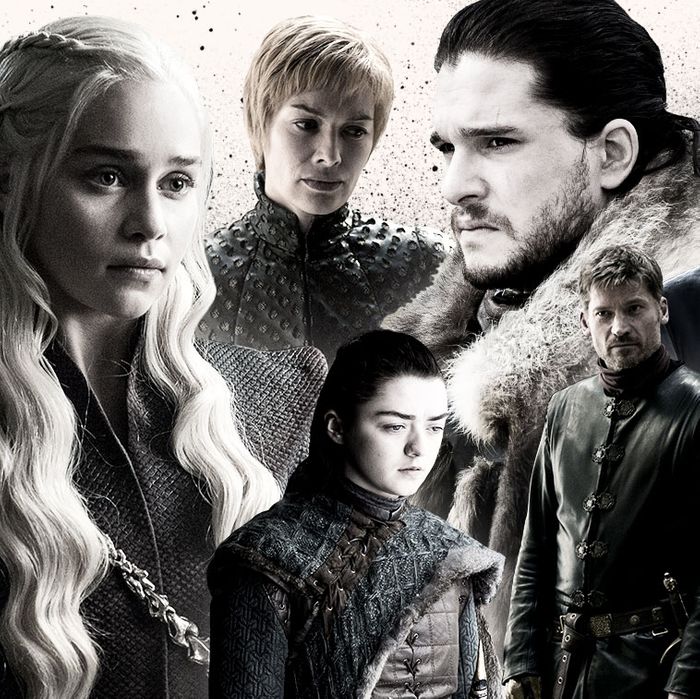 Photo-Illustration: Vulture and Photos by HBO
Next week is the final episode of the seventh season of Game of Thrones, which means there's just one more season of Westerosian intrigue remaining before television's most Zeitgeist-defining show makes way for the next wave of hugely ambitious, hugely expensive epics that will (try to) follow in its footsteps. It also means that, for the first time since 2011, the show's large ensemble cast — many of whom entered GOT as relative unknowns and will leave as household names — will be free agents.
While most of the series' primary actors have done other work during the eight-season run, that last episode will mark one of the toughest moments in any television actor's career: the need to redefine yourself beyond your trademark show. And not just that, but the need to redefine yourself beyond television — to make the leap into movies. Here, we break down what the future might hold for seven of the cast's major players, including veterans of film and relative newcomers alike. (Apologies to Alfie Allen, John Bradley, Liam Cunningham, Nathalie Emmanuel, Isaac Hempstead Wright, and a million others — if we took on every significant actor on the show, this piece would be longer than the series itself.)
Peter Dinklage
Peter Dinklage is almost certainly the show's biggest star, and arguably the one who had the most established reputation going in — he was best-known for his acclaimed turn in Tom McCarthy's The Station Agent, but he also had a long list of credits beyond that, including a run on Nip/Tuck, a memorable turn in Elf, and enough of a reputation to merit an appearance on Entourage as himself, which played on his status as an actor with dwarfism. And unlike the cases of many actors who spend years playing a beloved role, Tyrion Lannister is as inseparable from Dinklage as Dinklage is from Tyrion Lannister — it's nearly impossible, for a number of reasons, to imagine another actor having played that part. With the Sundance entry Rememory set to come out in September, Martin McDonagh's Three Billboards Outside Ebbing, Missouri following in November, and a rumored part in Avengers: Infinity War, Dinklage should continue to occupy star status — and, beyond that, be the kind of actor that writers write for specifically.
Nikolaj Coster-Waldau
While Nikolaj Coster-Waldau might seem as if he'd been living in Westeros all his life, he actually played the lead on a short-lived Fox series about an immortal homicide detective — a right of passage for every actor — back in 2008. Aside from that, he featured in Black Hawk Down, as well as some high-profile Scandinavian work, but his major forays into mainstream American films in recent years, Oblivion and Gods of Egypt, were both rough outings. That being said, his work this year bodes well for a future after Thrones: In Netflix's Small Crimes, he showed chops in a role very different from Jaime Lannister, and he's received good notices for another hard-boiled indie that just came out, Shot Caller. Coster-Waldau clearly has an appetite and an aptitude for gritty, intense character work, the kind of thing that keeps actors employed; the bigger question for his post-Thrones career is whether he can, or still wants to, carry a tentpole type of production.
Kit Harington
If there's any actor on Thrones who seemed to truly grow with the show, it's Kit Harington — his Jon Snow went from being a sad-sack outcast to arguably the series' most charismatic hero, and Harington the actor evolved with him. It doesn't hurt that he barely has any credits outside GOT, and none really worth speaking of aside from the solid period piece Testament of Youth and a genuinely funny, surprising turn opposite Andy Samberg in 7 Days in Hell. We won't have to wait long to get a sense of what Harington could do outside of the Night's Watch, however: He's starring in The Death and Life of John F. Donovan, the highly anticipated English-language debut from Cannes darling Xavier Dolan, alongside major actors like Jessica Chastain, Natalie Portman, and Susan Sarandon. If that film delivers on its immense promise, it could set Harington up as the kind of prestige-quality leading man that attracts the best filmmakers and roles in Hollywood — not to mention Oscar nominations.
Lena Headey
Like Peter Dinklage, Lena Headey's career existed well before her turn as Cersei Lannister — she starred as Sarah Connor in The Sarah Connor Chronicles and featured in movies like 300, The Purge, and Dredd. (Her first credit came all the way back in 1992.) As such, the continuing health of Headey's career after Thrones is in little doubt; the bigger question is what kind of career the versatile actor might pursue going forward. A role in Stephen Merchant's Fighting With My Family could be a good chance to remind audiences that she's as natural a comedic actor as she is a dramatic one, but based on the nuance, creativity, and capacity for narrative heavy lifting that she showed over eight seasons as Cersei, it seems like she should be a natural fit for plenty of prestige-TV roles going forward.
Emilia Clarke
The question of whether Emilia Clarke's stardom will continue after Game of Thrones has a very simple, two-word answer: Star Wars. While Clarke happens to be a part of the somewhat troubled Han Solo production, Rogue One showed that behind-the-scenes drama seems to fall away once Star Wars movies make it to the theater. At this point, fewer properties are more of a sure thing than Star Wars — aside from Game of Thrones, maybe — and that role should confirm Clarke's status among the likes of her soon-to-be counterparts Felicity Jones and Daisy Ridley. On top of that, Clarke showed her appeal in more emotional fare with last year's surprise hit Me Before You, making her a potential star across all quadrants — again calling to mind Jones, who seems to be on a similar path. While her leading turn in Terminator Genisys didn't exactly light the world on fire, it's hard to blame her for that, and the combination of Me Before You and future Star Wars glory seems like a far more accurate harbinger of what's to come.
Sophie Turner
For an actor who's just turned 21, Sophie Turner is in a remarkable situation — she has major roles in not just one, but two ongoing franchises, with her part as Jean Grey set to be a major element of the next X-Men movie, Dark Phoenix. Jean Grey will be a nice bridge out of GOT, and one with a similar blend of intensity and action, providing a convenient through line into the next stage of her career. The biggest question with Turner is what she looks like as an actor outside of massive action epics, a question that she'll have plenty of time to answer, but will likely define whether she can reach the same level of stardom as Clarke and fully differentiate herself from Sansa.
Maisie Williams
Maisie Williams was 14 when Game of Thrones premiered, and making her professional acting debut — and she'll be in her 20s when it wraps up, having spent the majority of her teenage years portraying the transformation of a young girl into a stone-cold killer. That's a fascinating start to any career, and it shows right off the bat that Williams can handle difficult, complex material. It also means that to date, it's basically the only work Williams has done, though she was lauded as the best part of the English teen movie iBoy. But Williams appears to have both the sensibility and opportunities necessary to make a clean transition out of GOT — with the most interesting example being her role in Mary Shelley, in which she'll co-star with Elle Fanning and Bel Powley. She'll also follow Turner into the X-Men world with the spinoff New Mutants, where she'll feature alongside Anya Taylor-Joy. Fanning, Powley, and Taylor-Joy all provide interesting examples of what Williams's career could look like beyond GOT — meaning, at the very least, she's got good taste in co-stars.