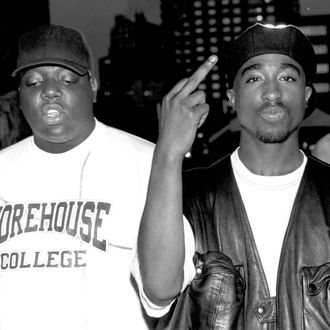 Biggie and Tupac.
Photo: Al Pereira/Getty Images
The recent 20th anniversary of Notorious B.I.G.'s death this past March seems to have piqued Hollywood's interest in the unsolved murders of both Biggie and Tupac. Fox announced today that the network will air a two-hour investigative special called Who Shot Biggie & Tupac led by Ice-T and Soledad O'Brien that "digs deep into the entangled murders of hip-hop's most legendary adversaries." The special promises new interviews with private investigators, police, hip-hop artists like Doug E Fresh and Funkmaster Flex, and even Suge Knight.
While the last year has seen a flood of true-crime specials about the murder of JonBenét Ramsey, it seems that creators who bank on selling true-crime stories have moved on to the latest hot topic: chronicling and investigating the deaths of two of the most influential rappers of all time. Perhaps it shouldn't come as a surprise, then, that the producers of Who Shot Biggie & Tupac also brought you last year's The Case Of: JonBenét Ramsey.
And the Biggie-Tupac true-crime bonanza is already in full swing: Besides the Fox special, there was the embattled biopic All Eyez on Me from earlier this year. A documentary authorized by Biggie's mother Voletta Wallace called Notorious B.I.G.: One More Chance was announced in February. A dramatic series called Unsolved: The Murders of Biggie and Tupac is in the works at USA, and it's based on the book Murder Rap: The Untold Story of Biggie Smalls & Tupac Shakur Murder Investigations by a former LAPD officer. In 2016, TBS even announced a comedy series being developed called Think B.I.G. that was inspired by Biggie lyrics.