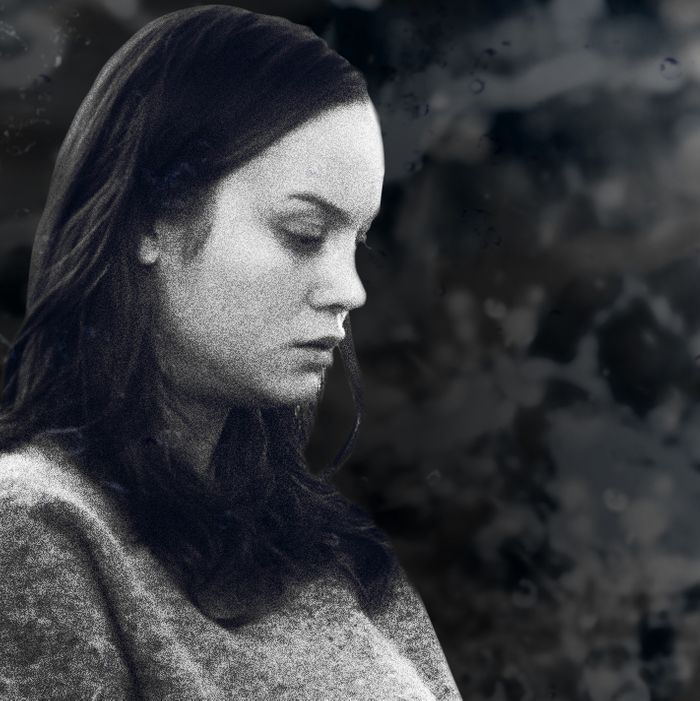 Photo-Illustration: Vulture
There are certain movie stars who, no matter how hard they try, can never fully disappear into their roles. Every Rooney Mara character has a hint of ethereality. Every Meryl Streep character seems just a little bit regal. Every Jennifer Lawrence character could, if worse came to worst, hunt and kill her own food. And every Brie Larson character is sad.
Partially, this is a matter of Larson's taste. Perhaps in reaction to her stint as a teenage pop star, Brie has gravitated toward weighter roles in recent years: She's trapped in an underground bunker in Room; she's confronting the worst aspects of the human condition in Short Term 12; she's confronting a drunk Woody Harrelson in The Glass Castle. But even in what appear to be her happier films — say, Kong: Skull Island or 21 Jump Street — there's a soft center of despair lurking just under Brie's crust. She's got stern eyebrows and an angular, graphic-novel chin, but her big eyes crumple easily, conveying bursts of dark emotion. Even her teen characters appear to be preoccupied by something just a little deeper. That she conveys convincing ennui even when listening to Amy Schumer discuss plaid dicks is a testament to her acting ability and her cool, distant California-girl thing (something she and Shailene Woodley share).
In honor of The Glass Castle, her latest Sad Brie Larson role, we've ranked all of her film appearances (alas, the ever-forgotten United States of Tara will have to go forgotten once again) according to their sadness quotient. We've excluded early Larson works Special Delivery and Madison, in which Larson plays, respectively, "Little Angel" and "Racing Girl No. 2" (both very sad IMDb credits, though), as well as Treatment, which never got a theatrical release (a very sad fact.)
22. Sleepover (2004)
The character: Liz Daniels, one of the popular-girl enemies of the film's main characters.
Sadness quotient: The role's pretty tiny, but Brie herself has fond feelings about the movie, so we'll put this on the happier side. Still, even at a young age, Larson was getting the sadder roles — Liz isn't the queen bee, she's down the chain of command, which as any good tween knows, is one of the most constricting places within the social hierarchy.
21. Kong: Skull Island (2017)
The character: Mason Weaver, a photojournalist.
Sadness quotient: As a film, Kong: Skull Island is depressing, especially if you think about it in terms of the way blockbuster and remake culture has overtaken the movie industry. As a character, Mason's not that depressing — she's a tribute to journalists, according to Brie herself — but still, Larson imbues her with a tragic love of nature, including Kong himself.
20. House Broken (2009)
The character: Suzy Decker, a ditzy cheerleader.
Sadness quotient: Outwardly very happy, inwardly probably furious that she has to spend all her time with Danny DeVito's two large adult sons. Look at her putting her glare to good use.
19. Greenberg (2010)
The character: Sara, Ben Stiller's niece who's in college and throws a party.
Sadness quotient: She's pretty happy — according to Stiller, too coddled and too happy. Damn millennials.
18. The Trouble With Bliss (2011)
The character: Stephanie, a high-school student dating Michael C. Hall.
Sadness quotient: Michael C. Hall's the sad one in this movie, though the fact Brie's a high-schooler dating Michael C. Hall is pretty damn sad.
17. 13 Going on 30 (2004)
The character: One of the "six chicks" that torture the teenage Jenna Rink (Brie's on the far right of the shot).
Sadness quotient: Anyone who does not end up with Mark Ruffalo at the end of a movie is a tragic character. Furthermore, notice how the other girls give young Jennifer Garner scowls, while Brie is more here to provide some condescending concern. Who hurt you, unidentified six chick?
16. Hoot (2006)
The character: Beatrice "the Bear," who helps Logan Lerman protect some owls.
Sadness quotient: She's got an intense, aggressive personality, and wait, is that a three-part pigtail? Definitely a cry for help.
15. Just Peck (2009)
The character: Emily Donaldson, a popular girl who befriends a nerd (her United States of Tara co-star Keir Gilchrist).
Sadness quotient: This is a case of Brie taking a fairly trite role and infusing it with some of that trademark sadness. Emily's got it all together, but she's hanging out with some dweeb? Something's not right.
14. Don Jon (2013)
The character: Monica Martello, Joseph Gordon-Levitt's sister.
Sadness quotient: Larson's mostly on her phone throughout the movie, but at least she's there to offer some cutting advice when Joe needs it. Brie nails disaffection like its second nature.
13. Remember the Daze (2007)
The character: Angie Ford, Amber Heard's sister.
Sadness quotient: She's got a very pink room with a giant horse poster, but really she's on the lookout for weed. Less sad, more sassy and melancholy — wouldn't you be if you were trapped in the suburbs?
12. The Gambler (2014)
The character: Amy, Mark Wahlberg's student who gets drawn into his gambling schemes.
Sadness quotient: This is a good case of a film knowing to cast Brie as someone who's both a little too competent and a little more vulnerable than you'd expect — again, consider the sharp face/soft eye combo. The Gambler also gets sadness points for the bleakness of this headline: Brie Larson: Why The Gambler Is Actually the Perfect Christmas Day Movie.
11. Tanner Hall (2009)
The character: Kate, a student at an all-girls boarding school.
Sadness quotient: Acting alongside queen of existential sadness Rooney Mara (who infamously led a trip to a college party while filming), Brie gets slotted into the role of the flirty friend in the movie's four-girl clique. Kate's got her sadness, and Brie gets to give her best broody looks alongside Rooney, which, when combined, are a lot more interesting than the fairly inert film.
10. Free Fire (2016)
The character: Justine, a woman involved in a gun deal gone wrong.
Sadness quotient: Justine doesn't have a whole lot of time to emote, since she spends most of the movie shooting people. That's depressing if you think guns have too much of a hold on the popular consciousness — and given the way Brie gets across that this character is sad as hell underneath her cool exterior, she knows it.
9. Rampart (2011)
The character: One of corrupt cop Woody Harrelson's two daughters.
Sadness quotient: She doesn't have a huge part in the film, but given that she has to deal with Woody Harrelson's terrible fathering (a trend in Larson's career, apparently), this role's pretty sad!
8. Digging for Fire (2015)
The character: Max, a free spirit who gets pulled into a group of adults who all want to excavate a portion of a backyard, and also find themselves.
Sadness quotient: Max is this movie's most obvious expression of the minor-but-persistent existential sadness present in all of Joe Swanberg's films. This quality is exaggerated by Brie's own ineffable melancholy. She's fine!, but when you really think about it … is she?
7. 21 Jump Street (2012)
The character: Molly, high-school student and Jonah Hill's age-inappropriate love interest.
Sadness quotient: Notwithstanding all the emotional confusion that comes with being a teen, Molly's pretty together, but the fact that she falls for a guy who's an undercover cop and then has to give him emotional support is extremely sad. Brie's ease with finding that underlying woe serves her particularly well here.
6. Scott Pilgrim vs. the World (2010)
The character: Envy Adams, lead singer of the Clash at Demonhead and Scott Pilgrim's ex.
Sadness quotient: Brie gets to relive her pop star days by performing in the movie, but she also has to deal with a guy who's still hung up on her, and who destroys her new boyfriend in a bass fight. Edgar Wright places Brie in a cooler-than-thou role, and yet, she still manages to conjure our sympathy for Envy.
5. The Spectacular Now (2013)
The character: Miles Teller's popular girlfriend Cassidy, who dumps him at the beginning of the movie.
Sadness quotient: Unlike Teller and Shailene Woodley's characters, Cassidy seems to have most of her life together. She's got some standard adolescent angst, but she's the most mature character of the bunch, and she gets the sweetest kiss-off lines. All the previous Sad-Yet-Popular Brie Larson Teens mature and congeal into one sad-yet-wise amalgam here.
4. Trainwreck (2015)
The character: Kim Townsend, married suburbanite sister of Amy Schumer.
Sadness quotient: Kim's married, and as she keeps telling Amy, happy to be married!!! But there's a very Larson-esque sadness lurking underneath, which comes out most strongly during her father's funeral. Her character isn't necessarily written as sad, and yet, there's this face.
3. The Glass Castle (2017)
The character: Jeannette Walls, who made it out relatively unscathed from her itinerant childhood, but still has to reckon with her tortured relationship with her drunk father as an adult.
Sadness quotient: The film ties up a lot of the drama from Walls's book with a neat bow, but there is still plenty of pain to be found underneath the 1980s shoulder pads. Naturally, Larson mines it expertly, using her death/despair stare to its full potential. Still, we can get sadder!
2. Short Term 12 (2013)
The character: Grace, the supervisor of a group home.
Sadness quotient: Very bleak. In addition to committing her life to helping troubled kids, Grace has a dark past of her own, and repressed emotional issues she must learn to work through over the course of the film. This is the movie that awakened us all to Brie's potential as an actress — specifically, one who will break your heart when her character's breaks. As this list clearly demonstrates, she'd been working toward that capability all along.
1. Room (2015)
The character: Ma, a woman trapped in a room with her son, continually abused by the man who kidnapped her.
Sadness quotient: In Room, Brie has chosen the most harrowing possible role. Her character must find courage to plot her way out of her literal hellhole and later, as she tries to adjust to life outside the Room, collapses in on herself. We're at peak Sad Brie here.