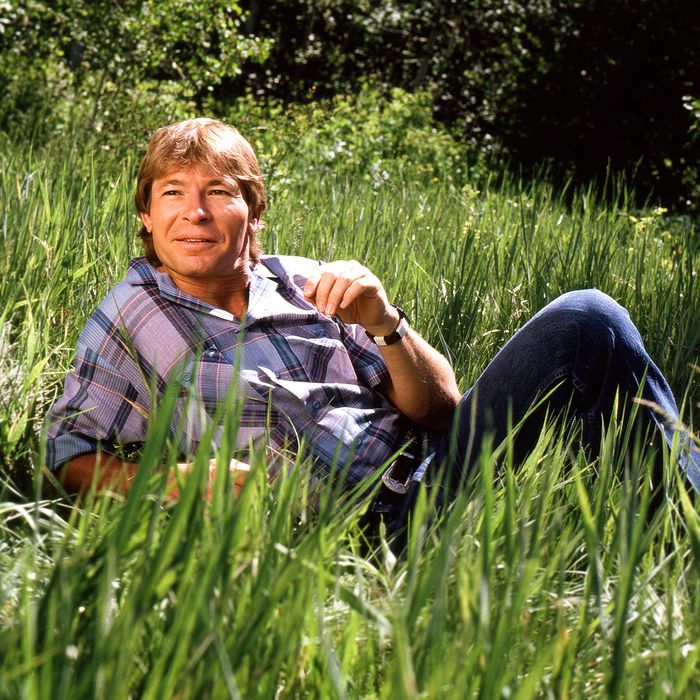 John Denver.
Photo: Deborah Feingold/Getty Images
"Music does bring people together," John Denver once said. "It allows us to experience the same emotions." A crop of this summer's films proves his point — and does so via his voice. Free Fire, Alien: Covenant, Okja, and Logan Lucky all prominently feature Denver's music ("Annie's Song" in Free Fire and Okja, and "Take Me Home, Country Roads" in Alien: Covenant and Logan Lucky), and it seems that the trend is extending into the fall, with the upcoming Kingsman sequel featuring a take on "Take Me Home, Country Roads," as well. On a surface level, these aren't films that ought to be connected; they span time and space and share precious little by way of plot or tone. But the fact that they all feature John Denver's voice suggests some deeper commonality, and a closer look indicates that his music is, quite literally, the heart of the matter.
Denver's popularity peaked in the 1970s with the success of 1971's Poems, Prayers, and Promises — the single "Take Me Home, Country Roads" in particular. But Amy Abrams, one of the managers of Denver's estate, confirmed in an interview with Vulture that there's been an uptick in "meaningful feature film requests" for Denver's music in the last few years, in part because those who loved Denver's music as kids are now adults able make those requests. "John Denver's songs were iconic to a generation, and have been passed down in the public consciousness," said Abrams. "It also helps that a lot of directors, producers, actors, editors, and music supervisors grew up fans and are now in powerful positions to sync the music they love."
Abrams also attributed the uptick to the estate's partnership with Kobalt (they were brought on in 2014, replacing BMG, and also represent artists such as Carly Rae Jepsen and the Red Hot Chili Peppers), in addition to making licensing a priority with their new team. To secure the rights to a Denver song, Abrams explained, the filmmakers must submit scene briefs. If they aren't clear enough as to how the music will be used and further questions don't clear the matter up, Denver's children and their business managers are consulted as well. What's most important, said Abrams, is that they remain in line with Denver's ideals: He's remembered as a philanthropist and humanitarian as much as he is a musician, and much of the content on his official web page is devoted to his messages of peace and compassion.
It's not surprising, then, that in each of these instances of its cinematic use, Denver's music seems to function as a musical shorthand, preaching empathy and working to provoke feelings of sentimentality in the audience. "Even if you don't identify as a John Denver fan, likely you still know the words to a John Denver song," said Abrams. "John had the power to reach millions of people with simple poetry about the most important things in their lives."
It's obvious why Logan Lucky passed the Denver test; it's one of the sweetest movies of the summer despite the fact that its main characters are (attempted) criminals. "Take Me Home, Country Roads" opens the movie, as Jimmy Logan (Channing Tatum) tells the story behind the song to his daughter Sadie (Farrah Mackenzie). He knows there's a certain artifice behind it (even though the song sings West Virginia's praises, two of the songwriters had never even been to the state before putting pen to paper) but he loves it nevertheless. "I like the song because of the song," he says. "I guess I also like because there's a story behind it." When the cue reappears towards the end of the film, it's in a sequence that encapsulates that sort of spirit: Jimmy goes right from robbing the Coca-Cola 600 to his daughter's beauty pageant, and when she sees him there, she abandons her practiced, "popular" routine to Rihanna's "Umbrella," and sings the song that means the most to her and her father.
The use of John Denver in Okja serves a similar purpose in tugging heartstrings. The movie centers on a young girl, Mija (Ahn Seo-hyun), and her deep love for her pet super-pig, Okja; the first act ends in havoc as Okja is chased by corporate villains hell-bent on turning her into super-pork, first through a tunnel and then through an underground shopping mall. As a gargantuan super-pig, neither space is big enough for her, so Okja shoves people aside and shatters objects as she runs. It all ends in a dreamy slow-motion sequence set to "Annie's Song." Director Bong Joon-ho said in an interview that, when they were children, his older brother had been obsessed with the song, playing it over and over again. Despite his annoyance with his brother at the time, the song still evoked feelings of nostalgia in Bong, to the point that, upon reaching the slow-motion sequence in the editing room, the song suddenly came to mind. "In the scene, you can see Okja pushing people and breaking things," Bong said of the scene. "But her intention is not to attack these people. What you see is the character who is most scared and the most fearful is Okja. It's an unintentional chaotic mess caused by a shy, introverted character who doesn't want this to happen." The song, which follows a chaotic, bouncy number in the score, immediately cues us into something more tender at work than the destruction we see onscreen.
When "Annie's Song" kicks in towards the end of Free Fire, which is set in Denver's heyday, it's over a much grimmer scene: An arms deal has gone wrong, with the last survivors of the fight struggling to stay alive. "It was […] the first image I had for the film," director Ben Wheatley said regarding the choice of music, "which was of a Chevy van driving in a circle inside an abandoned space and there's a guy [dying] in there and […] it's like, 'What's the most inappropriate track to play at that moment?'" It is indeed a jarring cue, but more importantly, the dissonance in tone is meant to underscore the futility of the violence that we've just seen play out — as in Okja, it prompts the audience to look past surface chaos and at the rawer emotions beyond. To quote Wheatley himself, "Why didn't they just make up and be friends?" And there's childhood sentimentality at work here, too: Wheatley said that he'd loved "Annie's Song" as a young boy, associating it with memories of his parents.
"Take Me Home, Country Roads" appears as just that — a memory — in Alien: Covenant. It's sung, via hologram, by Shaw, the doomed scientist played by Noomi Rapace in Prometheus. The song is her bid for somebody, anybody, to find her in the vast emptiness of space, and it's also a stark note of human feeling in a movie that proved to be startlingly nihilistic. One of Covenant and Prometheus's primary plot points is to do with the treatment of androids; we meet David (Michael Fassbender) in Prometheus, and learn in Covenant that his model was discontinued, and his successors were made less emotionally intelligent because they disturbed users too much (in a note of irony, we discover that, if anything, the adjustment has made the androids more prone to feeling). Indeed, in Prometheus, Shaw is the only one to treat David with kindness, and as a result she is the only human in the franchise he seems to regard with any respect or empathy.
The song is also an explicit piece of Americana in a story that couldn't be any further from Earth, in contrast to its use in Logan Lucky, which couldn't be more American if it tried. (It makes sense, in that capacity, that it will appear in Kingsman: The Golden Circle as well, as the sequel will introduce us to the American contingent of the superspy world.) The sense of longing for home is even more poignant as a result — it is, after all, Shaw's final plea to be saved — prompting the same pang of homesickness that runs through Free Fire, whose characters come from far and wide only to die in a little warehouse, as well as Okja, where the main struggle is not necessarily against corporate evil, but simply to get back home.
When final approval is given to use Denver's music, Abrams said, the hope is that it will bring new life to his work. More importantly, though, Denver's music serves as a reminder that the further afield we go — whether it's to a new venture, a new country, a new world entirely — and in the face of increasingly dire catastrophes, the more vital it is that we recall the importance of compassion.