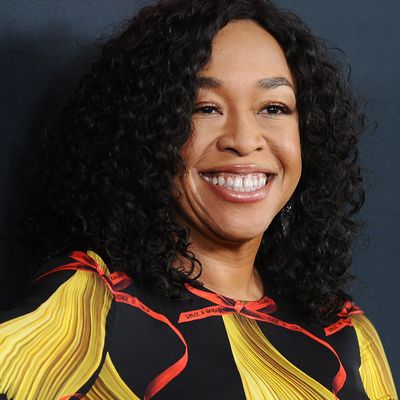 Shonda Rhimes.
Photo: Jason LaVeris/FilmMagic
For networks and their affiliated studios, finding a way to hold on to top-tier talent used to be a relatively simple proposition. Big producer threatening to jump to another company? Back up a Brinks truck. And if money alone wasn't the only concern, offer the talent more "creative freedom," usually by guaranteeing a certain number of "straight-to-series" projects so her ideas won't have to go through the usual (and often demoralizing) pilot process.
As important as both those factors remain in talent negotiations, Shonda Rhimes's just-announced decision to sign with Netflix and leave ABC/Disney points to a bleak new reality for old-school broadcasters trying to hold on to big names. For some Hollywood creatives, particularly those at the peak of their careers, offers of big bucks and promises of creative autonomy aren't enough to overcome the view that network television is now the least attractive medium in which to work. Rhimes didn't leave just leave ABC. She left network TV.
As financially lucrative as broadcast remains, the trade-offs seem increasingly not worth it for showrunners such as Rhimes, who chafe at its many downsides. Instead of making anywhere from 8 to 13 episodes per year, broadcast producers often have to churn out two dozen episodes each season. Content restrictions mandated by advertisers and the government give creators less storytelling freedom. Shorter and shorter episodic lengths, the result of networks trying to squeeze in even more commercials, mean stories often need to be rushed. Talking to The Wall Street Journal about her decision, Rhimes strongly hinted that these fundamental differences between making a show for a broadcaster and for a streamer such as Netflix drove her to depart. "I'm thrilled by the idea of a world where I'm not caught in the necessary grind of network television," she told the newspaper.
Keep in mind, Rhimes already had about as much creative freedom as any producer currently working in linear TV today enjoys. She had basically stopped taking most (if not all) notes from her bosses at the network and studio. Even after her drama The Catch had clearly failed to connect with audiences, ABC ordered a second season of the show and gave Rhimes time to overhaul the premise. (It still didn't work.) Still, even if her superstar status understandably forced ABC to give Rhimes more room to make shows the way she wanted to, she was still mostly making shows by network TV rules.
By contrast, streaming networks in general offer producers a completely different creative playground. Netflix lets Masters of None's Aziz Ansari and Alan Yang imagine a comedy in which every episode feels like a new, mini–independent film. Amazon gives Jill Soloway the freedom to tell a story like that at the heart of Transparent, an idea that wouldn't make it past the pitch stage at a broadcaster. And the all-episodes-at-once model pioneered by Netflix gives creators the opportunity to engage audiences in immersive viewing experiences designed to be digested over the course of a few days rather than via the relatively glacial pace of a weekly release. Linear networks such as HBO and FX obviously offer some of the same freedoms as a Netflix, and even broadcasters have pushed their own boundaries to allow for creative innovation (think ABC's own American Crime). A streamer like Netflix, however, offers all of these innovations, in addition to a global reach unmatched by linear networks and a deep, deep pocketbook with which to fund creators' visions.
For a few years now, the stark differences between the network and Netflix models of television have made it more difficult for broadcasters to attract top names. Networks struggle like never before to find interesting and well-known actors in their shows each pilot season because so many stars now want to work on streaming shows. As one exec told Vulture last year, "The talent wants to go to the fancy-schmancy new kids on the block." (And if a streaming series isn't an option, a premium or basic cable show often comes before broadcast these days.) The Rhimes deal shows how streaming fever may now be spreading beyond younger, fresher talent to creators who are already successful veterans in the network world.
While this is clearly a problem for broadcasters, particularly a struggling network such as ABC, it's also important to not assume it spells doom for linear TV. There are still plenty of talented producers willing — even eager — to work in a medium where even the least successful series reaches far more viewers than most cable shows and the likely audience for streaming shows. Plus, networks have proven time and again they're able to adapt to new threats. Basic cable was supposed to spell the end for broadcast; it didn't. HBO's late-1990s golden age (Sex and the City, The Sopranos) was seen by some as a sign great writers would never again work for one of the Big Four, but then some relative unknowns named J.J. Abrams, Damon Lindelof, Marc Cherry, and, yes, Shonda Rhimes created Lost, Desperate Housewives, and Grey's Anatomy, all of which premiered in the same 2004–05 season.
Things are far tougher for broadcasters than they were even ten years ago, of course. Younger viewers in particular have nearly given up watching scripted shows via linear television. Advertisers are moving their money elsewhere. But plenty of folks still do have a nightly TV habit, and like the Big Three automakers who've managed to (mostly) stay afloat despite decades of foreign threats, broadcasters have proven themselves exceedingly resourceful over the years. Pundits have predicted the death of network TV forever, but so far, network TV has always found a way to survive.