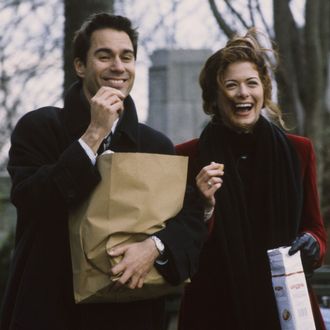 TV characters can't be happy!
Photo: Robert Gilberg/NBC via Getty Images
The Will & Grace finale skipped ahead into the future, revealing that Grace and Will had grown apart, gotten together with significant others, and had kids, which really doesn't make for very interesting television. So the writers of this fall's Will & Grace revival have decided to pretend that that finale never happened. When the series returns, Will and Grace will still be single and living together in their New York apartment, while Jack will still be across the hall, and Karen will live at her mansion. "We frankly did not want to see them being either good parents or bad parents," creator David Kohan told EW of the decision to cut out Will and Grace's families. "We wanted them to be Will and Grace." Perhaps we'll still see some reference to that finale as a dream sequence or shared delusion, because nobody in New York has a chance of escaping their somewhat toxic relationships with their close friends and settling down into stable romantic relationships anyway.