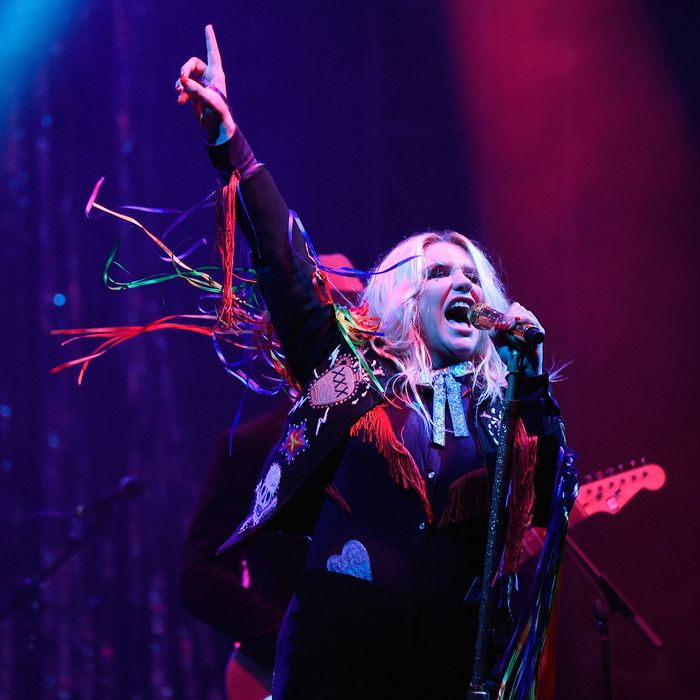 Kesha is not even close to free.
Photo: Kevin Mazur/Getty Images for Firefly
This week, Kesha is finally set to release the album she's long described as having become collateral damage in her fight against her former producer and boss Dr. Luke. Since 2014, the 30-year-old artist has been embroiled in a legal showdown with Luke (née Lukasz Gottwald) over allegations that he physically, sexually, and emotionally abused her throughout their professional relationship, which began when Kesha signed with Luke in 2005, after she had just turned 18.
Since filing her lawsuit, Kesha has been attempting to have her recording contract with Luke legally severed, but hit a wall in early 2016 when a New York judge denied her injunction to be released from her contract, or have it amended, on the grounds that Luke and Sony have permitted Kesha to record and release music without his direct involvement. The legal loss, now caught in appeals limbo, means that Kesha's upcoming third album, Rainbow (her first since 2012), will still be released on Luke's Kemosabe Records, a label he co-founded and ran as an imprint under Sony Music Entertainment since 2011 up until April of this year, when his contract expired and he stepped down as CEO.
Despite exiting as CEO of Kemosabe, Dr. Luke is said to still have ties to Sony, though the extent of their relationship is unknown. In a call with Vulture, a Sony representative says that the label does not talk about Dr. Luke, and declined to comment on the nature of his involvement with Rainbow. With days to go until the album's release, neither side will say if Dr. Luke maintains a financial stake in Rainbow, even after his split from Kemosabe. Vulture spoke with representatives for Kesha, Dr. Luke, Sony, and RCA Records (the Sony subsidiary distributing the album) who would not clarify whether Luke stands to pocket any money Kesha earns from Rainbow, or just how involved his various companies are behind the scenes. Questions about whether Kesha self-funded the album — which both Kesha and Sony claimed was the case prior to the album's recording — or its promotion, including the three music videos she's released so far and an upcoming tour, went unanswered.
It appears that even Kesha's collaborators have been left in the dark as well: A publicist for Ricky Reed told us they didn't have information on who owns the publishing rights for the songs he produced on the album, including "Learn to Let Go" and "Hymn," but would look into it. In the past, the publishing for Kesha's songs belonged to Luke's Prescription Songs, a company that's home to his army of in-house producers and songwriters. If the songs on Rainbow are still published under Prescription — and since Kesha has not legally been allowed to make any changes to her contract, they would be — Luke essentially owns them. That's likely the case for songs that were written as far back as 2014, one of which will reportedly appear on Rainbow.
Further complicating Kesha's ongoing quest for freedom is the deal she signed with Luke as a teenager, which put her both on Luke's Kasz Money (KMI) and Prescription Songs for a six-album deal, and then also Kemosabe when he brought her deal over to Sony in his separate agreement with the major label. For that reason, Sony has said it can't legally void her contract regardless of Luke's wishes because Kesha is not technically their artist; she's Luke's and only Luke's. (In 2015, Kesha added Sony to her original lawsuit for allegedly putting its female artists in "physical danger.") And since her album is still being released under that contract, Rainbow might be a mucky example of an accused abuser profiting from their alleged victim.
When asked if Dr. Luke had any creative or managerial involvement with the making of Rainbow, his rep told Vulture, "None of Kesha's music would have come out without the full support of Kemosabe and Dr. Luke, who is a joint venture owner of Kemosabe. Just to be clear, Luke has never wished for Kesha's music not to come out." However, Kesha's reps told the New York Times magazine last year that Luke was very much in executive control of the album: "Dr. Luke has insisted Sony's participation is just an 'accommodation' and has not denied that all decisions regarding the album are still being made by Dr. Luke." His chain of command extended well beyond the studio, too. When Luke was still heading Kemosabe, he even dictated Kesha's right to perform, once canceling her 2016 Billboard Music Awards performance only to then allow it under the condition that she could not use the show to talk about Luke or the lawsuit.
In a statement last year, Luke's lawyers tried to argue that it was Kesha preventing her music's release and not the other way around, as she alleged in court. According to people who worked on Rainbow, it was made on a low budget with little label support during early recording, though Luke's reps have previously said Kemosabe extended its resources to Kesha every step of the way since she started turning in new music last year on her own dime. They were also transparent at that time about who would financially benefit most from a new Kesha album: "It is in the economic best interest of the label and Mr. Gottwald to put out a top selling album, and that takes time." Just this past February, Luke alleged in court as part of his defamation countersuit that Kesha owes him and KMI $1.3 million in unpaid royalties, and reiterated the terms of her contract that he says entitles him to a cut of practically everything Kesha does, including even a percentage from sales using her name and likeness (tours, merch, etc.).
To date, Kesha is still the label's most successful and, therefore, profitable artist. With Kesha releasing an album under Luke's label, even if he's no longer its CEO, it would be an industry anomaly if Luke didn't profit from it — a point he'd be sure to bring to the court's attention if that was indeed the case.
Update, August 9: According to the New York Times' own investigation, lawyers for Dr. Luke say the producer made an exception in Kesha's contract that states he must produce at least six songs on any of her albums. Instead, for Rainbow, he will "pursue the equivalent producer royalties in court." Luke's lawyer also confirmed to the Times that Kesha was paid a "substantial recording advance" while Luke was still CEO of Kemosabe, per the terms of her contract, and that "it was a collaborative process, just like the making of a typical album." They claim Luke has not forbid Kesha from mentioning Luke in the album promotional cycle.
Update, August 11: With Kesha's Rainbow now out, its liner notes reveal more information about who owns each song's publishing rights. As expected, all words written by Kesha belong to a Dr. Luke property, however it's not specifically Prescription Songs. Instead, her lyrics are published through Dynamite Cop Music/Where Da Kasz At (BMI), another one of Luke's publishing companies that has also previously published Kesha's earlier work, in addition to Prescription, including her debut hit "Tik Tok." According to a court filing regarding a 2011 copyright lawsuit over claims that "Tik Tok" stole elements of Chrissy's "My Slushy," Prescription Songs does business as Where Da Kasz At. Read the rest of the album credits below.