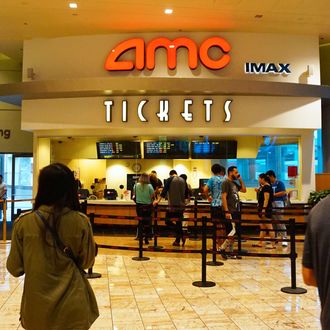 Photo: Frederic J. Brown/AFP/Getty Images
Finally, a solid reason to do the very European double-header of The Trip to Spain and Dunkirk without worrying about how much money you'll have to ration for popcorn. MoviePass, the subscription-based service from Netflix co-founder Mitch Lowe that prides itself on allowing cinephiles to see "all major movies" in "all major theaters" for a low monthly cost, has announced that its prices are now even lower, and we mean reaaally low: $9.95. In layman's terms, that means for just under $10 a month you can see an "unlimited" number of movies at any cinema near you, although the company clarifies that the maximum number of movies you can see per day is one. (Still, pretty amazing, huh? That's less than a single ticket in most cities.) Bloomberg notes that the previous per-month price of membership hovered around the $30 mark and that Lowe hopes the price drop will help revitalize the sluggish theater industry. Next up: PopcornPass. Think about it, Mitch!
Update, August 16: Because we can't have nice things, AMC Theatres is threatening to take legal action against MoviePass. In a statement to Variety, the theater chain referred to MoviePass as a "small fringe player" that "is not in the best interest of moviegoers, movie theatres and movie studios." AMC, which partnered with MoviePass in 2015 on an early test run of the service, says it's now looking into ways to legally prevent MoviePass from being used at its theaters — though the company says it doesn't oppose all subscription services — and questions the sustainability of the reduced price point. Lowe tells Variety he's worried AMC's comments will make MoviePass customers think they can't use the service at AMC locations, which he says they currently can.
In a new interview with Variety, Lowe says that, unlike AMC, other cinemas are open to accepting MoviePass: "We talked to the independents and the majors, the other two big guys [Regal and Cinemark] and they feel completely different. They all are taking a wait-and-see attitude, but they are positive about what we are doing. They welcome anybody who has figured out a way to get people back to the movies." He also notes that the only way AMC could block MoviePass at their theaters is to stop taking MasterCard, which MoviePass says it uses to pay full price for all the tickets it buys and Lowe claims AMC and its credit card processor agreed to accept. "I don't think you can cancel that agreement without severe penalties," he says. "I think it was all bluster. But this was the last thing we would have wanted for what we hope to be a partner."
Update, August 23: With news of its price drop, MoviePass has more subscribers than ever before. Per Deadline: "In the two-day period after the movie ticket subscription service announced a drop in price to $9.95 a month, it raised its sub level to more than 150,000, passing the target set for late 2018, according to data firm Helios and Matheson Analytics which agreed to buy MoviePass." Whether exhibition chains — including and especially AMC — will continue to do business directly with MoviePass remains to be seen, but H&M CEO Ted Farnsworth said the growth in subscriptions "reinforces our belief that we will disrupt the motion picture industry as we know it."