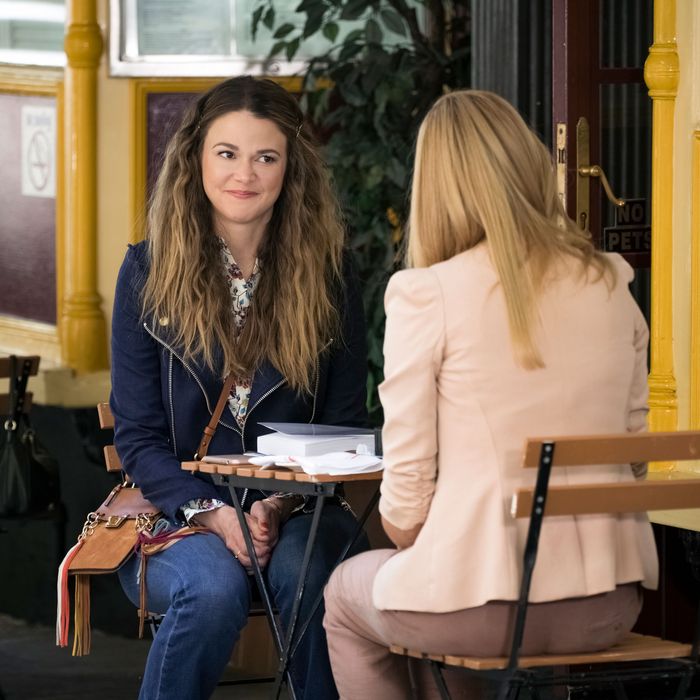 TV Land's Younger never shies away from friendly ribbing of the New York publishing industry. From its blatant send-up of George R.R. Martin's Game of Thrones series with Edward L.L. Moore's Crown of Kings and its H Is for Hawk homage in the award-winning P Is for Pigeon — not to mention its commentary on the unfair way romance novels are scoffed at — Younger likes to have fun with the world in which it lives.
This playfulness is definitely on display in this week's episode, which finds Foster's Liza at PitchFest, an event where amateur authors have the chance to pitch their book ideas to publishing houses. It's as terrible as it sounds: Liza is bombarded with stories about alien spider queens and Girl on the Train rip-offs (but she's on a bus!) before finally hearing a possible contender. Since anyone is allowed to pitch at PitchFest, Vulture decided toss its hat in the ring. Here're some book ideas we've been working on — and if there's any interest, Younger, you know where to find us.
Outsider
Remember the Alamo, they say. But all Anna Devec wants to do is forget it. When the history professor crosses a hidden tributary of the San Antonio River while chaperoning a school trip, she unwittingly steps out of 2017 and into 1836, at the height of the Texas Revolution. After coming to grips with the fact that this is not a dream, Anna attempts to blend in with her new surroundings using little more than her wits and extensive knowledge of the time period. But it's hard to blend in when you catch the eye of the charming, powerful frontiersman, Davy Crockett. Despite herself, Anna falls for the mysterious man in the raccoon hat, entering into a torrid love affair that she knows is doomed. With the fateful battle of the Alamo only weeks away, Anna is faced with one life-defining question: Does she preserve history, or her heart?
The Brunch
The story of two Brooklyn couples who come together one Saturday for a seemingly friendly meal. Over croque madames and bottomless mimosas, Barry, Graham, Simone, and Denys exchange platitudes in hopes of avoiding the real reason they've met this sunny New York afternoon. But not even the most elegant of breakfast burritos can keep their secrets buried: Eventually, they must confront the violent crime that ties them together and the darkness that hides within each of them. Also, the drink special only lasts two hours, so time is of the essence.
Teenage Love Triangles in a Dystopian World
Let's cut to the chase: The majority of YA novels may purport to be about stubborn teen girls trying to survive in or destroy the dystopian hellscape they inhabit, but they're really about love triangles. Let's give the people what they want! In Teenage Love Triangles in a Dystopian World, the love triangles are the way to survival. At the age of 18, all citizens of Ackweil are forced into the annual Match Making, where they are split into groups of three and given six months to figure out which pairing is true love and who is the chump left standing alone. In Ackweil, this isn't just a matter of the heart, but a matter of life and death: The reject is sent deep into the bowels of the Rejekt City to live out the rest of his or her days in dark seclusion. But what happens when our heroine Cady gets matched with her best friend Avon and her biggest crush Saxby? Will she choose friendship or the possibility of love? Will Avon sacrifice himself to give the girl of his dreams everything she wants? Will Saxby ever put on a shirt? TLTIADW is a thrilling new YA series that cuts to the core of the genre in an exciting, romantic, and age-appropriately sexy way.
Rejekt City (Teenage Love Triangles in a Dystopian World #2)
After Avon sacrifices himself so that Cady can guiltlessly select Saxby as her Ultimate Match, he is sent underground with the other castoffs to spend the rest of his life in Rejekt City. It's a sad, dark place where residents are subjected to eternal singledom, public therapy sessions, forced cat ownership, and Michael Bolton's "How Am I Supposed to Live Without You?" on a loop. When Avon stumbles upon a group of Rejekt rebels who aren't ready to settle for a life underground, he quickly moves up their ranks and leads the group on a trek to the surface. Little does Avon know that Cady has realized she made a mistake in letting Avon go, and will risk anything to get him back, even if it means challenging the mysterious Match Maker herself — a dangerous undertaking that no one in Ackweilian history has ever survived.
The Deadliest Catch … Is Love
Discovery's hit show The Deadliest Catch meets the next great erotic thriller. When Captain Jasper Willis takes his elite fishing crew out to the Bering Sea for crab season, he doesn't know that he'll be tested in ways he could never imagine. The men aboard the Falling Star catch a bounty of Alaskan king crabs bigger than ever before, but the celebration is premature when the ship is caught in a dangerous storm and left stranded at sea. With their catch going bad and their supplies running short, another fishing vessel passes by offering help. Quickly, Jasper realizes nothing is as it seems on the Outrigger. As his men start to disappear mysteriously, Jasper has to rely on the newest member of his own crew, the young deckhand Samuel. Together, Jasper and Samuel forge an unbreakable bond built on survival and an undeniable attraction. Their love will ultimately unlock the mystery of their strange would-be rescuers and lead them home.
The Bluebird
An epic bildungsroman written as an homage to Charles Dickens, The Bluebird follows Cornelius Dugan, a young boy orphaned when his parents die in a house fire, leaving him only with his mother's outdoor bird feeder to remember them. Neal struggles for most of his life, but when he discovers secrets about the original owner of the bird feeder — secrets his mother kept from everyone she loved — he's drawn into the underbelly of the bird-watching world. A world full of intrigue, heartbreak, and redemption await the down-on-his-luck orphan.