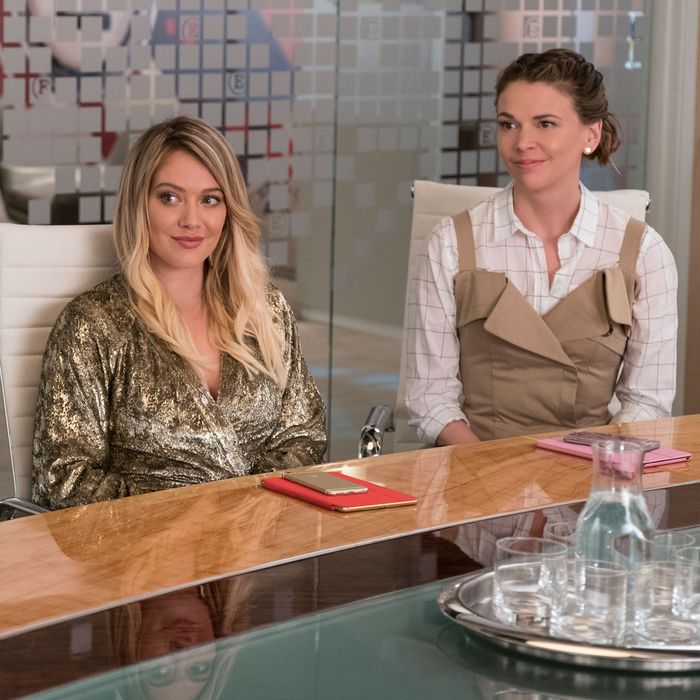 From left: Miriam Shor, Hilary Duff, Sutton Foster.
Photo: TVLand
Alongside the delightfully soapy book antics, juicy love triangles, and age-specific fibs, any fan of TV Land's Younger will be quick to tell you how utterly and completely fabulous the outfits are in every episode. Behold Liza's never-ending closet of eclectic youth looks! Drool at Diana's impeccably tailored dresses!
The show's costume designer, Jacqueline Demeterio — who works alongside fashion-industry vet Patricia Field — was nice enough to walk us through the season's most memorable looks for each leading lady, from the clothing right down to the accessories. Let's get to it!
Liza's look, Demeterio explains, frequently changes based on what's happening in the narrative. "At the beginning, when she's first lying about her age, her looks were intended to be over-styled and mixed with different trends," she says. "As time goes by, she starts to feel a bit more confident in her position at Empirical and posing as a 26-year-old. Some of the over-styling was stripped down slowly, and she started to wear some softer, bohemian, feminine pieces."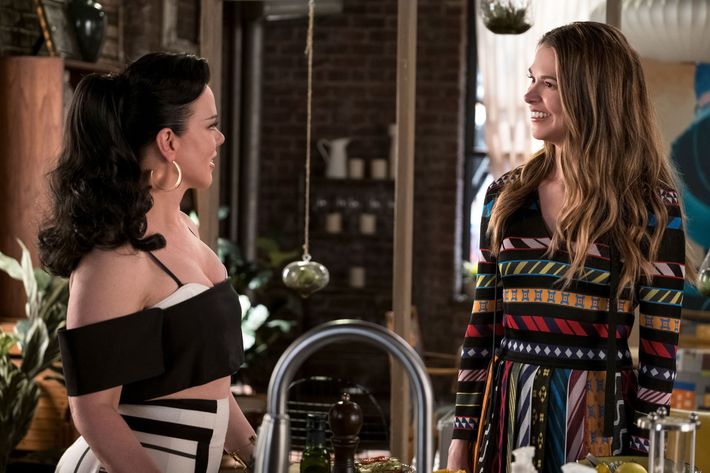 Mary Katrantzou tie dress
"This knit dress has a super-sophisticated fit and looks great on Liza's shape. I chose it because of the unique jacquard-knit tie design. It's a fun spin on an office look."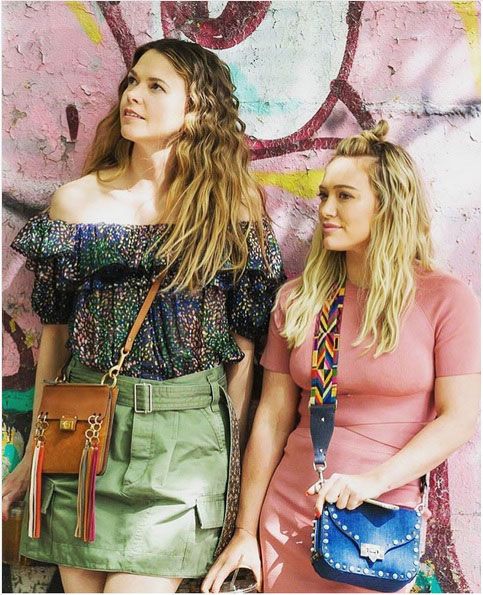 Chloé floral top and Marc Jacobs army skirt
"Once Liza has regained her friendship and trust with Kelsey, things are starting to move forward again and she's rebuilding her confidence. I love this flirty top and utilitarian army skirt together."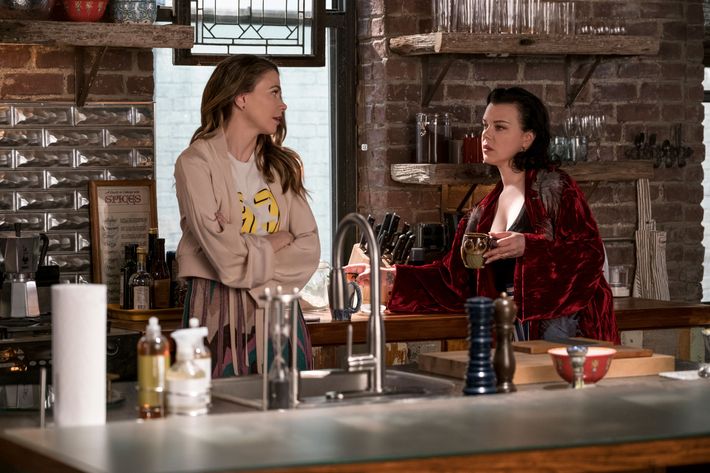 Baseball jacket, numbered T-shirt, and Missoni skirt
"We start the season off with this look which is a nod to the emotional confusion. The on-trend baseball jacket, graphic T-shirt, and a classic knit skirt with a longer hemline. She's back to mixing different elements and styles. Her two worlds are colliding again and this is a way of expressing that."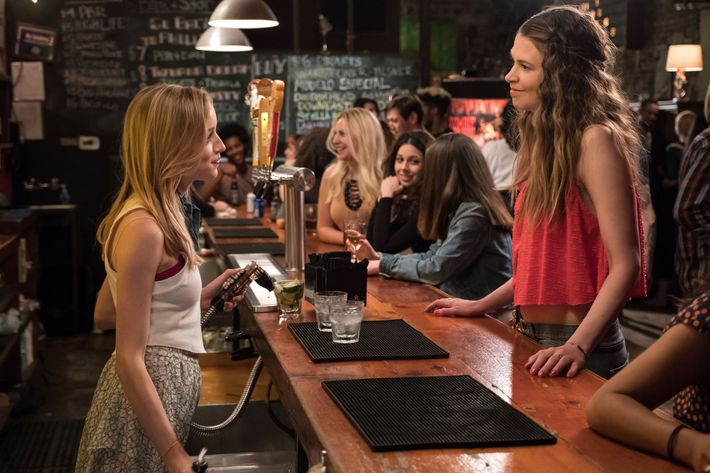 Red Iro top and jeans
"The simplicity of this cropped, red, flowy top and classic jean is very refreshing on Liza. It makes her look youthful and carefree. I feel as if the stripped-down feel goes a long way on her."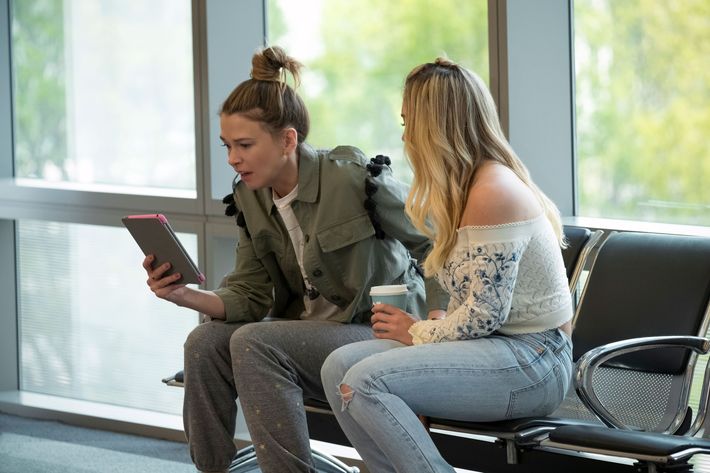 Zara jacket and sweats
"Here is another very played-down look on Liza that gives her a youthful appearance, even though in this scene she is supposed to have a killer hangover! This was a crucial and highly emotional scene between Kelsey and Liza and I didn't want her costume to overpower her. It was topped off with a trendy army jacket that seemed like an appropriate choice to take on a Vermont trip. It does have embellishment, but I felt as if the silhouette was played down enough."
Demeterio says she always chooses to dress Kelsey as a "highly driven young professional" with an array of statement-making pieces. The goal is an essential one: "All eyes are on her."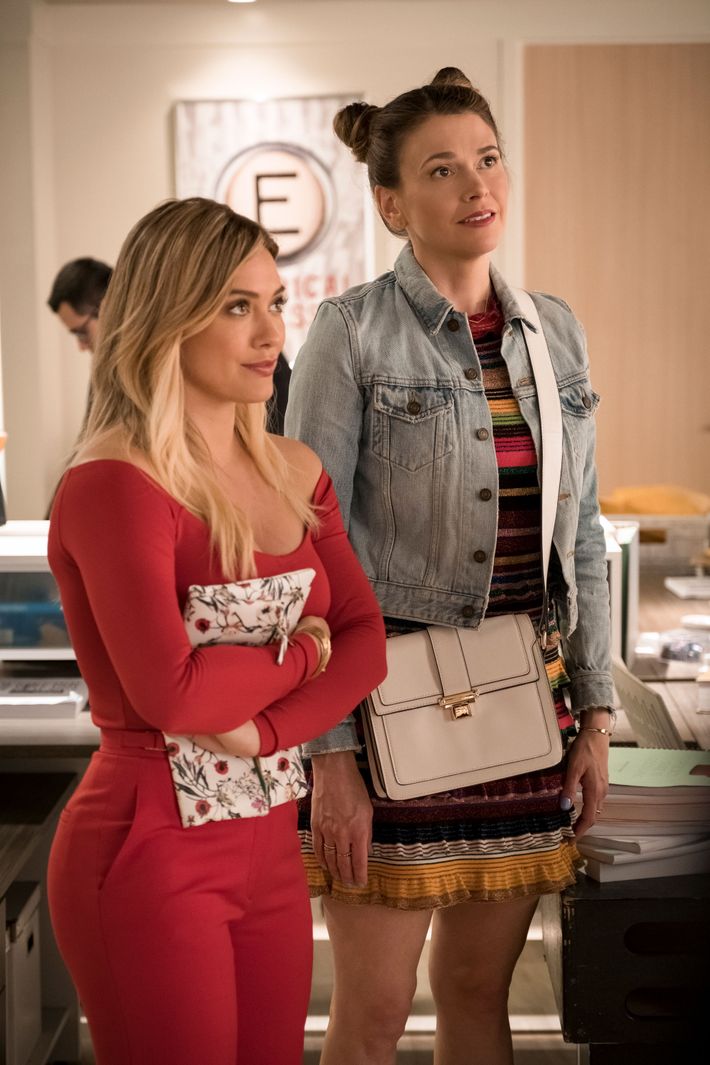 All-red Gabriela Hearst bodysuit and trouser
"This red monochromatic look is super-strong on this young boss lady. It exudes confidence and she has been playing a dangerous game with her new romance with competing editor Zane. I felt like it was a perfect choice for her exchanges with him."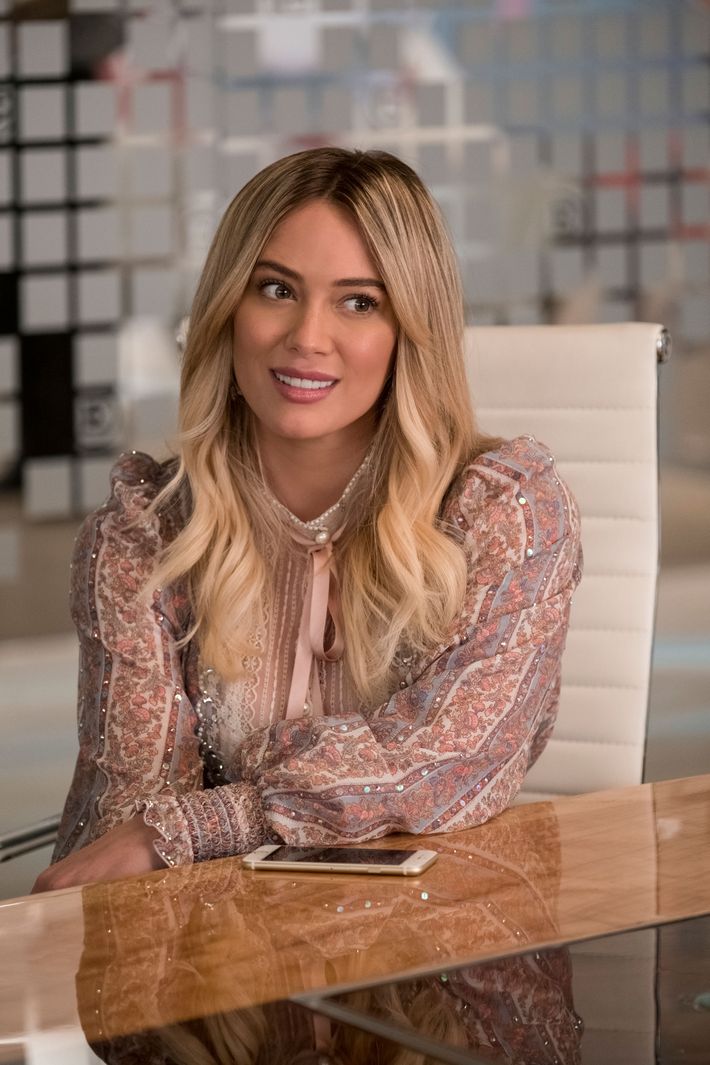 Marc Jacobs pink baby-doll dress
"This softer silhouette was a nice shift for Kelsey. Her wardrobe this season has been quite sophisticated and this feminine shape and muted color was so pretty with her blond hair and skin tone."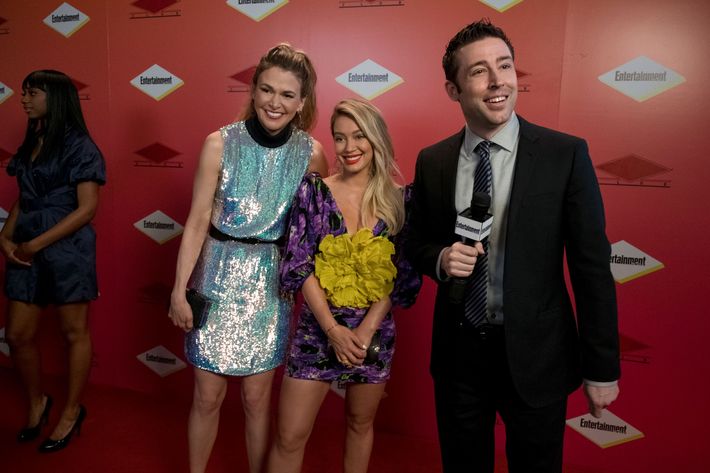 Gucci dress with yellow flower
"This is one of my favorite looks on Kelsey from season four! The shape complimented her curves and was so flattering on her. There was a question of removing the big yellow flower but we decided in the fitting that we should just go for it. This is definitely a 'let me show you how it's done' type of dress."
Younger's resident fabulous Brooklyn artist, Maggie gets a significant budget for even more fabulous coats.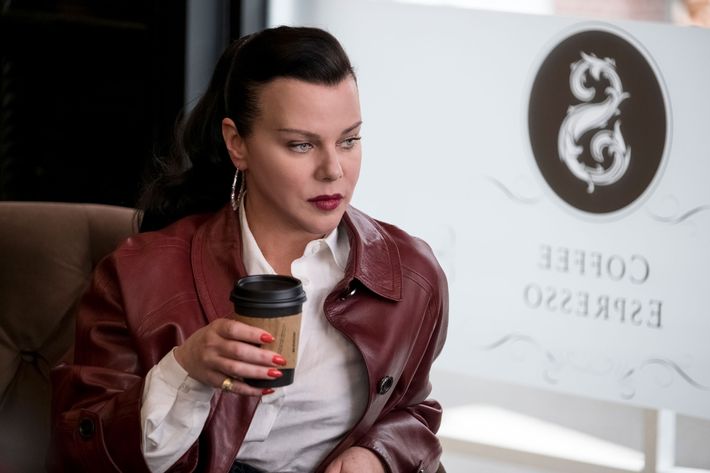 Vintage Hermès burgundy leather trench
"I love this vintage leather trench — especially the color! I like mixing these types of tough pieces into Maggie's wardrobe because she tends to have more glam hair and makeup looks. The two work against each other and I like when that happens."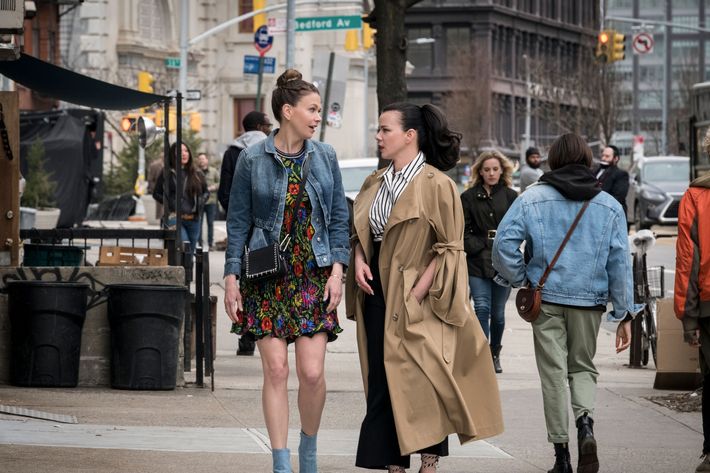 Alexander Wang black-and-white-striped top with trench
"I love to utilize coats on Debi. It gives her a great waistline and that extra sass that she's so good at shelling out! This particular trench had an exaggerated and interesting sleeve that I felt was something that Maggie, as an artist, would be drawn to. It was chosen for a 'walk and talk' on the streets of Brooklyn and I thought it was the perfect choice to be able to show it off. Her choices are bold and she has the perfect attitude to pull off these looks."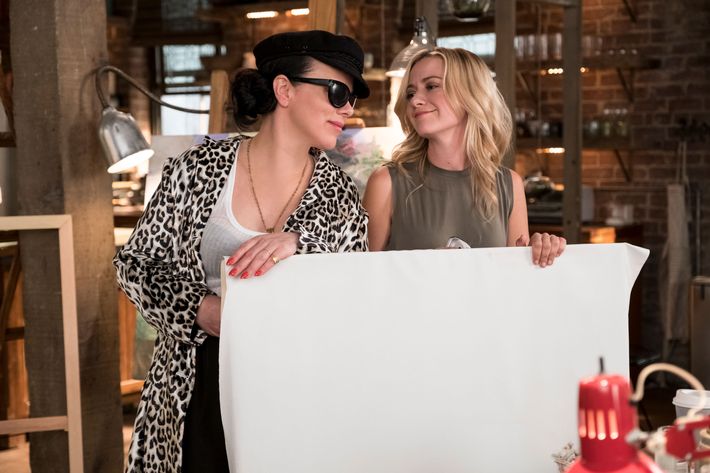 Leopard coat and tank top
"Another great coat. Leopard is so classic and you don't know if this coat is from the '80s or the current season. I thought about distressing the silk velvet so it had a worn look to it, but felt that maybe it would just happen naturally over time. Debi looks great in leopard, especially with her go-to red lip. This felt like a perfect all-nighter look."
As the HBIC at Empirical Press, Diana gets the VIP designer treatment.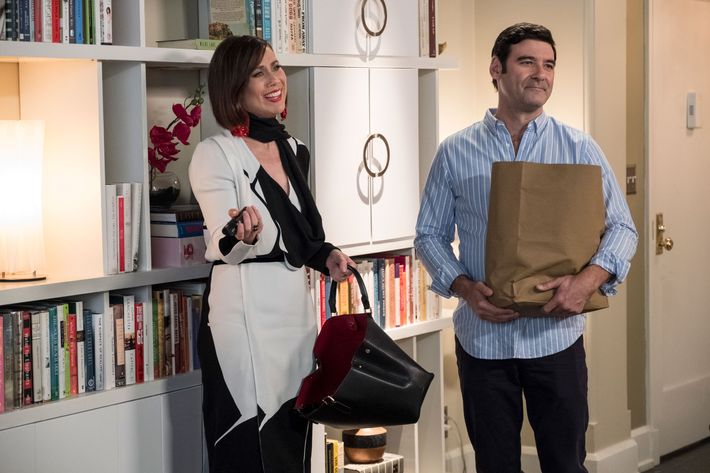 Black-and-white Tom Ford dress
"This is one of my favorite dresses from the season. It gives me the feeling of an '80s glam work dress; Diana has a very '80s sensibility in her workwear. She loves over-the-top accessories — the bigger the better, obviously! All of her clothes are expensive pieces from current designers, but they're still styled with these exaggerated statement necklaces. A lot of the jewelry is vintage, but a lot is also current season. When we created her character, we needed that major separation between Diana and the millennials. It was all done to be very over the top and was meant to be hyperreality. This particular Tom Ford dress is super-strong in shape and color, which includes the built-up shoulder and added cowl neck scarf detail. The red earring was chosen to add yet another strong color to the black-and-white ensemble."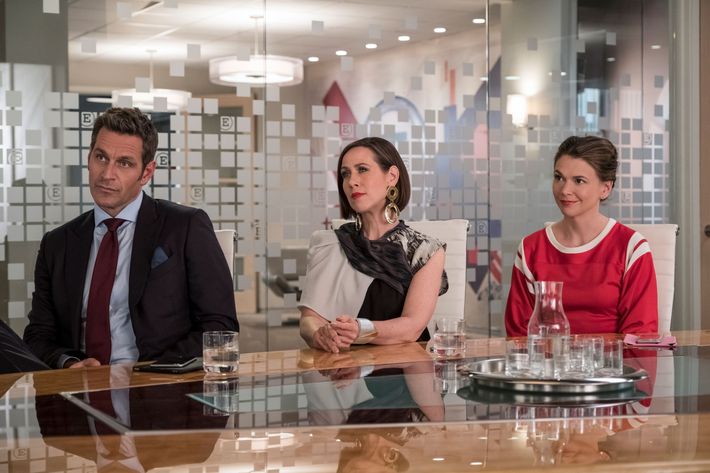 Rick Owens top
"This Rick Owens top has an architectural yet artsy feel to it. It's highly designed and so interesting and I thought it would be something that Diana would feel drawn to. I loved all of the detail, and in television you tend to lose a lot of the design in clothing because the shots are so quick. That's another reason why there's a higher level of this over-the-top feel with her wardrobe — so the audience can't miss it! How can you, with her choices?"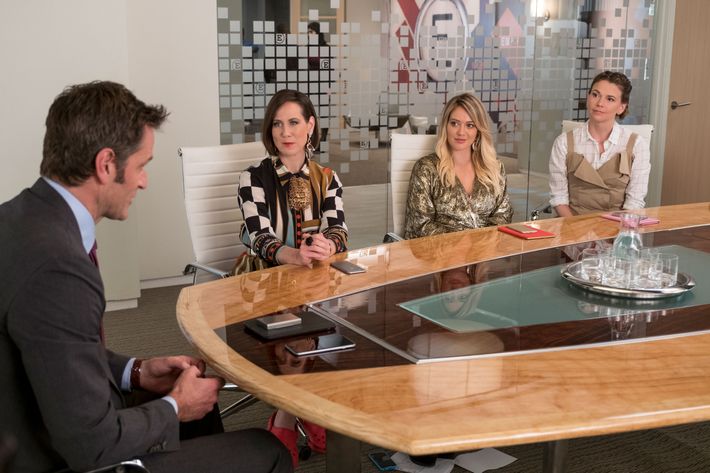 Etro printed dress
"I absolutely love this Etro dress, particularly because Miriam chose that necklace to go with it. It was actually a small change purse! When I arrived to her trailer she had it held up to her neck and I loved it! Anything goes with Diana."
Because Lauren works in the fashion PR industry, Demeterio says that she's naturally "fun" to dress, as evidenced by the character's lack of shyness with any particular pattern or color.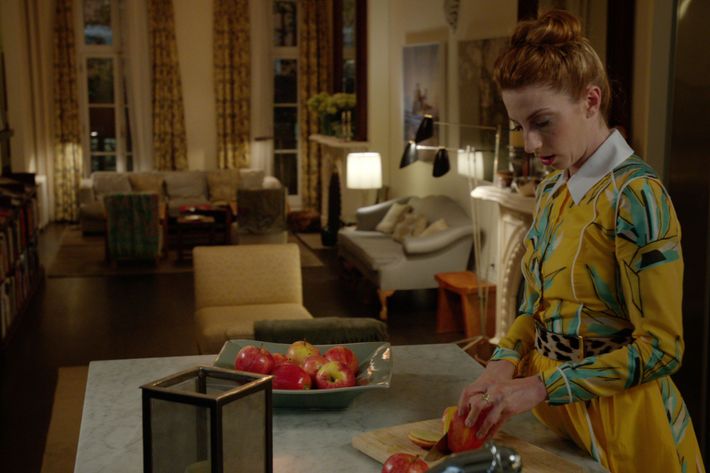 Fendi yellow dress with leopard belt
"Although this look from season three, this was one of my all-time faves for Lauren. She is so petite and this look reminded me of something that Japanese fashion girls would wear. I actually saw the dress after we shot our episode modeled on the cover of a Japanese fashion magazine. I'm a big fan of Japanese fashion so I was pleasantly surprised when I saw it!"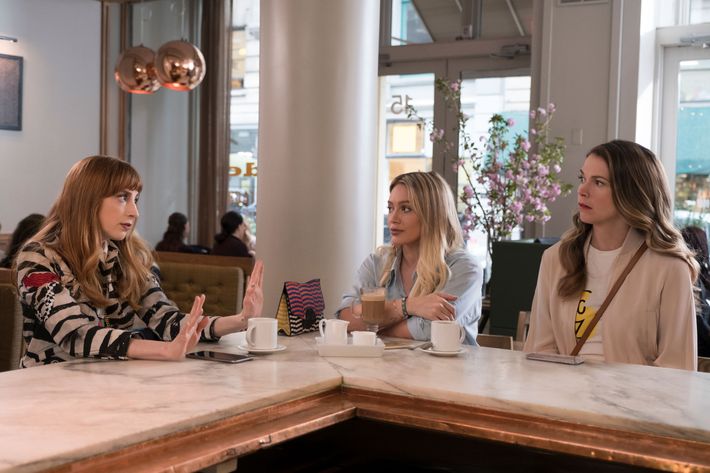 Marc Jacobs zebra-print denim jacket
"I chose this look because of that range she has. This outfit has more of an androgynous feel than some of Lauren's other outfits. It's still very fashionable but it gave her a different feel that I really enjoyed."