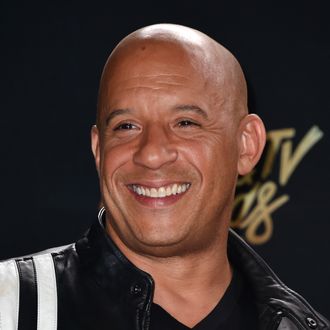 Photo: Alberto E. Rodriguez/Getty Images
From skydiving while strapped into the driver's seat to crashing through multiple skyscrapers at several hundred feet, the extreme car stunts of the Fast and Furious movies require a lot of space, a lot of air, and a lot of broken glass flying every which way. In fact, one of the only ways you could make Fast and Furious's signature vehicular madness more extreme would be to enclose it in a fairly small space. Like, for example, an arena packed with paying fans.
Cut to franchise star Vin Diesel announcing a Fast and Furious live arena tour on his Facebook page this week. "I am in New York, believe it or not, and we are filming something that is going to be pretty state of the art, something no one's ever seen before, which is a live show," the actor announced in a video. Explained Diesel, "I think it's first going to be showed at the O2 Arena in London, but it's going to go all over the world and we're really excited about it." According to Variety, Universal Studios will produce the tour — set to kick off in January — which will feature "re-creations of some of the stunts and cars in the eight-film franchise." Hopefully Vin can make sure they have some kind of a family discount.