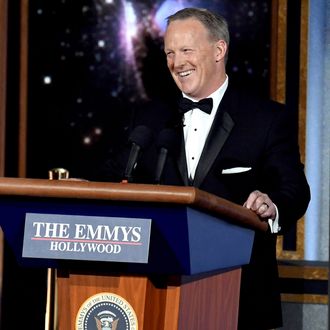 Sean Spicer.
Photo: Kevin Winter/Getty Images
Forget an apology tour. Sean Spicer attended the Emmys last night, basking in the glow of his appearance during Stephen Colbert's opening monologue. The Hollywood Reporter eyed the former White House press secretary after the show, and described his reception as a hero's welcome. (Spicer posed for pictures with James Corden and This Is Us's Gerald McRaney.)
There were hugs and handshakes in the Microsoft Theatre lobby where Spicer was spotted by The Hollywood Reporter just before 7 p.m., clutching a large beer and posing for pictures with anyone who asked — and anyone who could bust their way through the mob of well-wishers that was forming around him. One woman, a publicist, bragged that she was happy to share a few seconds with him. "He felt like a celebrity," she said. "And he was enjoying it." 
When approached by THR, Spicer revealed that all it took to get him onstage was a simple ask from Colbert. "I had a conversation with Stephen [Colbert] and his executive producer. They came up with a concept, and I thought it was kinda funny. I said I'd be there," he said, adding that he hadn't "fully digested" his new fame. Via Instagram, he thanked Colbert for the invite. And just like that, the guy once paid to lie to the American people got a handful of glitzy photo ops.