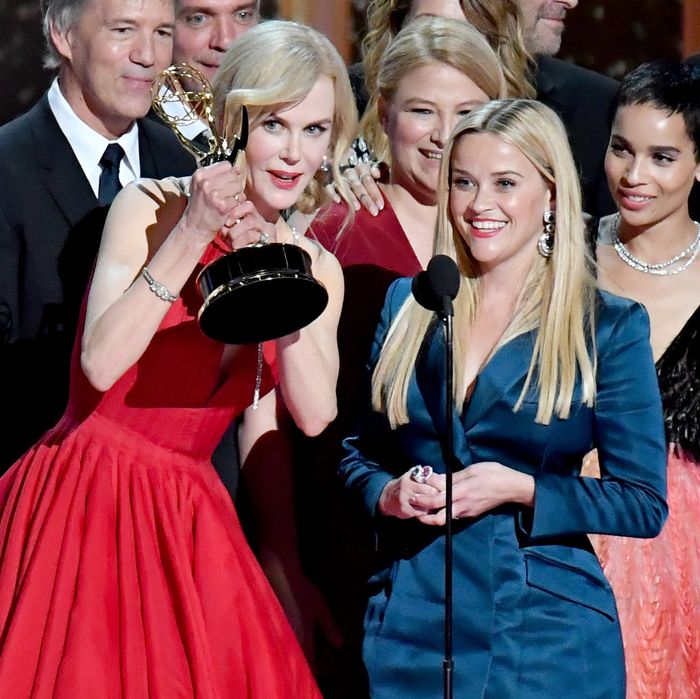 Nicole Kidman and Reese Witherspoon accept the Outstanding Limited Series award at the 2017 Emmys.
Photo: 2017 Jeff Kravitz
The big winners at Sunday's Emmy Awards were The Handmaid's Tale, Big Little Lies, and Veep. Which is another way of saying that the big winners at Sunday's Emmy Awards were women.
The Handmaid's Tale didn't just triumph in the Outstanding Drama category, it cleaned up in every critical field in which it was nominated, including Lead and Supporting Actress in a Drama — which went to Elisabeth Moss and Ann Dowd, respectively — Direction, and Writing. A similar statuette cascade rained down on Big Little Lies, winner of Outstanding Limited Series, Direction of a Limited Series, Lead and Supporting Actress, and Supporting Actor; and Veep, which took home its third consecutive Outstanding Comedy Series Emmy, the sixth consecutive Emmy for Julia Louis Dreyfus's performance as Selina Meyer, and Emmys for Direction and Writing.
None of these victories came as a jaw-dropping surprise since each of these shows were considered the front-runners in their respective genres. But watching them collect one trophy after another, especially on a night when Reese Witherspoon and Nicole Kidman accepted their Big Little Lies Limited Series award by urging their colleagues to make women "the heroes of their own stories," gave what may have been an Emmy coincidence the air of something deliberate. At a time when people in the TV industry are still trying to process Donald J. Trump's election over Hillary Clinton — and that seems more than fair to say given the enthusiastic reaction to every presidential joke host Stephen Colbert told — perhaps voters were more eager than usual to mark their ballots for projects by and/or about women.
In fairness, on the comedy side, Veep has won twice before and Julia Louis-Dreyfus has been honored for every single season of the series so far. Big Little Lies also probably would have dominated no matter what the current climate. It's got big stars giving some career-best performances, and it was a juicy, intelligent, emotionally wrenching, artsy yet mainstream series that audiences loved. But a vote for BLL was also a vote for a project that, while written by a man (David E. Kelley) and directed by another (Jean-Marc Vallée), was based on a novel by a woman (Liane Moriarty) about women's experiences, and only came to pass because two high-profile women (Witherspoon and Kidman) put their muscle behind it to get it made.
More than the other two, though, Handmaid's seems to have been uniquely engineered to dominate the Emmy Awards in this particular year. As I noted in my picks and predictions in the drama categories, the Hulu series had an advantage because its subject matter was darker than the other favored nominee in this category, This Is Us, a trait it shared in common with previous winners like Game of Thrones, Mad Men, and Breaking Bad. And while a vote for a Hulu show is, on one hand, a vote for a digital platform, it's also a vote for broadcast television as well. Disney, which owns ABC, Comcast, which owns NBC-Universal, 20th Century Fox, and Time-Warner each own a stake in Hulu, which helps plenty of cord-cutting TV junkies continue discovering traditional broadcast shows like … This Is Us. If some Emmy voters felt conflicted about supporting Netflix — which has never picked up a Best Series win — when it is siphoning away audiences and talent from the old television guard, they may have felt less guilty about Hulu since it functions as a partner of sorts.
But above all other things, The Handmaid's Tale may have won because, during the past year, engaging with it became the scripted-TV equivalent of an act of #resistance. The show clearly doesn't directly address Trump's election or the administration's policies, but it touches on issues that have taken on greater urgency since last November, most notably misogyny and the erosion of women's rights. To see Reed Morano become the first woman to win an Emmy for directing a drama in more than two decades, and Ann Dowd finally be recognized with an Emmy after decades of quietly killing it, and Elisabeth Moss, the show's primary face of silent fury, finally win an Emmy after eight previous losses all certainly registered as an attempt to right some feminine injustices. (There was also a special irony in the fact that Moss was made voiceless before she could finish her acceptance speech, even if her mic was cut because she dropped an F-bomb.)
On a Sunday that began with our president retweeting a GIF of himself hitting a golf ball that knocked Hillary Clinton to her knees, it was energizing to see this tense drama about women who stealthily refuse to be marginalized being hailed as one of the very best things on television. I have to think that a decent percentage of Emmy voters hoped for that kind of impact when they chose it.
The Handmaid's Tale is a compelling drama that would have had a decent chance at winning top Emmys in any circumstance. But by competing in 2017, it, along with Big Little Lies and Veep, capitalized on the industry's obvious but still admirable desire to convey that, no matter what the commander-in-chief may say, do, or tweet, women are valued and valuable. The message these wins sent was the same one Lily Tomlin and Jane Fonda conveyed during their 9 to 5 Emmy ceremony reunion with Dolly Parton: that women in the 1980s, when 9 to 5 and Atwood's novel were released, refused to be controlled by sexist, egotistical, lying, hypocritical bigots. And now, they still do.