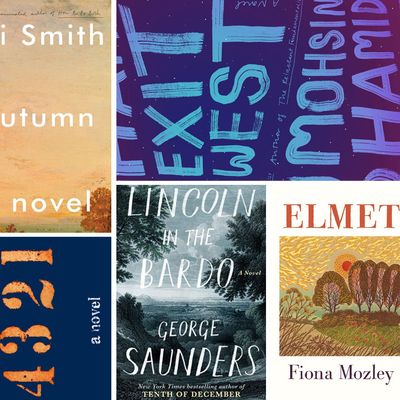 Open up your Amazon cart: On Wednesday morning, the Man Booker Prize announced its shortlist for the prestigious literary award. That means you've got six books to speed read or skim before the winner is announced. A few behemoths from the longlist, including Arundhati Roy's The Ministry of Utmost Happiness, Zadie Smith's Swing Time, and Colson Whitehead's The Underground Railroad — failed to make the cut. The six selections are a mix of old talent and new: Fiona Mozley's Elmet is her debut novel; Paul Auster's 4 3 2 1 is his 20th, according to the announcement. See the shortlist below:
The 2017 Man Booker shortlist
4321 by Paul Auster (Faber & Faber)
History of Wolves by Emily Fridlund (Weidenfeld & Nicolson)
Exit West by Mohsin Hamid (Hamish Hamilton)
Elmet by Fiona Mozley (JM Originals, John Murray)
Lincoln in the Bardo by George Saunders (Bloomsbury)
Autumn by Ali Smith (Hamish Hamilton)
The winner will be announced on October 17.