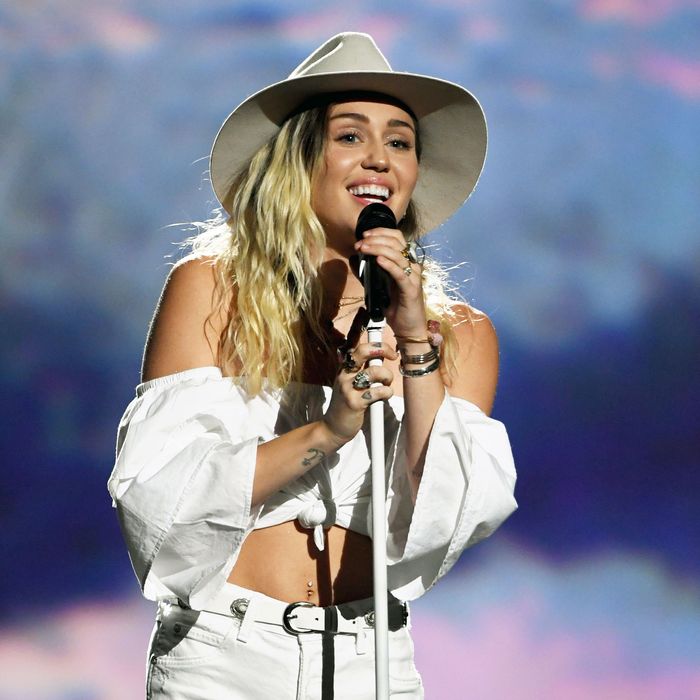 Give in.
Photo: Ethan Miller/Getty Images
This Friday, Miley Cyrus will return from what we can only chalk up to a quarter-life crisis with a new album, Younger Now, that sees her rediscovering her country roots. At just 24, Miley will soon be six albums into her career. To anyone put off by either the Disney Channel–produced confection or provocative shock pop that has defined most of it, however, it will have felt like a waking nightmare on loop. Cyrus, who was virtually born into the music industry, seems to have sensed the fatigue brought on by her previous forays into edginess. Judging from the album's understated first singles, Younger Now is something of a course correction, extending an olive branch to audiences Miley might have previously scared away.
Younger Now has been billed as a Serious Album by a Serious Artist, but the truth is that there are more than a few gems in her back catalogue. Here are 21 Miley Cyrus deep cuts that just might make a fan out of you yet.
"Younger Now"
On first listen, "Younger Now" feels thin. Like Miley doing an impression of what people think Miley doing country might sound like. Also, spinning a narrative that a 24-year-old feels somehow younger now (younger than when?) is believable only to anyone younger than 24. We don't blame you if you wrote this one off. However, like so much of the Miley canon, it's worth trying it again by watching a live version. Miley's performance of the song at the 2017 VMAs, dressed like her godmother Dolly, is inspired. It's got kids on motorcycles and elderly folks, some in drag, reclaiming their youth. There's also a complete line-dancing breakdown. This is a not-so-rare case of the live version of a song completely eclipsing its studio original.
"See You Again"
No, not the original, which is fine enough, but couldn't shake its Hannah Montana past — or its self-referential "she's just being Miley" catchphrase — until now. The Miley of 2017 is not the Miley of 2007. This Miley openly adores country music and recently redeemed this song by performing a revamped version of it in cowboy boots and an Elvis-shirt dress for the BBC Live Lounge. "See You Again" is now a smokey, pistol-whipping bar banger for a new generation of would-be Miley fans that never would've paid this song any mind otherwise.
"Hands of Love"
It's true. This is not Miley's best soundtrack song. That award goes to "The Climb," but there was no avoiding that anthem when it came out, and if you didn't like it then, you probably won't be swayed now. "Hands of Love" was written for Freeheld — a film about the true story of two women's fight for same-sex rights — by Miley and Linda Perry. By default, you have to like it. Also it's a powerful performance that the Oscars snubbed.
"Karen Don't Be Sad"
If we told you this song was not technically a Miley Cyrus song, but a Flaming Lips demo from when they recorded At War With the Mystics, that Wayne Coyne once thought would be a good fit for Kesha, and that Miley's lush performance on the eventual finished product was recorded all in the first take, are you intrigued? Good. Now that we have your attention, forget the Coyne factor; this song works because Miley draws in the listener to make them feel like the titular Karen could be you. Could be anyone. We all know a Karen. And we all need a Miley to restore the fight in her.
"The Floyd Song (Sunrise)"
Two years after its release, Miley's Dead Petz does not hold up well. During this period, she got deep into hallucinogens and collaborating with Wayne Coyne. We're pretty sure she'd very much appreciate that you forget this even happened. But for better or worse, it yielded her most experimental work. This track, a spacey dedication to her actual dead pet dog Floyd (he got mauled by coyotes) written and produced with Coyne, leans toward the better end of the spectrum and is nowhere near as maudlin as the album's other dead-pet dirge, "Pablow the Blowfish."
"Adore You"
"Wrecking Ball" got all the attention for being the Big Ballad of the Bangerz era because it captured the crumbling of a relationship, and people relish other people's pain. (Also, because it's stunning.) But "Adore You" is a gem in its own right and arguably more vulnerable for covering the moments when the possible future wreckage is still in the distance. No one wants other people to know what we're like when we're in love — smitten, totally engrossed in another person, and a little bit lost in them — because it makes us look naïve. "Adore You" unabashedly devotes itself to the honeymoon period, but that's why it's magic.
"Rooting for My Baby"
History will remember Bangerz as Miley: the Appropriation Years, and rightfully so. But between the dreads, twerking, and poor attempts at rap, there were actually shades of the rootsy music Miley has now turned back to. Maybe it was all part of a larger test to see who was really listening, or maybe she had the foresight to know casual fans weren't ready to fully embrace her transition. "Rooting for My Baby" has been described as indebted to Fleetwood Mac. Need we say more?
"Drive"
For all of Bangerz's shock pop, a few of its, um, bangers were actually pretty low-key — and better for it. "Drive" finds Miley and producer Mike Will Made-it creating pulsating synth-driven electro-pop about romantic desperation and despair. This song is more mature than most of Miley's output at the time.
"Do My Thang"
Miley raps very poorly on this, but it should've been a single. If swaggering trap-pop kiss-offs are your taste, this one's underrated.
"When I Look at You"
Seven years ago, Miley made a movie called The Last Song. While filming, she met and fell in love with Liam Hemsworth, and both their relationship and this song are still going strong. Hillary Lindsey, the woman who's won Grammys for writing Carrie Underwood and Little Big Town hits, wrote "When I Look at You" with John Shanks (producer of Kelly Clarkson's "Breakaway"). Is it teen-love-story fluff? Duh. Does that mean you shouldn't give it a chance? Turn up your nose somewhere else.
"Two More Lonely People"
Please don't ask for an explanation of Can't Be Tamed. I don't know what Miley or anyone directly involved in her career was thinking either. All I know is the '80s knock-off "Two More Lonely People" is a (tiny) diamond in the rough and all that's worth revisiting from that regrettable blip in her discography.
"Ready, Set, Don't Go"
This song is a decade old. Miley was around 14 when she recorded it, but, her dad Billy Ray already had her duetting with him about leaving the nest. Granted, she'd jump-started her career with a certain Disney show you might've heard of, so he had reason for his concerns about her growing up too fast. It's schmaltzy, but still an honest father-daughter country-minded song about letting go.
"Don't Dream It's Over" (Crowded House)
Don't let the animal onesies fool you, this is a seriously good, not-especially-serious cover that Ariana Grande and Miley first performed together in Miley's backyard. That duet included a playful moment where Miley got distracted flirting with Ariana and missed her cue. But when they performed it together again, for Ariana's Manchester benefit in the wake of the terror attack at her concert, there wasn't much to laugh about. And, yet, it happened again — missed cues, flubbed lyrics, and so much goofy chemistry between the two that people barely noticed the missteps. It was one of the lighter moments of the night.
"Different" (Joan Jett)
Pop stars are not supposed to be rock stars, but Miley doesn't ever really do what anyone expects. Here she is, duetting with Joan Jett. Surprisingly they make for a killer marriage that doesn't sound one bit forced.
"Look What They've Done to My Song Ma" (Melanie Safka)
This cover was one of the highlights of Miley's original Backyard Sessions, but she eventually got to sing it again with the song's creator, folk legend Melanie Safka. Miley and folk music go hand in hand better than audiences have been led to believe.
"I'll Take Care of You" (Bobby Bland)
Doubt it all you want, but Miley has the range. And, as this cover proved, it extends to the blues.
"Summertime Sadness" (Lana Del Rey)
Both Miley and Lana favor lower vocal registers, so it only makes sense that Miley covering Lana sounds deeply melodramatic. But there's a lively character to Miley's voice that Lana's lacks, making her cover of "Summertime Sadness" an absolute treat.
"Jolene" (Dolly Parton)
As the goddaughter of Dolly Parton, it is Miley's lone destiny to perform "Jolene" with aplomb. She's sung it with Dolly on numerous occasions, but most impressive was back in 2010 in front of a full crowd. Then, in 2012, Miley covered the song again – this time as the introduction of her Backyard Sessions. There's nothing showy about it – she's performing in a backyard with a full band on a vintage microphone, so her voice sounds crisp and taut.
"Lilac Wine" (Jeff Buckley)
If there's one thing to be said about Miley's Backyard Sessions, particularly the original run, it's that for the first time, people got to understand Miley's roots. She chose artists who influenced her, whom she's always drawn from in her work but could never quite convey to full effect because they almost never fit her brand. You don't think Jeff Buckley and associate him with Miley, which makes her cover of "Lilac Wine" a strange delight and one of the most sublime vocal performances she's ever turned in.
"You're Gonna Make Me Lonesome When You Go" (Bob Dylan)
Depending on your perception of Miley, it might make you cringe to know Miley once covered Dylan. But know she did it for charity, and demonstrated once again why her voice is so damn well-suited for folk.
"These Four Walls" (Cheyenne Kimball)
Miley's voice did not have the breadth, texture, or control that results from natural vocal maturation and the wear of touring when she recorded this cover for her sophomore album. But should we fault her for being so young when she started her career, or applaud her for trying something beyond her years? Miley has Nashville in her blood, so it makes sense that she'd lean on something with a slight twang. Credit Hollywood Records (the label where many a Disney star has gone to die) for allowing her this one small freedom.