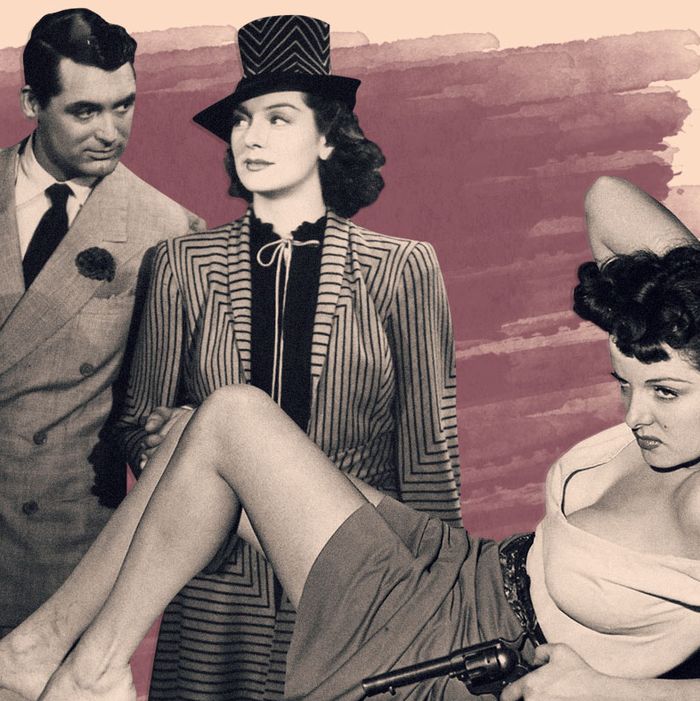 Photo-Illustration: Vulture
At first glance, the public domain appears to be a deep, intimidating vortex of innumerable media. To some extent, this is true — by way of making it slightly less so, let's talk about what, exactly, it is. A free, accessible resource for films, books, and music available to the public, the public domain's been in existence ever since copyright laws were implemented back in the 18th century. In their early years, copyrights (indicated by that © you've seen in books, music, movies, and other works) varied from country to country. It wasn't until the Berne Convention of 1886 — an international agreement governing copyright that protects literary and artistic works — that a universal copyright procedure was assembled. But not for the United States, which refused to take part in the convention for over 100 years, because it required too many significant changes to their moral rights and copyright formalities.
Prior to 1988, when the U.S. finally signed the Berne Convention Implementation Act, all films distributed after 1909 were required to provide a registered copyright. If properly printed, the copyright lasted for 28 years before it needed be renewed, assuring that the film would remain property of whatever studio owned it. But studios during the Golden Age were focused on profit, not preservation, making it easy to lose track of renewal deadlines — meaning many of those forgotten films fell into the public domain.
Bottom line: The public domain remains one of the most easily accessible — and most underused — resources available for watching silent films, Golden Age hits, and even 1960 horror classics like Francis Ford Coppola's Dementia 13 (1963) and George A. Romero's Night of the Living Dead (1968). It's as simple as hitting YouTube and searching a movie's title. To help get you started, here are 30 classic films available, divided by genre.
Musicals
Till the Clouds Roll By (1946): Based on the life of composer Jerome Kern, Till the Clouds Roll By is a rip-roaring musical starring Judy Garland, Robert Walker, Lena Horne, and Frank Sinatra, just to name a few. The story follows a fictionalized Kern (Walker) as he looks back on the early stages of his prominent Broadway career.
Why Watch It? Dame Angela Lansbury — or Jessica Fletcher, for Murder, She Wrote fans — began her career at the age of 17 while filming the 1944 psychological thriller Gaslight, starring Ingrid Bergman, Charles Boyer, and Joseph Cotton. Her performance as a scheming cockney maid both earned her an Academy Award nomination and caused her to be typecast in subsequent films because of the financial success she brought MGM. That is, until she was cast in Till the Clouds Roll By.
Mr. Imperium (1951): Frederica Brown, played by blonde bombshell Lana Turner, is vacationing at an Italian resort when she not-so-accidentally stumbles into a man who calls himself Mr. Imperium. The two strike up a romance that's put on pause when Mr. Imperium confesses that he's a — wait for it — European crown prince. Oh, and his father is gravely ill, and he must leave at once. Years pass, and while the prince tends to his father, Frederica becomes a movie star. He travels to California to rekindle their romance — only for his duties to get in the way once more.

Why Watch It? Though Mr. Imperium isn't the most notable Technicolor film — it lost more than $1 million the box office — it has an all-star cast, including a young Debbie Reynolds. Her next film would be Singin' in the Rain (1952).
Royal Wedding (1951): Fred Astaire and Jane Powell star as siblings Tom and Ellen Brown, who have a hit Broadway show that ends up getting booked in London amid the festivities of Princess Elizabeth's upcoming wedding. But their plans take a detour when Ellen meets Lord John Brindale (Peter Lawford) and Tom meets Anne (Sarah Churchill).
Why Watch It? While Astaire was most often partnered with all-time babe Ginger Rogers, he made several musicals with other leading ladies like Rita Hayworth, Cyd Charisse, and Powell. The "You're All the World to Me" solo, where he literally dances off the walls, is one of Astaire's most famous routines.
Romance
Swing High, Swing Low (1937): This romance, directed by Mitchell Leisen — Hold Back the Dawn (1941) and To Each His Own (1946) — stars Carol Lombard as singer Maggie King and Fred MacMurray as musician Skid Johnson. Shortly after their nuptials, the couple's marriage is tested when Skid runs into an old fling, Anita Alvarez, played by Dorothy Lamour.
Why Watch It? Lamour is one of those classic movie stars who made a big impact on the industry, but who, for some reason, has been since overshadowed by the Joan Crawfords and Bette Davises. Lamour starred in dozens of pictures and has not one, but two stars on the Hollywood Walk of Fame for her contributions to both radio and cinema. Lamour's onscreen popularity skyrocketed during the 1940s, when she starred alongside Bing Crosby and Bob Hope in the Road to … comedy series. But her career began in the 1936 when she was cast as the lead in The Jungle Princess, followed by Swing High, Swing Low.
Three Guys Named Mike (1951): Jane Wyman stars as Marcy Lewis, a fresh and eager airline stewardess who just happens to have three separate beaus named Mike. Hilarity ensues when the three Mikes find out about each other.
Why Watch It? We're sure plane enthusiasts will get a kick out of this film, as it features authentic American Airlines DC-6 and Convair 240 planes. Filming commercial aircraft during their early years was costly, but MGM and American Airlines struck a deal: MGM would feature genuine aircraft, and American Airlines would promote the film's upcoming release.
Algiers (1938): Pepe le Moko, played by Charles Boyer, is a notorious burglar in the city of Algiers that officers and fellow thieves are out to capture. Pepe's plan to avoid getting caught unravels when he meets Gaby, played by Austrian icon Hedy Lamarr.
Why Watch It? Lamarr gained a significant amount of attention after the release of The Imitation Game (2014) for her contributions to modern-day technology. Her WWII frequency-hopping and spread-spectrum device, created alongside pianist George Antheil, guided radio-controlled torpedoes. Today, this technology has been integrated into both Wi-Fi and Bluetooth. Algiers marked Lamarr's American motion-picture debut.
Penny Serenade (1941): George Stevens, known for A Place in the Sun (1951) and Giant (1956), directs Cary Grant and Irene Dunne in this heart-wrenching tale of a couple who want nothing more than to start a family. When they find out they're unable to become pregnant, they turn to adoption.
Why Watch It? There aren't too many films about adoption in general, let alone during the Golden Age of Hollywood, when adoption was perceived as shameful. But Penny Serenade managed to make it to screens and shine a positive light on the less-than-traditional approach.
Love Affair (1939): On a ship sailing across the Atlantic Ocean, Michel Marnet (Charles Boyer) and Terry McKay (Irene Dunne) meet, and sparks fly immediately. The problem is, both are engaged. Before calling it quits, they agree to meet at the Empire State Building in six months' time. But their romance is halted when Terry gets struck by a car.
Why Watch It? Love Affair has an interesting history. It was remade several times, most notably as 1957's An Affair to Remember, starring Cary Grant and Deborah Kerr. From there, it acted as the foundation for Nora Ephron's Sleepless in Seattle (1993), which starred Tom Hanks and Meg Ryan. It was remade again in 1994, with the original title intact, and starred Warren Beatty, Annette Bening, and Katharine Hepburn in her last onscreen performance.
Noir
The Strange Love of Martha Ivers (1946): Barbara Stanwyck and Kirk Douglas lead this Lewis Milestone–directed noir. Walter O'Neil (Douglas) and Martha Ivers (Stanwyck) share a secret: They're the only two people who witnessed Martha hit her aunt over the head with a cane, killing her instantly — how violence in film has changed! Between Walter's alcoholism and Martha's love for another man, the two have a loveless marriage. That is, until Sam Masterson (Van Heflin) returns to town.
Why Watch It? Kirk Douglas, who'll turn 101 this December, is often identified as the tough guy for his roles in movies like Spartacus (1960) and The Bad and the Beautiful (1952). But for his motion-picture debut in The Strange Love of Martha Ivers, he's anything but intimidating.
Scarlet Street (1945): Director Fritz Lang is responsible for this entertaining noir. Joan Bennett stars as Kitty, a young femme fatale who, along with her boyfriend Johnny (Dan Duryea), con Chris (Edward G. Robinson), an aspiring painter who they believe is wealthy. When Kitty's true intentions are revealed, their plan crumbles.
Why Watch It? Lang, who's been referred to as the "Master of Darkness," has directed some of film history's most memorable flicks. From Metropolis (1927) to M (1931) to The Big Heat (1953), Lang's prominent career lasted over four decades. What some forget, though, is that Thea von Harbou — author, screenwriter, and second wife of Lang — co-wrote all of his movies from 1920 to 1933.
The Stranger (1946): Orson Welles, known for The Lady From Shanghai (1947), Touch of Evil (1958), and Citizen Kane (1941), directs and stars in this crime-noir film. Ex-Nazi Franz Kindler (Welles) seeks refuge in Connecticut at the end of WWII. There, he takes on the identity of professor Charles Rankin and marries Mary (Loretta Young), a Supreme Court Justice's daughter. Shortly after fashioning his new identity, the ghosts of Kindler's past return.
Why Watch It? Welles was known for his unpopular talent of overspending and overscheduling his movies. For Welles, The Stranger was supposed to challenge that reputation by making this film on schedule and within its budget. Upon completion, Welles would be given a four-picture contract with International Pictures, but they thought the film would be futile and backed out. The Stranger was his first and only real box-office success.
The Hitch-Hiker (1953): Ida Lupino directed this noir, which was inspired by Billy Cook, the man who killed six people over the course of 22 days in the early 1950s. In short, when two fishing buddies set off for Mexico, their plans are cut short after they pick up a mysterious hitchhiker.
Why Watch It? More often than not, Lupino is remembered for her captivating performances in films like High Sierra (1941) and They Drive by Night (1940). However, Lupino's contributions stretched further than the front of the screen. Not only was she the first woman to direct a mainstream film noir in the 1950s — the film listed above — she also built her own independent production company called The Filmmakers, and was also the only woman to direct episodes of The Twilight Zone. The woman was a powerhouse, and it's an absolute gift to have The Hitch-Hiker available for free online.
Comedy
Topper Returns (1941): Ann (Carole Landis) and Gail (Joan Blondell) are making their way to Ann's family's estate, but experience a hiccup when their tire blows out, freeing a caped ghost in its smoke. The trip seems to be looking up after the girls are able to hitch a ride with an odd couple by the name of Mr. and Mrs. Topper (Roland Young and Billie Burke). Until, that is, Gail is stabbed to death immediately upon arrival. The adventure begins when Gail's ghost convinces Mr. Topper to help her solve her murder.
Why Watch It? Like Dorothy Lamour, Blondell is another overshadowed actress, despite an active career that spanned from the 1930s all the way into the 1980s, with well over 100 credits under her belt. Topper Returns is just one her many charming performances.
Nothing Sacred (1937): In Vermont, Hazel Flagg (Carole Lombard) has been diagnosed with radium poisoning and given six months to live. Obituary writer Wally Cook (Fredric March) is sent to interview the soon-to-be-dead Hazel. But shortly before his arrival, Hazel finds out her diagnosis was a false alarm. When Hazel sets eyes on the handsome Wally, she can't bring herself to let him know the good news.
Why Watch It? On paper, this movie doesn't look like a hit — it cost more than $1 million to make and lost $400,000 at the box office. But Nothing Sacred marked the first use in a color film of process effects, montage, and rear projection. And Lombard, who was deemed "Queen of Screwball Comedy" per her roles in My Man Godfrey (1936) and Mr. & Mrs. Smith (1941), said that this was one of her favorite films.
His Girl Friday (1940): Ex-reporter Hildy Johnson (Rosalind Russell) is about to wed Bruce Baldwin (Ralph Bellamy), a mediocre insurance salesman. Her nuptials are postponed, though, when she makes a pit stop at her old paper, The Morning Post, where she runs into fellow reporter and ex-husband Walter Burns (Cary Grant).
Why Watch It? This fast-talking screwball comedy, under the direction of Howard Hawks — The Big Sleep (1946), Bringing Up Baby (1938) — is actually an adaptation of the play "The Front Page." Actually, it's the second adaptation, with the first being the 1931 Lewis Milestone–directed The Front Page, which also fell into the public domain. Rosalind Russell wasn't the film's first pick for leading lady: Irene Dunne was originally pegged for the part, but she felt the role was too small. Joan Crawford, Claudette Colbert, and Jean Arthur also refused the part.
Father's Little Dividend (1951): This is the sequel to the original Father of the Bride (1950) — not the 1991 remake starring Steve Martin and Diane Keaton. Things have finally settled down for Mr. and Mrs. Banks (Spencer Tracy and Joan Bennett) after the wedding of their daughter (Elizabeth Taylor), Kay. That is, until she informs them that they're going to be grandparents.
Why Watch It? For obvious reasons like the all-star cast, but also to spot a young Russ Tamblyn — Dr. Jacoby, for Twin Peaks fans — in one of his first roles. For those who don't know, Tamblyn actually got his start back in 1948 at the age of 10, starring in musicals like Tom Thumb (1958) and West Side Story (1961).

Beat the Devil (1953): Seemingly quaint couple Billy and Maria Dannreuther (Humphrey Bogart and Gina Lollobrigida) board a ship heading to Africa, where land rich with uranium is about to be auctioned off.
Why Watch It? The film is packed with Golden Age talent like writer Truman Capote, director John Huston, and supporting actors Peter Lorre and Jennifer Jones. Supposedly, Beat the Devil is a spoof of the 1941 noir The Maltese Falcon, which was also directed by Huston and starred both Lorre and Bogart.
Pre-Code

Rain (1932): This often forgotten pre-Code gem is directed by Lewis Milestone, the man responsible for All Quiet on the Western Front (1930) and The Front Page (1931). When missionary Alfred Davidson (Walter Huston), his wife, and prostitute Sadie Thompson (Joan Crawford) find themselves stuck on an island in the South Pacific due to a cholera scare, Davidson tries to reform Thompson while battling his own sinful thoughts.
Why Watch It? Crawford is often linked to her Academy Award–winning role in Mildred Pierce (1945) and now, thanks to Ryan Murphy, What Ever Happened to Baby Jane (1962). But Crawford's career spans over five decades, beginning in the silent era. By the time Rain was released, Crawford already had three dozen films under her belt — Our Dancing Daughters (1928), Dance, Fools, Dance (1931), and Possessed (1931) just to name a few. Rain's Sadie Thompson is one of Crawford's most scandalously entertaining but often overlooked performances.
Behind Office Doors (1931): Melville Brown heads up this drama, starring Mary Astor, Ricardo Cortez, and Robert Ames. Mary Linden (Astor) is a hardworking secretary at the Ritter & Company paper company. When the president of the company starts to prepare for retirement, Mary suggests her love interest, Jim Duneen (Ames), as his replacement. After getting the job, though, Jim retreats to his "easy" girlfriend, oblivious to Mary's intentions. It's not until Mary falls for Ronnie Wales (Cortez) that Jim finally notices her.
Why Watch It? Besides simply being an entertaining pre-Code flick, it featured two leading actors, Astor and Cortez, who starred in more than 100 films each, and whose talent left a significant mark on the industry.
Bird of Paradise (1932): When Johnny (Joel McCrea), a young sailor traveling the South Seas, stumbles across Luana (Dolores del Río), the daughter of a native chief, the two fall head over heels for one another. But Luana is promised to another, and to top it off, is fated to sacrifice herself to the volcano that threatens her island.
Why Watch It? Bird of Paradise was co-written by Wanda Tuchock, who was one of two women to have directed a mainstream studio feature in the 1930s. The other was Dorothy Arzner, who's responsible for Dance, Girl, Dance (1940) and The Bride Wore Red (1937).
Of Human Bondage (1934): Aspiring artist Philip Carey (Leslie Howard) is told he has no talent and decides to move back to London and enter medical school. Upon his return, he meets and falls in love with Mildred (Bette Davis), an insensitive and cold waitress who tears him apart. Despite her destructive nature, Philip just can't seem to let her go.
Why Watch It? Bette Davis earned her first Academy Award nomination for playing Mildred, though it wasn't official. After gaining a significant amount of praise, Warner Bros. urged Academy members to write Davis in on their ballots. Enough people did, and Davis found herself wedged into third place, right behind Claudette Colbert and Norma Shearer. Davis would be nominated another ten times following her first nomination, and would win twice for her roles in Dangerous (1935) and Jezebel (1938).
Sin Takes a Holiday (1930): Back when men were still named Gaylord, Kenneth MacKenna starred as Gaylord Stanton in this pre-Code romance about a divorce lawyer and playboy who marries his secretly smitten secretary, Sylvia (Constance Bennett) to avoid marrying his client and too-attached girlfriend Grace (Rita La Roy).
Why Watch It? Constance Bennett, older sister to Joan Bennett (credited above in Scarlet Street), isn't a name often mentioned these days. But Bennett, who got her start during the silent era, was once the highest-paid actress in the '30s and starred in films like What Price Hollywood (1932), Two-Faced Woman (1941), and Topper (1937).
The Animal Kingdom (1932): Leslie Howard plays Tom Collier, a successful publisher who marries Cecelia Henry (Myrna Loy) despite being in love with artist Daisy Sage (Ann Harding). Cecelia uses her body to manipulate Tom in order to squelch as much money out of him as possible while also keeping him away from Daisy.
Why Watch It? With Max Steiner — King Kong (1933) and Casablanca (1942) — composing, an uncredited George Cukor — The Philadelphia Story (1940) and My Fair Lady (1964) — assisting with direction, David O. Selznick — Since You Went Away (1944) and Gone With the Wind (1939) — producing, and an all-star cast, The Animal Kingdom is a cinephile must-see.
Drama
The Snows of Kilimanjaro (1952): Based on Ernest Hemingway's short story of the same name, The Snows of Kilimanjaro stars some of cinema's finest: Gregory Peck, Susan Hayward, and Ava Gardner. On a safari in Africa, Harry Street (Peck) falls ill when a scratch on his leg becomes severely infected. As Street struggles through his illness, he deliriously reflects on past relationships and the early stages of his writing career.
Why Watch It? Gardner is often remembered for her femme fatale role in another Hemingway adaptation, The Killers (1946), as well as her relationship with Frank Sinatra. Fans, the Catholic Church, and even Hollywood condemned their relationship, because in order for them to exchange vows, Sinatra had to divorce his wife, Nancy. But there's a lot more to Gardner than her looks and marriages. Gardner's career lasted for more than 40 years and included hit films like Mogambo (1953), Show Boat (1951), and the one mentioned here.
The Last Time I Saw Paris (1954): Elizabeth Taylor and Van Johnson lead this loose adaptation of F. Scott Fitzgerald's "Babylon Revisited," where aspiring novelist Charles (Johnson) and his frivolously behaved wife Helen (Taylor) struggle through financial dispair, rejected novels, and sickness in post-WWII Paris.
Why Watch It? The Last Time I Saw Paris was the American film debut of British actor Sir Roger Moore, who died this past May. Though he was a prominent television star during the second half of the 20th century, Moore became a cinematic icon when he was cast as James Bond in Live and Let Die (1973).
A Star Is Born (1937): This tale of Hollywood stardom was directed by William A. Wellman and produced by David O. Selznick. A Star Is Born follows Esther (Janet Gaynor) as she makes her way to Hollywood. Esther finally gets her big break, or so she thinks, when she meets aging film star Norman Maine (Fredric March) and changes her name to Vicki Lester. But as her career takes off, so too does Norman's alcoholism. Eventually, Vicki has to make a choice between her love for Norman and her devotion to the screen.
Why Watch It? The 1954 adaptation starring Judy Garland may be the most prominent of the three – soon to be four – A Star Is Born films, but it's the 1937 version that stars Janet Gaynor. Gaynor was the first person to win the Academy Award for Best Actress, and she won for three separate roles: Sunrise: A Song of Two Humans (1927), 7th Heaven (1927), and Street Angel (1928). It wasn't until the following Academy Awards that they limited nominees to a single role. When Gaynor reflected on the star-studded event in an interview with The Telegraph, she commented that it was "just a bunch of movie people meeting at the Hotel Roosevelt in Hollywood. Nobody really felt there was any historical significance."
Meet John Doe (1941): Barbara Stanwyck stars as a newly fired columnist in New York who, in response to her dismissal, writes an anonymous letter to her column and signs it as "John Doe." Stanwyck writes as a man deeply unhappy with the current state of society and who, as a result, plans to commit suicide on Christmas Eve. The popularity of the letter stirs up — and resonates with — the public, and Stanwyck and the paper find themselves in a hole too deep to climb out of without getting caught.
Why Watch It? Frank Capra's filmography includes some of the most well-known classics like It's a Wonderful Life (1946), It Happened One Night (1934), and Mr. Smith Goes to Washington (1939). But not all of Capra's projects worked out as smoothly as he might've hoped: Meet John Doe had five separate endings, none of which Capra approved of. At one point during its release, there were three different versions of Meet John Doe in circulation.
A Farewell to Arms (1932): This WWI drama doubles as a pre-Code and involves a love triangle between Frederic Henry (Gary Cooper), Major Rinaldi (Adolphe Menjou), and Catherine Barkley (Helen Hayes). Frederic is an American ambulance driver for the Italian Army. When he meets Red Cross nurse Catherine, they fall in love and embark on a relationship that seems doomed to fail, thanks to Major Rinaldi's interference.
Why Watch It? This film was based on Ernest Hemingway's novel by the same name. And similar to the book, which experienced censorship issues, the film had difficulty getting approved. Particularly, the board had problems with Hayes's childbirth scenes, which included labor pains, vocal discomfort, and funnily enough, gas.
Western

The Deadly Companions (1961): Ex–Army sergeant Yellowleg (Brian Keith) accidentally shoots a young boy, the son of dance-hall hostess Kit Tilden (Maureen O'Hara), while robbing a bank. Too guilty to move on, he rallies his men and heads up to Siringo to bury her son.
Why Watch It? For Maureen O'Hara, obviously. But also for director Sam Peckinpah, who is known for The Wild Bunch (1969) and Straw Dogs (1971). Peckinpah began writing and directing for the screen during the late 1950s, but only for television. The Deadly Companions is his directorial film debut.
The Outlaw (1943): Sheriff Pat Garrett (Thomas Mitchell) is excited to have his old friend Doc Holliday (Walter Huston) around, until Doc befriends outlaw Billy the Kid (Jack Buetel). After a gunfight, Doc takes a wounded Billy to his girlfriend, Rio (Jane Russell), who happens to want Billy dead, as he was the man who shot her brother. But when the two fall in love, conflict arises.
Why Watch It? Jane Russell, a notable Hollywood bombshell, rose to fame due to the publicity of this film, which had Russell sporting a shockingly low-cut shirt, lying seductively in a pile of hay. The film was completed in 1941 but wasn't actually released widely until 1946, because of the Motion Picture Production Association's request that director Howard Hughes cut down the amount of screen time given to Russell's cleavage.