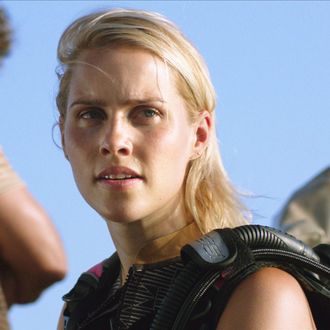 Photo: Entertainment Studios
Considering how much we have all aged since the spring, it's understandable if you don't immediately recall that Mandy Moore survive-the-sharks movie 47 Meters Down. But like The Shallows before it, the deep-sea thriller that is entirely about not getting eaten by sharks wildly overperformed its projected box-office take, making more than $50 million around the world on a budget of about $5 million. With that kind of return, it was only a matter of time until the property got a sequel, and now The Hollywood Reporter is saying just that. Writer and director Johannes Roberts will return for, wait for it … 48 Meters Down, which will do some version of the exact same thing, except in waters off the coast of Brazil instead of Mexico. While the first movie revolved around a pair of sisters on a bonding trip, 48 Meters Down will feature a group of girls who want to avoid tourist traps, choosing instead to set out for a more authentic adventure experience.
And because this is a sequel about women besieged by sharks while diving, you can bet the sequel — one more meter, exponentially more stress triggers — is going to double down on all the peril. One producer said it will "take the claustrophobia of cave diving and the thrill of shark encounters and move everything to the next level" while another promised to "ratchet up the thrills and spills to a whole new level." The THR report does not say anything about Mandy Moore returning for the sequel, but if you were her character, would you ever get in any water that wasn't your own personal bathtub ever again? Probably not.