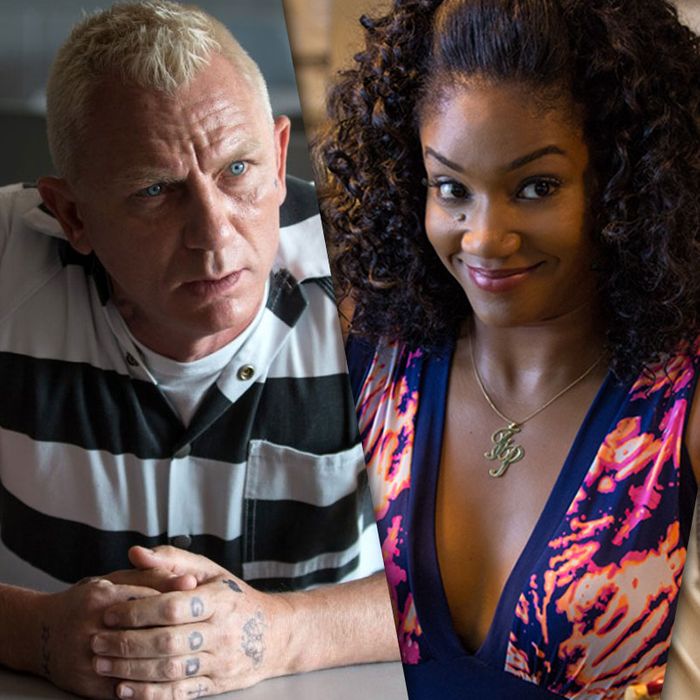 Photo: Bleecker Street/Universal Pictures/Warner Bros.
If you're feeling so depressed about the end of summer that you can't muster the will to go outside — or maybe you just don't do heat — then retreat to your local air-conditioned theater and see these movies before they leave the big screen. Here are descriptions of nine movies you can use to while away your holiday weekend, with input from Vulture's film critics, David Edelstein and Emily Yoshida, to help you make the best (or best-worst) choices.
Logan Lucky
Apparently forgetting his repeated announcements of "retirement," director Steven Soderbergh brought together Channing Tatum, Adam Driver, and Riley Keough to play the unlucky Logan siblings in this heist-centered comedy. Our critic David Edelstein called the movie a "trick, reversing our expectations at nearly every turn and casting actors in roles that they were not exactly born to play, but do so with relish." He also calls the first part of the film "hilarious," but warns that both the grand finale and Hilary Swank's last-minute performance fall a bit flat. But don't let that ruin the movie. As Edelstein points out, "The monotony of her turn points out what's delightful about the rest of the movie — that you can never guess what will pop out of anyone's mouth."
Girls Trip
With a recent string of comedies like Rough Night, The House, and CHiPs bombing at the box office, a high-quality, crowd-pleasing summer comedy before Labor Day seemed unlikely. But Girl's Trip, a tale of college friends reuniting for a Vegas adventure, delivers. Our critic Emily Yoshida dubbed the film "a shiny, female-dominated hard-R comedy," praising the chemistry of the four leading ladies. "Like Bridesmaids, it makes no more promises than an actual night out: These people will be there, and the goal is to have a good time … " Yoshida said. "By the time the inevitable dance-off scene comes around in the film's second half, you're laughing not because the choreography is silly, but because everyone is so goddamn committed, and (Regina) Hall is rocking a purple wig like she was born in one."
The Hitman's Bodyguard
While comparing the new Samuel L. Jackson and Ryan Reynolds movie to Transformers: The Last Knight and The Emoji Movie, Yoshida said, "These movies are the cinematic equivalent of metal washers or xanthan gum: Someone has to make them, they keep people employed, and you can go your whole life without seeing or thinking about them and get through just fine." She also described the movie's visual style as such, "The whole film feels slightly grubby and low-res, like it's been languishing in private mode on the filmmakers' pre-HD YouTube page since 2008." So, if you end up seeing this buddy-actioner about an internationally renowned bodyguard protecting an internationally feared hitman, don't say you weren't warned.
Annabelle: Creation
If you're in the mood for a horror flick, your best option is this prequel to the 2014 film Annabelle, a prequel itself. But even if you haven't seen any other movies featuring the titular possessed doll, our (admittedly scare-resistant) Yoshida said you can still appreciate this installment. "David F. Sandberg, of last year's Lights Out, possesses technical skills that are nothing to sniff at, and this mid-century period piece feels richly detailed and lovingly filmed … " she said. "There's nothing cheap about the rest of Annabelle: Creation, so (the) scattered finale felt like a letdown. But again, your mileage may vary; one person's haunted-doll horror is another person's clown horror is another person's creeping specter of postnuclear toxic-masculinity horror. At least haunted dolls aren't real!"
Ingrid Goes West
We live in a world ruled by Instagram influencers and dictated by likes, a feature of life director Matt Spicer highlights in this independent film starring Aubrey Plaza and Elizabeth Olsen. The movie may hit millennials close to home, as Yoshida called Ingrid Goes West a "hypercurrent satire of Instagram celebrity and the kinds of lifestyle aesthetics that flourish there, is such a vivid and minute portrait of our boho-chic, mid-century modern, reclaimed wood, custom typography, shrub-swilling, microgreens-on-heirloom-quinoa moment that the characters can be outlines, and it doesn't really affect the ride […] Enough of Ingrid's millennial shots hit their mark to make it feel like a cultural time capsule, at the very least."
Pattie Cake$
This body-positive Sundance success has a limited release, but if a theater nearby offers the film, you'll see the uplifting tale of an overweight female New Jersey rapper that Edelstein calls "cliché-adjacent" and showers with praise. "It's a real crowd-pleaser, and I hope a lot of people will be inspired by its mixture of grittiness and uplift," he said. "But it also demonstrates that showbiz go-for-it stories are more alike than unalike, even when they have a vivid countercultural vibe and feature actors who don't conform to (Hollywood white male) studio ideals. The feel-bad-to-feel-good ratio is relatively strong, but there's a bushel of formula corn in there, too."
Atomic Blonde
Calibrate your expectations for Atomic Blonde and you could have one of your best movie-going experiences of the year. As Edelstein explains, "The actors, with a couple of exceptions, are merely functional. But you don't go to operas for dancing or ballets for singing, and you don't see Atomic Blonde for anything but a badass female protagonist crunching bones and pulping faces in gratifyingly long takes or remarkable simulations thereof." All you need to know is that Charlize Theron is a spy heading to Berlin on behalf of MI6 and she will kick anyone's ass who gets in the way of her mission. We won't explain what that mission is or how convoluted it gets, but suffice it to say, the fight scenes are rip-roaring fun. Make sure to check back with Vulture after you've seen Atomic Blonde so we can answer all your questions about that ending.
Leap!
If you have some kiddos in tow and possess the good sense to avoid The Emoji Movie at all costs, this animated film tells the tale of an aspiring ballerina and features the voice-acting debut of Carly Rae Jepsen. She told told us about her decision to act in the movie, saying, "Ever since watching My Little Pony and realizing that wasn't actually a pony, I was like, 'I want to have the job that does that.' But when the opportunity came, I don't think I was thinking about it in terms of a chess match: 'If I do this, it will look good over here, later on.' I just wanted to do it because it seems fun, and that's generally how I make most of my decisions." Who can't relate to that?
Tulip Fever
Finally, after literal years of waiting, Tulip Fever has arrived. If you haven't been monitoring its winding path to the box office, the movie stars Alicia Vikander as a married woman (her husband is Christoph Waltz) who embarks on an affair with a painter (Dane DeHaan). There's a lot of sex — it's even been marketed as "the year's sexiest thriller." After an extensive scientific analysis, our Jackson McHenry said the movie's "approximate sexiness is worth the value of ten tulips!" and a friend of Vikander's mom reportedly liked it a lot. That's not nothing!