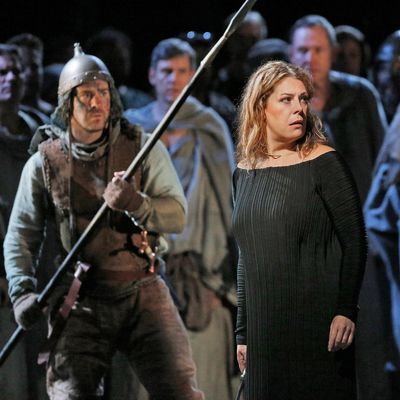 Sondra Radvanovsky in the title role and Joseph Calleja as Pollione in Bellini's "Norma."
Photo: Ken Howard/Metropolitan Opera
The Metropolitan Opera opened its season with a burst of murk. David McVicar's new but oddly old-looking, perversely low-wattage production of Bellini's Norma draws its energy supply from its singers, who are happy to oblige. The company's chorus alone could power an aircraft carrier for a week at sea, and the three leads — Sondra Radvanovsky in the title role, Joyce DiDonato as her sidekick/rival Adalgisa, and Joseph Calleja as the unworthy object of their affections — provide plenty of dazzlement.
Norma should be a director's dream. Psychologically complex, dramatically compact, and musically superabundant, the opera pits a people against its oppressors, friends against each other, desire against destiny. The action flows from number to number, with scarcely a moment of filler. Pollonio, the Roman proconsul in occupied Gaul, has fathered two secret children with one druid princess and then just as secretly fallen in love with a second. The consequences are pyre.
McVicar has done away with the marmoreal robes and mystical air that afflicts so many other productions, rooting his staging in a dense forest and turning Norma's followers into a tribe of grunting chest-thumpers. The production team supported his no-glam vision. Designer Robert Jones set the second scene in a thatched kiva — or maybe it's a mud-and-wattle Pantheon? — with a hole in the roof to vent the hearth's smoke and all those toxic passions. Paule Constable evidently designed the lighting to protect Moritz Junge's costumes from visibility. As the cast staggers around in antique obscurity, we get stingy glimpses of, say, Di Donato's off-the-shoulder rag, which appears to have been woven out of mulched tree bark. The whole population of druids is dressed in shades that range from Total Eclipse to 3 a.m. Black. The libretto speaks of moonlit rites; the staging gives us gropings in the gloom.
Fortunately, there is the score, its brilliance and grace entrusted to the care of Carlo Rizzi. The conductor is a wizard of flexibility. When singers bend the beat, he gets the orchestra to bend with them, keeping the tunes fluid and the sound lush. Thanks to him, even when opening night jitters caused voices to clench, the performance retained its nuance and Italianate breath.
Norma is a brutally difficult role — a long, broken-field run from the ethereal religiosity of "Casta Diva" to infanticidal misery, giddy confidence, revolutionary furor, and noble martyrdom. Bellini has crafted a character vast enough to contain all these emotional extremes and contradictory thoughts. His music urges us to believe in a woman who could feel that her children would be better off dead one minute and that she can bring down Rome the next; that she is totally alone during one aria and, in the ensuing duet, that her husband's mistress has her best interests at heart. Armed with a voice that is wiry, supple, and sometimes tough, Radvanovsky carries us through these swings and vicissitudes with singing of controlled intensity, giving us a Norma who is exasperatingly human but not unhinged. Opera is one of the few areas that doesn't just tolerate but celebrates a woman's overt rage, and Radvanovsky slings it about with élan.
In the rivalry between the high priestess and her protégée, Bellini sides with Norma, loading up the role with showpieces and pushing Adalgisa firmly offstage. But if there is one Adalgisa who can upstage the star, that would be Joyce DiDonato, who sounds less like a novice priestess than an experienced divinity in her own right. She sings with exhilarating physicality, loosing vocal lines that spring into the air like great cats. Adalgisa has none of Norma's nuance: She falls for a man, has second thoughts, then third, indulging in the back-and-forth of the impulsive and weak. DiDonato sings her like a woman biding her time for a promotion in the druid clergy. Maybe she's the one who will one day bring the empire to its knees.
At the opening, Calleja's voice took a while to reach its usual polished-brass gleam, and it was hard to know if he was dealing with a momentary glitch or whether McVicar had directed him into a state of discomfort. He sings Pollonio not as a glittering charmer but as a cloddish Roman male in matriarchal Gaul, a letdown to the women who fall for him. His voice pushes and pinches, and so does he, violently haranguing Adalgisa to follow him back home. I hope that as the run progresses, Calleja will relax into a role he was made for, trusting in Bellini's glories.