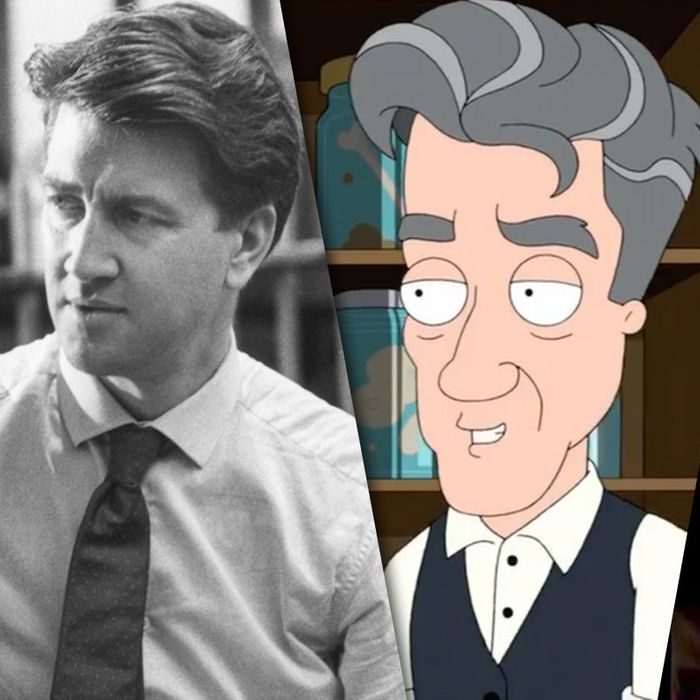 Photo: Columbia Pictures/FOX/FX
David Lynch is best known as the brain behind some of the most impressive and singularly strange films and TV shows of the past 40 years. Try to find someone who hasn't seen — and had their minds blown by — at least one of his works. But on top of his surreal behind-the-scenes exploits, he's also enjoyed a solid — albeit sporadic — career as an actor, portraying a series of unavoidably Lynchian live-action and animated characters in TV shows, movies, short films, and music videos. Ahead of his upcoming part in John Carroll Lynch's directorial debut Lucky, out September 29, we rounded up all of Lynch's onscreen and voice-acting roles (minus a few of his performances that were, tragically, left on the cutting-room floor).
In his return to big-screen acting after a long hiatus, Lynch plays a small-town Texas inhabitant named Howard, who has a tense relationship with Harry Dean Stanton's feisty nonagenarian. He's mostly distressed that his pet tortoise, President Roosevelt, has escaped from his home and is wandering around aimlessly in the desert. "You all think of a tortoise as something slow," he poetically explains to the reptile's skeptics. "But I think about the burden he has to carry on his back. Yeah, it's for protection, but ultimately it's the coffin he's gonna get buried in."
Lynch lends his narration skills to this otherwise average Netflix dramedy, which stars Bob Odenkirk as a greeting-card writer whose life gets turned upside down when he becomes involved in a murder plot. Lynch's voice shows up in the film's very first minute; he recites fun facts like "last year, Americans purchased upwards of 3 billion greeting cards."
The Black Ghiandola (2017)
The Black Ghiandola is a short horror film from the mind of a terminally ill 16-year-old boy named Anthony Conti, made possible by the Make a Film Foundation. In it, Lynch's "Man in Black" character is joined by the likes of Johnny Depp, Laura Dern, and J.K. Simmons to bring Conti's narrative about an apocalyptic zombie world to life.
Louis C.K. managed to wrangle Lynch for a two-episode arc in his popular FX dramedy, where he portrays an enigmatic, high-level entertainment executive who attempts to train C.K.'s character for an audition to replace David Letterman on The Late Show. (His practice monologue contains jokes about President Nixon!) C.K. later explained how it took many months of emailing to convince Lynch to take the role, who was initially very skeptical because he "doesn't like traveling."
The Cleveland Show (2010–2013)
In the spinoff of Fox's Family Guy, Lynch had a years-long recurring voice role as Gus — over 20 episodes! — an amiable bartender who runs a popular booze and food establishment in town. Despite this, he often doesn't have a damn clue about how to properly run a bar.
This Spanish short film, about mysterious events plaguing a woman, gets a short cameo from Lynch playing "The Knowledgeable One." Essentially, he smokes a cigarette and informs two people that "red herring" isn't actually a fish. It's just the break in the case they need!
BlueBob's "Thank You Judge" (1999)
Lynch and audio engineer John Neff released an industrial blues album at the beginning of the millennium, and in anticipation of it, decided to recruit a bunch of Lynchian favorites to star in a music video for their song "Thank You Judge." Once you get past Naomi Watts prosecuting in a courtroom and Eli Roth playing an adulterer, you can try to find Lynch in a policeman's uniform, completely shielded by a mask.
Lynch created this eight-part animated series DumbLand for his website. It revolves around the exploits of a dumb, violent dude named Randy and his distressed family — and Lynch drew, directed, and voiced all of the characters. Come for the promise of a cacophony of Lynch characters, stay for the absurd line readings of "I am a one-armed duck fucker!" and the surprising cornucopia of fart jokes.
Lynch, who served as an executive producer for this postmodern vampire romp, shows up onscreen in uniform as a morgue attendant who refuses to let two bloodsuckers waltz in and take a dead body with a "wooden stake in the heart" home with them. He's good at his job.
Twin Peaks and Twin Peaks: The Return (1990–2017)
The affable, hearing-impaired FBI leader Gordon Cole is undeniably Lynch's biggest acting role to date. He waltzes into the quirky northwestern town in order to assist Agent Cooper with his workload, and ends up eating a metric ton of cherry pie and seducing local women with his charms. Oh, excuse us: EATING A METRIC TON OF CHERRY PIE AND SEDUCING LOCAL WOMEN WITH HIS CHARMS. Twenty-five years later, in The Return, he's just about the same, plus a much fancier hearing aid and promotion.
In a role that can likely be characterized as the most un-Lynch in his career, Lynch has the pleasure of playing a gentleman pursuing a romance with Isabella Rossellini, complete with cute dinner dates and post-sex snuggling in a canopy bed. There are even a few shirtless moments! "Mainly I did it because I had a fascination to see if I could do it," Lynch later explained. "Mainly to overcome this fear of acting, which is phenomenally fearful."
Say what you want about Lynch's attempt at adapting Dune for the big screen, but at least he got to have a little fun appearing as a mining ship's radio operator minutes away from being attacked by a sandworm. Mostly, though, he's pretty bummed that he's being forced to abandon all of his spices.
In the midst of a period of financial uncertainty while Lynch was filming Eraserhead, Catherine Coulson and Lynch collaborated on a short film for the American Film Institute that finds Coulson's "Stump Lady" getting her bloodied limbs cleaned and re-covered by Lynch's nonspeaking nurse — all while she smokes a cigarette and writes a letter to an unidentified friend.