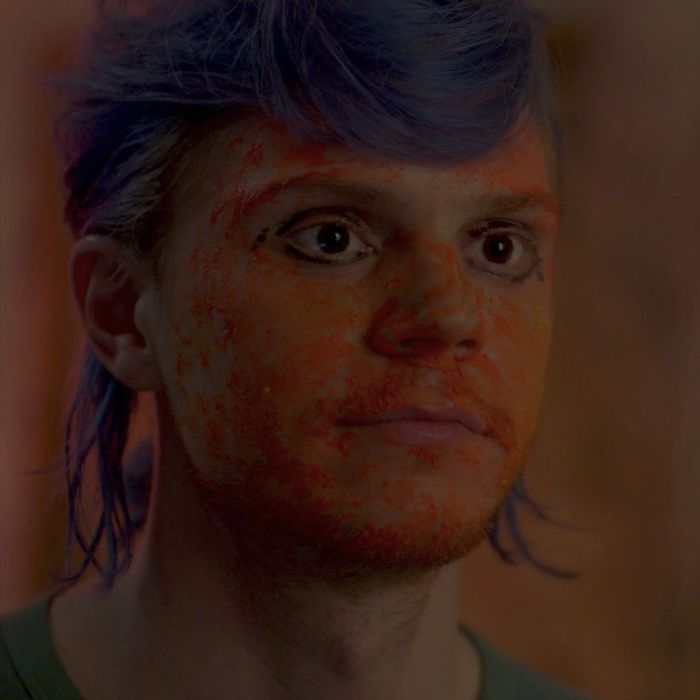 After all these seasons of American Horror Story, the most honest expression of terror we've seen on Sarah Paulson's face doesn't come from a TV psychic, conjoined twins, an investigative journalist, or a blind witch. It happens when her character in AHS: Cult, Ally Mayfair-Richards, realizes that Donald Trump is going to be the next president of the United States. Like so many liberals last November, Ally cupped her mouth in horror as she tried to make sense of the blow that the country's voting public dealt to her worldview. All she could do is scream.
It's a stunning moment, but not nearly as surprising as the other big reaction that an AHS: Cult character delivers in Tuesday's season premiere. When we meet Evan Peters's Kai, a blue-haired basement dweller, he's excited about the Trumpian new world order. Very excited. He doesn't just have a metaphorical boner for Donald Trump; he literally humps his television to express his ecstasy about the unlikely victory.
But that's not even the weirdest part. After rubbing his crotch against Fox News, Kai goes upstairs with a bag of off-brand Cheetos, tosses them into a blender, and makes a sticky orange paste.
Do you see where this is going yet?
Kai then smears the Cheeto paste all over his face and hands to complete a truly strange Trump impersonation, complete with a victory taunt directed at his liberal sister, Winter (Billie Lourd), who quit college to work on Hillary Clinton's campaign. The Cheeto dust seems a little on the nose, both literally and otherwise, but this is American Horror Story we're talking about. For seven years now, Ryan Murphy and Brad Falchuk's horror anthology has blown past subtlety for the sake of camp and scares. Why would its approach to an alt-right Trump voter be any different?