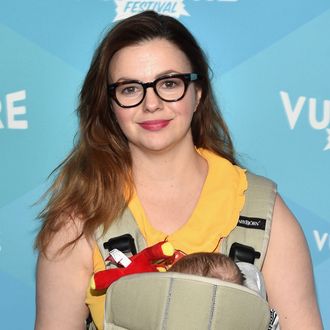 Amber Tamblyn.
Photo: Bryan Bedder/Getty Images for Vulture Festiva
Earlier this week, actor and conservative white-noise machine James Woods took to Twitter to cast aspersions on the new movie Call Me by Your Name. He had a particular bone to pick with the movie's central romance being between a 24-year-old and a 17-year-old, an age difference that is technically illegal. "As they quietly chip away the last barriers of decency. #NAMBLA ," Woods wrote in a retweet of criticism of the gay relationship. To which the movie's star, Armie Hammer, responded, "Didn't you date a 19 year old when you were 60 …….?" With Woods's sketchy dating history entering the exchange, actress Amber Tamblyn entered the thread with an anecdote of her own, tweeting, "James Woods tried to pick me and my friend up at a restaurant once. He wanted to take us to Vegas. 'I'm 16' I said. 'Even better' he said." Woods of course called Tamblyn a liar, and at first she defended herself with a receipt from the friend who was with her at the time, and now she's gone all the way to Teen Vogue with an open letter asking the actor to do some soul-searching.
Tamblyn starts her letter by asking Woods to see this as a teachable moment, before describing the night he invited her, a teenager, to take a trip to Las Vegas with him. She was getting burgers after a concert with a friend and then, "Upon leaving the restaurant we were stopped by you and your friend, who both seemed very nice," Tamblyn wrote. "You tried to make it sound innocent. This is something predatory men like to do, I've noticed. Make it sound innocent. Just a dollop of insinuation. Just a hair of persuasion. Just a pinch of suggestion. 'It will be so much fun, I promise you. Nothing has to happen, we will just have a good time together.'"
Considering Woods dismissed Tamblyn as a liar and lumped her in with the "troll" sector, she makes it clear that she "won't hold [her] breath" while she waits for the actor to examine the ways in which he is part of the systemic misogyny problem. But she does use her platform to widen the conversation beyond her experience as a 16-year-old being propositioned by a 52-year-old. "The saddest part of this story doesn't even concern me but concerns the universal woman's story," Tamblyn wrote. "The nation's harmful narrative of disbelieving women first, above all else. Asking them to first corroborate or first give proof or first make sure we're not misremembering or first consider the consequences of speaking out or first let men give their side or first just let your sanity come last." Read her full letter at Teen Vogue.