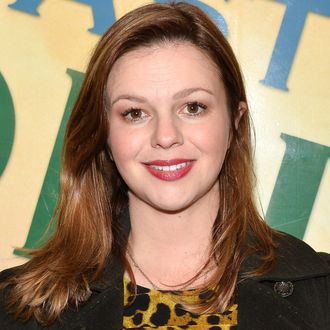 Photo: D Dipasupil/Getty Images
Last week, Amber Tamblyn rattled James Woods on social media after he commented on the age-gap between two romantic partners in the upcoming film Call Me by Your Name. Woods believed that a romance between a 24-year-old and a 17-year-old showed the "last barriers of decency" — despite Woods frequently dating women significantly younger than him in the public eye — prompting Tamblyn to respond with: "James Woods tried to pick me and my friend up at a restaurant once. He wanted to take us to Vegas. 'I'm 16' I said. 'Even better' he said." Woods denied that this "troll" story ever occurred, which encouraged Tamblyn to pen an open letter about Woods and misogyny in Teen Vogue. "The saddest part of this story doesn't even concern me but concerns the universal woman's story," she wrote at the time.
Now, Tamblyn has taken her words to the New York Times to speak out about her first-hand experiences of objectification in Hollywood. When she was starring in the series Joan of Arcadia as a 21-year-old, Tamblyn said she faced an on-set harassment problem with one of the show's crew members. When she tried to explain how she felt unsafe to a male producer, he didn't believe her. "I was nervous about facing the firing squad of Emmys that sat behind him," she wrote. "It was all caught in my throat — my embarrassment that it had gotten to this point. The producer listened. Then he said, 'Well, there are two sides to every story.'"
This clear disregard for believing the woman's side, Tamblyn said, ties into her current situation with Woods. "Mr. Woods's accusation that I was lying sent me back to that day in that producer's office, and back to all the days I've spent in the offices of men; of feeling unsure, uneasy, questioned and disbelieved, no matter the conversation," she wrote. "I have been afraid of speaking out or asking things of men in positions of power for years. What I have experienced as an actress working in a business whose business is to objectify women is frightening. It is the deep end of a pool where I cannot swim. It is a famous man telling you that you are a liar for what you have remembered. For what you must have misremembered, unless you have proof." You can read her entire open letter in the Times here.