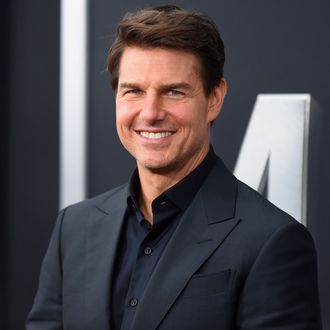 Tom Cruise.
Photo: Jamie McCarthy/Getty Images
New court documents show two families allege that Tom Cruise and director Doug Liman's negligence partly led to a plane crash that killed two pilots and injured a third. Alan Purwin and Carlos Berl died on the scene of the September 2015 crash during production of Liman's American Made. The third pilot, Jimmy Lee Garland, no longer has feeling in his lower body. In a lawsuit brought against the producers of the film — Imagine Entertainment, Vendian Entertainment and Cross Creek Pictures — the families of Purwin and Berl claim that Cruise and Liman wanted a "high-risk, action-packed motion picture," which contributed to the circumstances that led to the crash. "Lapses in planning, coordinating, scheduling, and flight safety that were the Defendants' responsibility resulted in an unqualified and unprepared pilot being pressed into service for a dangerous flight in a vintage aircraft across an unfamiliar mountain pass in bad weather," the documents state, according to People. (The families of Berl and Purwin are also suing one another, and the Berl family is also suing the survivor, Garland.)
Neither Cruise nor Liman are named as defendants in the suit, but the families say Cruise was an experienced enough pilot to fly the plane that crashed. The lawsuit also claims an executive producer sent a formal complaint to the insurance company about the star and director. "DL [Director Doug Liman] and TC [Cruise] [are] adding entire scenes and aerial shots on the fly. Had to bring in Uni Safety to help wrangle them. In the last 48 hours this has become the most insane s— I've ever dealt with," the complaint reads, according to the lawsuit. Court papers include an email written by Purwin, which describes American Made as "the most dangerous project I've ever encountered." Universal Pictures and Cruise did not comment to People on the lawsuit.