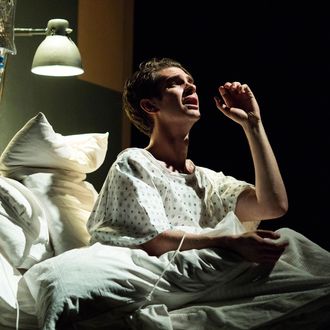 Let the great work begin.
Photo: Helen Maybanks
The National Theatre's production of Angels in America is finally coming to America. Producers Tim Levy and Jordan Roth announced plans to bring the London production of Tony Kushner's epic two-part drama about AIDS, America, and everything else to Broadway, with performances at the Neil Simon Theater starting February 23 and opening night set for Wednesday, March 21. The Marianne Elliott–directed production stars Nathan Lane and Andrew Garfield and will also feature National Theatre cast members Susan Brown, Denise Gough, Amanda Lawrence, James McArdle, and Nathan Stewart-Jarrett, with additional casting to be announced later (Russell Tovey, who appeared in the London production, appears to be out for this round). Brace for one of the more exciting springs on Broadway in a long time, as Angels in America will premiere alongside buzzy productions of My Fair Lady, Three Tall Women, Harry Potter and the Cursed Child, Frozen, Mean Girls, Carousel, The Iceman Cometh, and more.