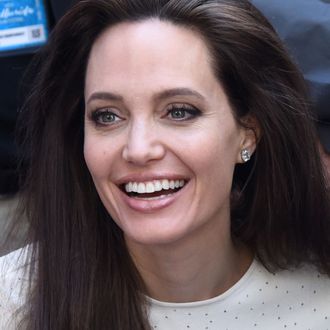 Angelina Jolie at the 2017 Telluride Film Festival.
Photo: Vivien Killilea/Getty Images
Angelina Jolie received a "big," sustained standing ovation at the Telluride Film Festival premiere of First They Killed My Father, her new Cambodian drama, per reporting of those in attendance. The film screened Saturday amid a bevy of awards hopefuls and was hailed by critics as an obvious career-best for Jolie as a director; her previous efforts, Unbroken and In the Land of Blood and Honey, had scored mixed reviews. Jolie, whose son is Cambodian, was joined by Loung Ung, on whose memoir the movie is based, for a post-screening Q&A, where she was met with an ecstatic audience response. Jolie's adaptation of First They Killed My Father has been a touchy subject since details first surfaced about the film's making — specifically, Jolie's reportedly disturbing auditioning process and her collaboration with the "abusive" Cambodian Army. Topics were kept personal and uncontroversial at the Q&A, however, with Jolie describing what drew her to the material and how she approached it. "I thought, what matters to me?" she said to Ung at one point. "I wanted my son to know who his countrymen are."
First They Killed My Father will be released by Netflix on September 15.