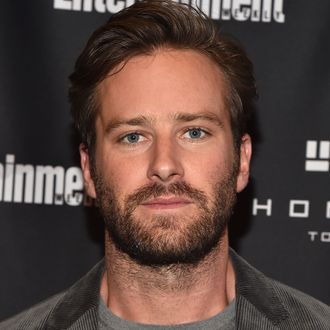 Twitter warrior.
Photo: Getty Images
If you have criticism about Call Me by Your Name, the critically adored Sundance sensation, better come prepared to dance with its star, Armie Hammer. Yesterday, James Woods retweeted a post lamenting the age difference between the romantic leads in the movie and the original 2007 novel (Hammer plays a 24-year-old wooing a 17-year-old college-bound Timothée Chalamet), adding his own comment: "As they quietly chip away the last barriers of decency. #NAMBLA." The use of the hashtag for NAMBLA — the abbreviation for pedophilia-advocacy group North American Man/Boy Love Association — didn't stop Hammer from hitting back:
Though it's certainly creepy for a man to date a woman young enough to be his granddaughter, as Woods did in 2013 when he dated then-20-year-old Kristen Bauguess (Woods was 66 at the time), it isn't illegal. Yet, Hammer's point about Woods being hypocritical was echoed by actress Amber Tamblyn, who recalled a rather unsavory experience with the older actor. "James Woods tried to pick me and my friend up at a restaurant once," Tamblyn tweeted. "He wanted to take us to Vegas. 'I'm 16' I said. 'Even better' he said."
That alleged story certainly doesn't sound as full of charmingly unbearable sexual tension as Call Me by Your Name.
Update, September 12: Receipts! After trolls tried to discredit Tamblyn's account of meeting Woods, the actress shared a screenshot of text messages with a friend, where he confirmed her story about James Woods offering to take them to Vegas:
Woods himself didn't respond to Tamblyn's story, but replied to a handful tweets from his fans with some attempted shade, asking them if he'd offered to take them to Vegas and forgot about it. And, because we were all holding our breath, Woods did reiterate that he likes Armie Hammer's acting: