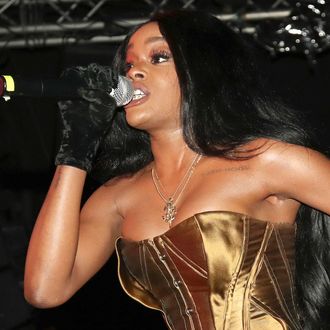 Banks.
Photo: Johnny Nunez/Getty Images
Azealia Banks has opinions about everything, but she has especially strong opinions about other female rappers. This week, after Cardi B's "Bodak Yellow" rose to No. 1, Banks decided it was a good time to go after her while also defending Nicki Minaj, who hasn't yet hit the top of the charts. Banks has, of course, also said "catty shit," as she puts it, about Minaj in the past, and worked with Minaj's ex Safaree Samuels. But now, Banks wants to make it clear that she's very much behind Nicki. She shared a tweet that supports Minaj (and seemingly supports Banks's swipe at Cardi B) on Instagram:
Then, Banks decided to send a long, multipart DM to Minaj herself, apologizing for said "catty shit" and praising her artistry, because, Banks claims, she's all grown up now.
Nicki responded to said DMs with "You're very talented & very smart. Focus on what really matters from now on," which is basically the equivalent of when someone sends you a long emotional text and you don't know what else to say but "K."