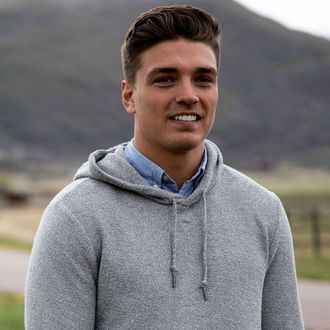 Unglert.
Photo: Josh Vertucci/ABC
Bad news, Deanie Babies. While we (and many other reasonable people across the nation) were hoping Bachelorette fan-favorite Dean Unglert would be the next Bachelor as opposed to the who? Arie Luyendyk Jr., Unglert revealed what really isn't too much of a surprise — he completely blew his chances for Bachelor glory by the way he acted on Bachelor in Paradise. Take a moment to think of all of those dinosaur-themed dates that could've been. "I talked about it very informally with a few people, but there was never a formal offer extended or anything like that," Unglert told ET in regard to the leading gig. "If you watch two episodes of Paradise, you'll see very quickly why I'm not the Bachelor this year." Specifically, Unglert seemed to develop a penchant for simultaneously dating two women and stringing them along for kicks, garnering a "fuckboy" status. "I don't know if I necessarily qualify myself as an f-boy, and of course it's everyone's freedom of expression to call me whatever they want to call me, but at this point, it's just getting overplayed and overused," he explained. "While I disagree with that, I can see how my actions reflect it. But every time I see that comment on my Instagram, a part of me dies inside."
While Unglert might've squandered a lot of goodwill during his second reality show outing, The Bachelor creator Mike Fleiss tweeted out something last week that will give Unglert's fans hope: He acknowledged "Dean will not be" the Bachelor, but added: "this year, at least…" Progress!