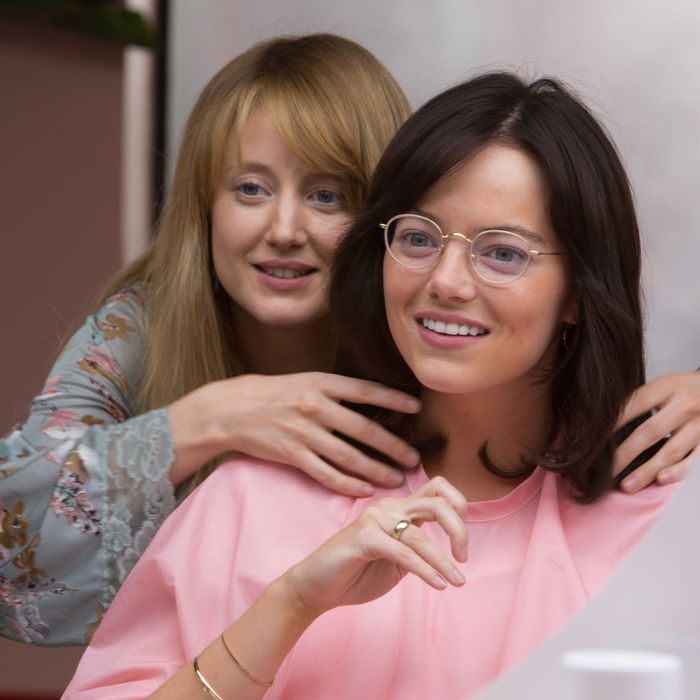 Andrea Riseborough and Emma Stone in
Battle of the Sexes
.
Photo: Melinda Sue Gordon/Fox Searchlight Pictures
There's a moment early on in Battle of the Sexes when you realize what you're watching won't be a traditional sports biopic, and it's the moment that it dawns on our lead, Billie Jean King (Emma Stone), that she's not going to have a traditional life. This scene happens long before Billie Jean agrees to the titular 1973 tennis match against macho blowhard Bobby Riggs (Steve Carell), but shortly after she and other top female tennis players have struck out on their own to form a women's tennis tour that will finally pay them what they're worth. The players head to a salon to get their hair cut just before their first high-profile match, and that's where Billie Jean King meets Marilyn (Andrea Riseborough) and everything starts to change.
Suddenly, the straightforward lensing of the movie gives way to a sequence so stylistically different that it's almost as though you're dreaming it. The rest of the world falls away, and the only sounds we hear are the whoosh of nearby blow dryers and the oddly calming snips of Marilyn's scissors as she shapes Billie Jean's shag. As the beautiful Marilyn touches Billie Jean, puts her face next to hers, and lavishes her with care, we hold on a remarkably tight close-up of Billie Jean working her way through a full-throttle crush. She is feeling the first stirrings of love and lust but there's fear there, too, since she is a famously married celebrity. At the same time, to put herself in another woman's care feels as natural as can be. Even as Billie Jean's heartbeat quickens, she relaxes.
When I talked to Battle of the Sexes directors Jonathan Dayton and Valerie Faris, I wanted to know how they'd pulled off such a neat trick: The most exciting scene in their film is also, oddly, the most soothing. Dayton laughed, and asked, "Are you familiar with ASMR?"
That's short for "autonomous sensory meridian response," but it's best known to internet devotees as the phenomenon behind all those YouTube videos where someone speaks in a voice that can barely be heard or makes sounds so soft that they lull the listener into what's described as a "low-grade euphoria." With the hairstyling scene in Battle of the Sexes, then, Dayton wondered, "Could you create an ASMR moment in a movie theater?"
The two directors sat down with their sound-design team to carefully record the most calming salon noises known to man or woman: a brush of hair, a caress of fingers on skin, a gentle directive to turn one's head this way or that.
"We worked a long time just to get the sound right, to bring you into a sensual realm," said Faris.
"The feeling of having your hair brushed or somebody running their fingers through your hair and talking to you in that way, it's easy to imagine being seduced by that," said Dayton, who added, "And we have it in surround sound, if you're in the right theater."
Of course, all that sound design would have been for naught if Stone and Riseborough weren't capable of ginning up instant chemistry. "Emma as Billie Jean was a no-brainer but finding the right Marilyn was really tricky and Andrea Riseborough was our first choice," said Dayton of the British actress best known for films like W.E., Birdman, and Nocturnal Animals. "One of the things that we love about all her movies is that she's really interesting in the way that she expresses desire. She's this sensual, kind of otherworldly creature."
The salon scene was filmed on Riseborough's second day of shooting with Stone, in a Wilshire Boulevard space that had been converted into a 1970s temple to hair care. "It was scary for all of us because it was such an important scene and they hadn't had much interaction on the first day," said Dayton. "But you could feel it in the room."
In large part, that's because Stone really went for it. Billie Jean King is a definitively adult role for the actress, who came up in teen comedy before winning an Oscar this past year. "This was before La La Land was celebrated, and she was really wanting to challenge herself and open herself up to new experiences," said Dayton. "We were just so happy to catch her at this moment of blossoming."
Stone and Riseborough's instant chemistry reconfigured the entire movie around their bond: Dayton and Faris snipped an earlier scene where Billie Jean and her husband Larry (Austin Stowell) work through marital problems because Stone's face in the hairstyling scene told us everything we needed to know about what this woman was going through. And later, when Billie Jean and Marilyn tumble into bed together, Stone was uninhibited. "Emma was so much more free with her body than I think she's ever been," said Faris. "She's usually incredibly modest."
"We all laughed because the closest she'd done to a love scene before was sort of a postcoital moment where she's got the sheet up around her neck," said Dayton. "But here, she just let it all go."
This is all to say that if you're expecting Battle of the Sexes to focus on the Battle of the Sexes … well, it eventually will. But it may surprise you to learn, just as it surprised Billie Jean, that there is a whole lot more going on beneath the surface. "We love tennis, don't get me wrong," said Dayton. "But it was the love story that drove us to make this."