Back to the Trap House debuted in 2007 at No. 57 on Billboard's "Top 200," selling fewer than 32,000 copies in its first week. My major-label debut was a dud. I knew those beats were not suited to my style. I'd taken too much outside advice. I should have stood up for myself and put out the album I wanted.
The label planned on following the "Freaky Gurl" remix with "I Know Why," featuring Pimp C, Rich Boy, and Blaze1 — the song Polow and I had been working on when he said Waka [Flocka Flame] was going to be a star. But two weeks before the album came out Pimp C died. Something about a sleep-apnea disorder, compounded by drinking lean [soda mixed with codeine-based cough medicine].
My own habits with the stuff had gotten bad. Over the years, there had been times when I'd gone too hard with the X pills, but that had always felt recreational. With the lean, I'd developed a dependence. It became something I needed. My life was moving fast, and this drink helped me slow everything down. I was now on the road nearly every weekend, which meant long bus rides of smoking weed and sipping lean to pass the time. I just wasn't as outward with my usage as a lot of other rappers were with the Styrofoam cups because I was still on probation.
In the beginning, lean had been something special, a vice I enjoyed. An indulgence. Now it was something I required to operate. My fame was at an all-time high, and these pints helped me calm down and relax in situations where I would otherwise feel anxious, like a big performance or a radio interview where I knew I'd get asked about some shit I didn't want to talk about.
A known side effect of codeine is constipation, and all the drank sitting in my stomach had given me a gut. I didn't give a fuck. My little potbelly wasn't stopping these beautiful women from wanting to fuck me. The lean would have me so nonchalant and relaxed, it would only make them want me more.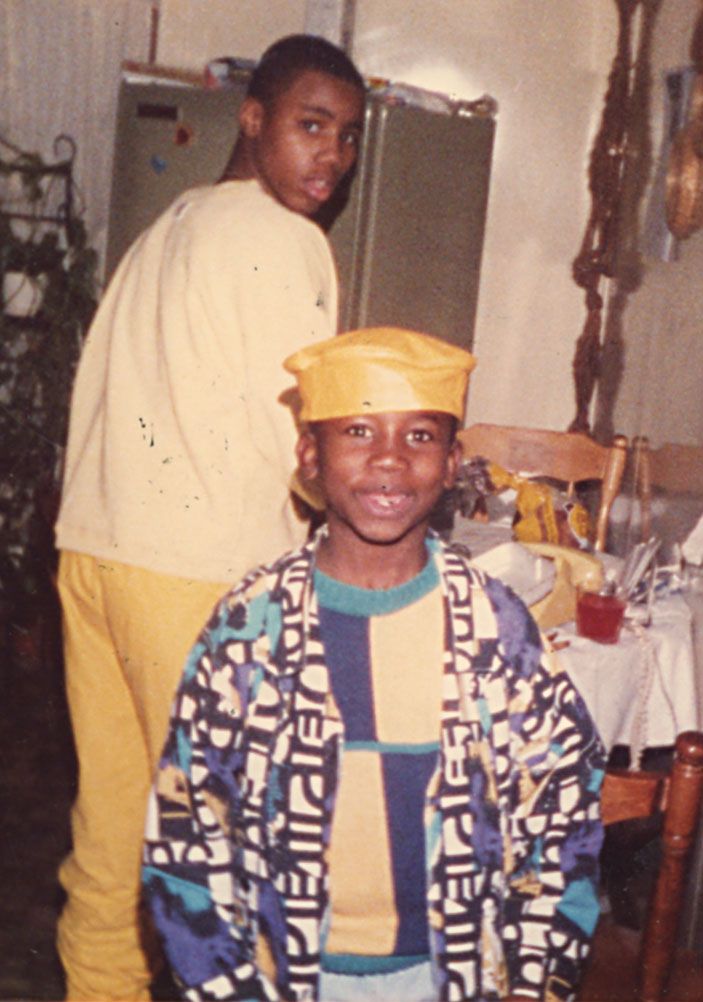 After Pimp C died, the label stopped pushing "I Know Why" as a single, and after that, the whole album fizzled out.
Things weren't all bad. Ever since the success of "Freaky Gurl" and "Pillz," I was getting booked for shows across the country. My fee was up to $30,000 a performance.
In December 2007, the weekend before Back to the Trap House came out, I was in Columbus, Ohio, opening for Lil Wayne on his "Best Rapper Alive" tour. Speaking of Wayne, all my young niggas were always bringing his new mixtapes on the tour bus. It seemed like Wayne was putting out new shit every week. I fucked with Wayne's music, but there was a part of me that didn't like that my protégés were on my bus, vibing to another nigga's music. They should've been listening to me. Except I wasn't recording like Wayne was, so I didn't have a whole lot of new songs to be playing on the long trips.
The disappointment of Back to the Trap House already had me feeling like I had something to prove. So I made up my mind. I would flood the streets with music too.
I hit up every DJ I knew and told them I wanted to do a mixtape with them.
EA Sportscenter with Holiday, Mr. Perfect with DJ Ace, So Icey Boy with Supastar J. Kwik, Ice Attack with Dutty Laundry, Wilt Chamberlain with DJ Rell, Gucci Sosa with DJ Scream, From Zone 6 to Duval with Bigga Rankin.
I made plans to do all these projects, which meant I needed to start recording like hell. And that's what I did. When I wasn't on the road, I was at Zay's house first thing in the morning. If I wasn't at Zay's, I was at Shawty Redd's. If I wasn't at Shawty's, then I was at Patchwerk with Drumma Boy. If I wasn't at Patchwerk, then I was at Fatboi's. The studios switched up, but one thing remained constant: I was recording nonstop.
My decision to do all these mixtapes would change my entire approach to making music. Until that point, I'd mostly written down my raps. Even when I was "freestyling" on the radio or how I did on Rap City back in '05, it was always me reciting something I'd written.
It was actually a few months before Back to the Trap House that I first experimented with changing things up. I was doing a mixtape called No Pad No Pencil with Supastar J. Kwik. As its title indicates, No Pad No Pencil had a bunch of freestyles on there.
At the time I was working on it, I was also shooting a documentary with Hood Affairs. I thought it'd be a dope idea to shoot me in the booth, hearing beats for the first time and just going in on them off the top. I was working with a young producer by the name of Mike Will, and I told him to keep feeding beats into my headphones. Then I got after 'em … and I killed that shit! I'd just been trying to shake things up and do something different, but damn that came out hard. And I had so much fun doing it.
It wasn't a calculated decision to switch my whole style up, but months later, with these new projects in the pipeline and deadlines to meet, freestyling proved to be a much quicker way for me to knock out songs. So that's what I started doing, and I did so relentlessly. I became a machine. I would record six or seven songs a day. Easily. Now that I was freestyling, no one stood a chance of keeping up. I certainly wasn't sitting around the studio waiting for anyone to catch up. One take. Play the next beat.
"Just track the drums and give me one sound," I started telling producers. "That's all I need."
A lot of rappers need to hear beats for inspiration, but I never showed up to the studio with nothing to say. If anything, I had the opposite problem. I was overflowing with ideas, which was why I was rapping on these unfinished skeleton beats, to get one batch of ideas out of my system and be able to move on to the next. The producers could finish up the beats on their own time. You have no idea how many songs I made — big, well-known ones — that were nothing but a kick and a snare in my headphones when I recorded them.
My work ethic would pay off. With each mixtape I dropped, the disappointment surrounding Back to the Trap House faded away. I was getting hotter and hotter. My mixtape run of 2008 would culminate with The Movie with DJ Drama. I think I hit a new peak making The Movie. These were some of my craziest flows to date. I was in a special zone creatively. DJ Drama did his thing on there too, sequencing the songs to put together one of my most cohesive releases. And he talked his shit throughout, sending little jabs and making The Movie a moment to remember.
Unfortunately, I'd miss that moment. One week before The Movie came out, I went in front of a Fulton County judge for a probation-violation hearing. I'd gotten arrested over the summer. After a late night, I was driving back to Eagle's Landing with a couple of girls when I hit a sobriety checkpoint. The officer said he smelled weed, which gave him probable cause to check the car. Before I knew it, I was charged with possession of marijuana, DUI, and possession of a firearm by a convicted felon.
I'd pissed dirty a couple of times too. So there was reason to revoke my probation at that hearing. But I couldn't believe it when I heard my violation was that I'd only completed 25 of my 600 required community-service hours.
This was some bullshit. I had been doing the community service. My probation officer was this supercool white lady. She cared a lot about the kids of Atlanta and thought I could be a role model to them. So I'd been going to schools with her and talking to the young ones about staying out of trouble. We organized a shoe drive too.
What happened was her supervisor didn't approve of the community service I'd been doing. This guy wanted me out on the highway picking up trash or something. Really what he wanted was for me to do something that would embarrass me, humble me, something that would knock me down a peg. But my probation officer had been there with me at all those schools. This was the one part of my probation that I'd been on top of. I couldn't believe this shit.
"I promise you I'll never do this again," I told the judge at the hearing. "I will never come back to your courtroom again if I get just one more chance."
He wasn't hearing it. "Mr. Davis, I'm going to revoke one year of your probation." All of those mixtapes. All the momentum I'd gotten back. It meant nothing. I was headed back to prison.
Excerpted from The Autobiography of Gucci Mane, by Gucci Mane with Neil Martinez-Belkin, to be published by Simon & Schuster. Copyright © 2017 by Radric Davis. Printed by permission.
*This article appears in the September 18, 2017, issue of New York Magazine.