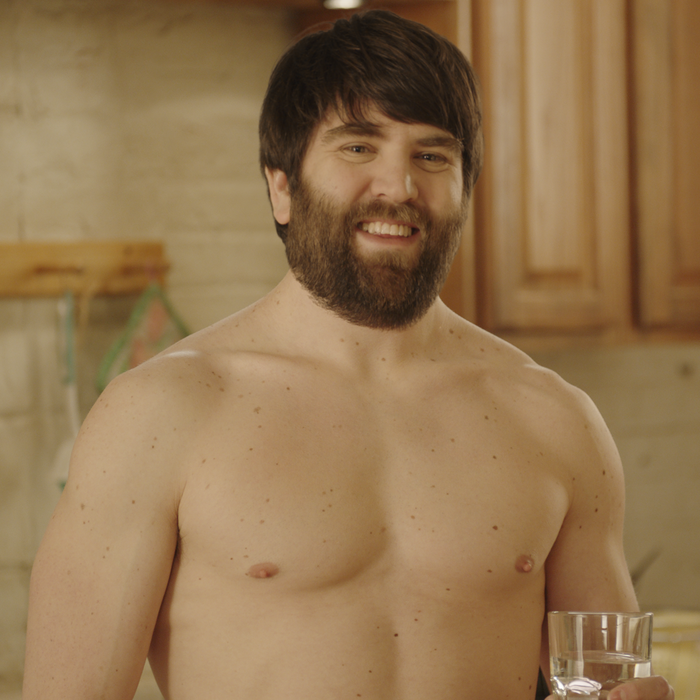 The old Bevers had a bangin' bod.
Spoilers ahead for the Broad City season-four premiere.
The premiere of Broad City's fourth season shows the genesis of Abbi (Abbi Jacobson) and Ilana's (Ilana Glazer) friendship way back in 2011. The most insane thing about the time jump wasn't the serial ponytail clipper or Ilana dating her gay future roommate Jaimé. It's realizing that, at one point in time, Abbi's roommate's boyfriend Bevers (John Gemberling) was more shredded than all the kale at Sweetgreen.
Of course, Abbi would go on to hate the freeloading Bevers, who never does anything around the house, won't pay rent, and asks her to do him ridiculous favors. "The idea was that he was hot and charming, and if you look back, Abbi is the one who set up all the ground rules that would haunt her for the rest of time," says Broad City executive producer Lilly Burns. "Since it was the first time we used flashbacks, the writers thought about what is the funniest version of what he used to be. And it's a super-hot guy."
How exactly did they get Abbi's nemesis Bevers to look like he just came from a Men's Fitness cover shoot? Turns out it took some Game of Thrones levels CGI. Just kidding, it wasn't that intense. "He just stopped eating carbs!" Burns jokes.
What really happened is they filmed the scene twice. "We first shot the scene with John Gemberling, so that we could figure out the blocking and the cadence and we put a small green screen behind his head and shoulders," Burns says. "Then the body double came in and reenacted the scene with no shirt on and acted in the same manner and area where he did it. We just swapped [his head] out for each shot. We had the body and we had [John's] head in that same lighting and general area and they were able to lay his head over the body and clean up around the edges."
Luckily, the body double, Alex Zarlengo — who was chosen from a series of pictures, not an arduous half-naked audition process — didn't have to wear a green stocking on his head or anything crazy like that. One of the concessions everyone did have to make was they had to stay nice and still for the VFX process. "It couldn't be crazy like the normal, throwing your head around as you move, Burns says. "We had to keep them more controlled in their movements."
She gives the final credit to the show's VFX supervisor Ed Mundy, who does some effects on every episode (including blurring all of Ilana's prodigious nudity), for stitching the two guys together and creating the hunky 2011 Bevers we never knew existed. She says this is the most high-tech special effects the show has ever attempted, and all for a few seconds of much-appreciated male beauty.
Burns says not to keep a lookout for this drool-worthy blast from the past in the future, since the show probably won't go back to past again, but she did hint that maybe, between this season and next season, Bevers would find that six pack once again. The one possibility that no one entertained was asking Gemberling to go on one of those crazy superhero training diets and get jacked in real life. When asked if it was a possibility, Burns laughed and said, "I think we know our boy so we did not give him the opportunity. We need him in his beautiful natural state for the rest of the season."