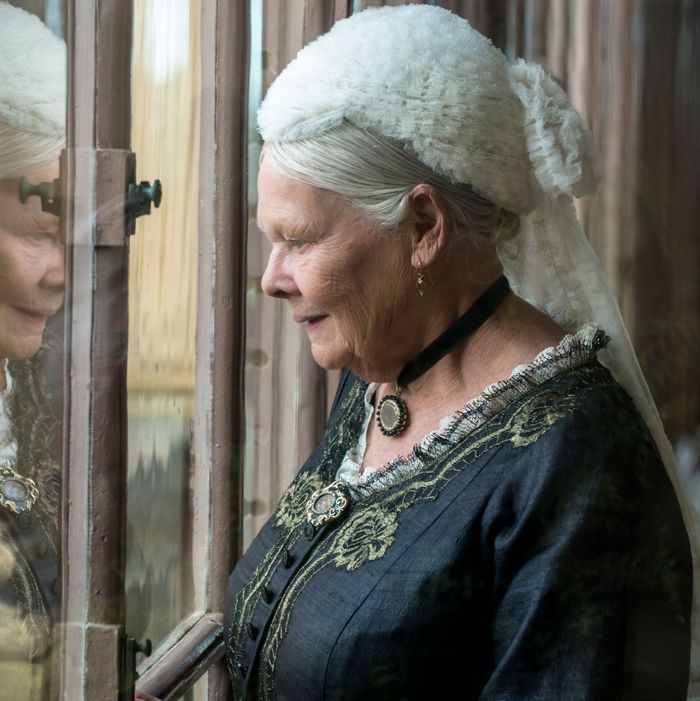 Photo: Peter Mountain/Focus Features
This year's Best Actress race is stacked with laureled veterans and exciting newcomers, and it promises to be a real contest. Many of those leading-lady contenders will be appearing at this week's Toronto Film Festival, and Vulture is on the ground in Canada to help you sort through their Oscar odds. Which of these talented women will make the final five?
The Actress: Judi Dench, 82
The Awards History: Dench has been nominated for seven Oscars and has won one, a Best Supporting Actress trophy for Shakespeare in Love. She also has two Golden Globes out of a whopping 11 nominations.
The Role: In the Stephen Frears comedy Victoria and Abdul, Dench plays one of those two title roles, and it's a part she earned her first Oscar nomination for. Back in 1997's Mrs. Brown, Dench played Queen Victoria as a mourning royal who's inconsolable after the death of her prince consort; only the arrival of a Scottish servant can draw her out of seclusion, though the people around her are skeptical of his growing influence. Victoria and Abdul is superficially similar, but played more for laughs, as Dench's later-in-life Victoria becomes quite charmed by the young servant Abdul (Ali Fazal), who has been sent from India to take part in a celebration in her honor. Soon enough, Abdul becomes one of her closest friends and advisers, and the queen's family reacts once more with highly pursed lips.
The movie is slight, but Dench is a delight. You might think, having played roles like this before (and this particular part another time, too), that Dench would give something less than her all. She doesn't: Though the bored and somewhat narcoleptic queen is introduced sleeping through her honorary lunch, when Dench jolts to life, she gives the entire movie her spark. This is a diminished, resentful queen who's been laid low and kept small by her advisers; it's no wonder that she sparks to Abdul, asking him to teach her Urdu and his customs. Refreshed by Abdul and with her mind reawakened, Victoria finds herself ready to give the craven members of her court the dressing down they so richly deserve.
It's a vanity-free, skilled performance that shows Dench is still capable of surprising us. Her comic insouciance is familiar, yes: When one of her scandalized advisers protests, in advance of a vacation, "You can't take a Muslim to Florence," she replies with a smile, "I can take a Muslim anywhere!" But it's her take on Victoria's end-of-life depression I'll remember most. When we meet her, Dench taps down her natural joie de vivre to play someone so dispirited that she's practically deflated. I have issues with how uninterested Frears seems to be in Abdul's inner life, but there's no question that Dench conveys everything Victoria is feeling and experiencing, not just in the moment but over the course of her whole long life.
In Her Favor: Dench has a couple of defiant, desk-clearing monologues in the film that just about scream Oscar. (Scan the trailer for some well-delivered excerpts near the end.) When you've been nominated as many times as she has, you're hard to count out: Just look at Meryl Streep, who managed a nomination last year for the Frears-directed Florence Foster Jenkins, which is a similar tonal match for Victoria and Abdul. There may also be a sense that the window of time to reward Dench is closing: Though she's as spiritually spry as ever, Dench's eyesight is failing and there may not be many opportunities left to nominate her.
Working Against Her: Though this is the sort of film that usually appeals to the Academy's older demographic, reviews weren't terribly strong out of Victoria and Abdul's Venice Film Festival premiere, and the film would perhaps have benefited more from a late-summer release date like Florence Foster Jenkins, which would have allowed it more time to find an audience. A star turn from Dench will always do well on the art-house circuit, but we're about to enter the thick of awards season, and far flashier titles will be released as soon as next week. Still, it would be as unwise to count Dench out as it was for Victoria's advisers to underestimate her.