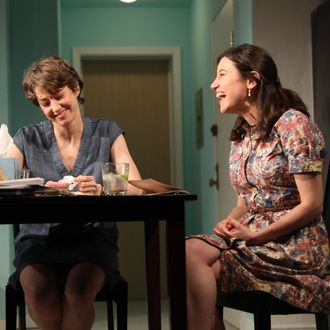 L-R: Carrie Coon and Susan Pourfar.
Photo: Joan Marcus
One small hiccup for New York Theater Workshop's relatively small-scale Off Broadway production of Mary Jane this September is that its star, Carrie Coon, has to dash out to California this Sunday to go to the Emmys. "We had to cancel a preview," Coon, who is nominated for her work on Fargo, laughs. "I'm leaving that very morning, so it's quick, which I think is probably good. It keeps you grounded. I think my grandmother would approve."
Coon, who started out doing theater in Chicago before a breakout series of roles in Gone Girl, The Leftovers, and Fargo made the conscious decision to challenge herself by getting back to theater. The play in question, written by Amy Herzog, centers on Mary Jane (Coon), a single woman raising a chronically ill child with the help of a network of female friends. "She's searching, like we all do at a certain point in our lives, and questioning how we are in the world, and how we function in the world, and what our relationship is to suffering," director Anne Kauffman says of the title character, whom she compares to a modern-day Job.
Crucially, Mary Jane is also meant to be as funny as it can be grim, and Herzog's writing allows room for a range of experience within the lead character's life, from despair to pillow fights. It gives Coon, who's best known for her tear-jerking TV roles, a chance to flex her comedy muscles. "In Hollywood I'm being offered grieving mothers and cops and grieving mom cops left and right," Coon says, "I've always found in the theater I'm given opportunities that don't presume limitations."
Kauffman previously directed Mary Jane, which went up at the Yale Repertory Theatre earlier this year, and in bringing the play to New York, she's working with an all-new cast, and has the chance to reexamine it from a new angle. To that end, she's enjoying the chance to work closely with Coon and try out a variety of pathways into the story. "There are very few actors with whom I can be like, 'I can't tell you what to do but can you just do something different?'" Kauffman says. "She has this whole array, this storage house to pull from. I am confident that we can go through 30,000 different lanes."
Mary Jane is currently in previews. Opening night is September 25.