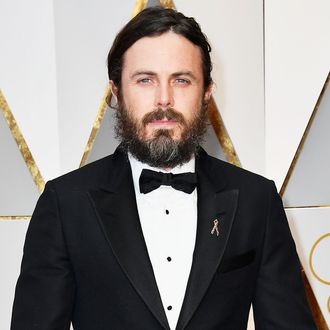 Casey Affleck.
Photo: Frazer Harrison/Getty Images
Director Joe Wright has found his next book-to-film project, and Casey Affleck has found his next very sad movie, as the pair will join together for an adaptation of John Williams's critically lauded novel, Stoner, Variety reports. Wright loves a literary adaptation, having previously helmed screen versions of Pride & Prejudice, Atonement, and Anna Karenina, and Sadfleck loves playing characters who are trudging through life (or the afterlife) in the face of really bummer circumstances (don't forget he most recently appeared behind a white sheet as the titular ghost in the movie A Ghost Story, and he won his Oscar playing the saddest person in any movie of 2016 in Manchester by the Sea). In Stoner, Affleck will star as William Stoner, an unremarkable assistant professor who lives an unremarkable life, has an unhappy marriage, is estranged from his child, and eventually dies. Talk about uplifting!
It's worth noting, too, that Stoner will be produced by Blumhouse, a production house typically known for its horror films (Get Out, Split, The Purge, and the Insidious franchises, for example), though CEO Jason Blum has been slowly diversifying the studio's portfolio in recent years. Last year the company released the highly satisfying John Wick–style Western In a Valley of Violence, and Whiplash brought home Oscar gold in 2014. In an interview with Vulture earlier this year, Blum made clear his intent to diversify the Blumhouse portfolio, as long any future project meets that most crucial company condition: "I'm much more inclined to do movies that are outside of scary, as long as they are inexpensive," Blum said. "I'm not interested in doing expensive movies." Fortunately for the studio head and Wright, no CGI paintbrush or budget inflation is required for Affleck to plumb the depths of existential ennui.