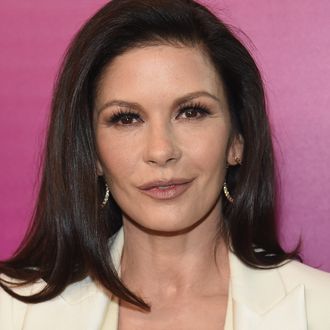 Zeta-Jones.
Photo: Jamie McCarthy/Getty Images
Does your living room need a little more of all that jazz? And by jazz, we mean new sheets, towels, and faux-fur throws. Because the one and only Catherine Zeta-Jones, Oscar- and Tony-winning star of Chicago and A Little Night Music, proud Welshwoman, and wife of Michael Douglas, is here to provide for all of your home needs. After weeks of hype, Zeta-Jones premiered her QVC home goods collection, Casa Zeta-Jones. Seemingly every bit of promotion has involved Catherine Zeta-Jones reclining on couches, and let me tell you this all looks as luxe as possible.
Zeta-Jones premiered her collection with two delightful segments on QVC yesterday. A key centerpiece of the Casa collection is "The Audrey," a 50-by-70-foot faux-fur throw. "There's nothing fake about this," Zeta-Jones says."It's just as gorgeous and sumptuous as [the] Audrey that she was named after." And, as the QVC host points out, it's machine washable!
If that's not your style, you could always purchase the Casa Zeta-Jones floral reversible comforter set, which comes with an accent pillow, and which Catherine Zeta-Jones says that she has in every color at her home. Catherine Zeta-Jones runs her hands slowly over the fabric, noting that this is one of her favorite parts of "Casa Zeta," which sounds a lot like a college sorority.
In a segment advertising the Casa Zeta-Jones six-piece cotton embroidered towel set, Catherine Zeta-Jones described how much she loves putting this collection together: "Creatively, this is like therapy for me."
Long live Casa Zeta-Jones, a QVC home goods line that I will probably never spend money on, but which has already brought so much joy to the world.