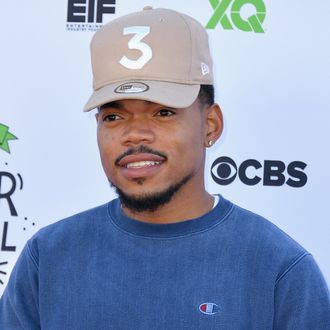 Photo: Neilson Barnard/Getty Images
Chance the Rapper had a score to settle this morning. He watched a movie yesterday, he said, one that he thought was funny. Not just regular funny like Hot Rod (which he likes) or freaking hilarious like Girls Trip (which we like). But, like most movie studios, Chance wasn't pleased to learn that this hilarious comedy that was criminally undermarketed was given a big fat "rotten" by Rotten Tomatoes. At first, Chance blithely mentioned that the comedy in question — again, "funny as fuck" — received a 17 percent rating on the site:
(Not to be extra about it or anything, but, I knew. It took me two guesses, but soon enough, my deep investigative journalism skills kicked in.)
Forty-four minutes later, Chance confirmed the theory: It was indeed The House, the Will Ferrell–Amy Poehler comedy that you definitely did not see. I know this because, per Deadline, The House only made $8.7 million in its opening weekend, one of the lowest openings of Poehler's and Ferrell's entire careers. So before you try to fake that you're #WithChance or whatever, know that I have the receipts. When this movie came out on June 30, you were probably not in the theater with popcorn, ready to laugh.
But here's another hard fact gleaned from this fake feud: Chance the Rapper really, really hates the movie Bulworth, written, directed by, and starring Annette Bening's husband as a corrupt politician who orders a contract killing on himself. Not only did Chance call it a "shitty racist unfunny fucked up ego trip" today, but this summer, he name-checked the movie again as one that he wasn't a fan of.