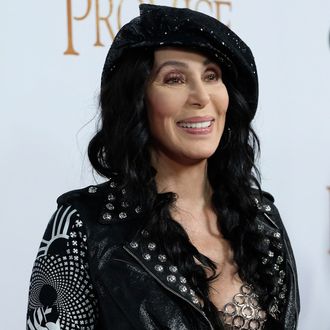 Photo: Chris Delmas/AFP/Getty Images
Ah, the first day back after a long weekend. Has your day been bad? Did you take a look at the news and feel miserable? Thank goodness for Cher's Twitter, which has again proved to be a delight. We are gathered here today to remember Brenda Webb, a.k.a. @bwebb56, who met her demise Tuesday afternoon when she made the mistake of coming for a certain American hero on Twitter. Cher, ever the online activist, shared her utter disgust with the Trump administration's decision to end DACA, vowing via Twitter to take Dreamers into her home and protect them. Webb — a "Single Mom,Believer in Jesus,Positive person,Politics annoy me-Just can't help it!!" according to her bio — did not believe the superstar, and said, "Sure you will Cher.. I'll believe it when I see it!" (Webb has since made her account private.) Cher's reply?
A murder! A death! That just played out right before our very eyes! "Then keep your eyes open bitch" is today's gospel. Use it wisely.