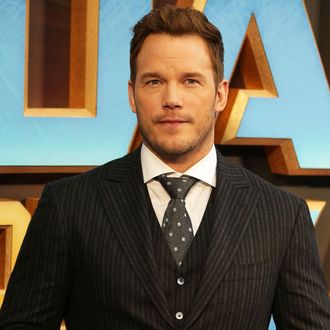 Photo: Daniel Leal-Olivas/AFP/Getty Images
Identity Chris-es: We've all known the Hollywood Chrises — Pine, Evans, Hemsworth, and Pratt — are essentially Hollywood's hunky matryoshka doll. (But Pine, obviously, is in first place.) In peak-celebrities-they're-just-like-us form, Chris Pratt took a personality quiz that would assign him a Hollywood Chris: "Are you Chris, Chris, Chris, or Chris?" His result, based on birth order, favorite thing to do on a weekend, and which Disney prince you identify with most: Chris … Evans! "The best part about you is that your charm isn't superficial — you have a set of substantive morals and convictions that you hold fast to," the quiz summarized. Evans's "substantive morals and convictions" are obvious: He's down to spar with racists and Klansmen on Twitter all the time. Maybe Pratt-as-Evans will rebrand?
Update, 2:30 p.m.: Evans responds! Captain America says Pratt "aced" that random Disney quiz, even though he didn't test into Chris Pine territory. Can we have Princess Diaries 3 just settle these Chris rankings once and for all?