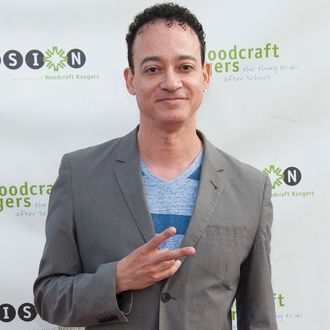 Christopher "Kid" Reid.
Photo: Valerie Macon/Getty Images
Christopher Reid, of the rap turned comedy duo Kid 'n Play, has apologized for his role in a Fox Sports 1 sketch about Colin Kaepernick that was scrapped before airing. Jason Whitlock had teased the sketch on Twitter with a photo of Reid in a fake Afro and Kaepernick's jersey holding his hand up in imitation of a Black Power gesture. Whitlock has often criticized Kaepernick for his political protests against police violence, and many found the image to be in poor taste.
In a lengthy Facebook post, Reid explains that the "skit and photo were not meant to disrespect Colin's message or political stance. Rather, we wanted to spoof the media's treatment of him and the circus that has been created." Reid says he understands that "Whitlock has been a vocal critic of Colin so the optics of the photo have got me looking crazy," but he stands with Kaepernick against police brutality. "Moving forward, I recognize the danger of optics without proper explanation — people race to their own conclusions, good and bad," Reid added. "I also have to accept my part in this controversy — the fact that my rep was taking hits was shocking at first — but I've come to a healthy understanding of how some people were dismayed by what went down."