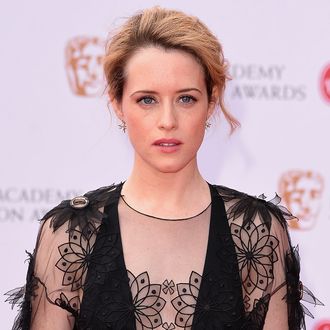 Claire Foy.
Photo: Jeff Spicer/Getty Images
Sony has found its top choice to front the Millennium series reboot. The Crown queen Claire Foy will take on the role of Lisbeth Salander for The Girl in the Spider's Web. The relaunch of The Girl With the Dragon Tattoo is being directed by Fede Álvarez, who is known for horror hits The Evil Dead and Don't Breathe; he'll be the one who has to explain to the Zoë Kravitz fandom why he did not read Vulture's Lisbeth-casting recommendations.
"I couldn't be more thrilled about Claire taking the reins of the iconic Lisbeth Salander," Álvarez said. "Claire is an incredible, rare talent who will inject a new and exciting life into Lisbeth. I can't wait to bring this new story to a worldwide audience, with Claire Foy at its center." Here's hoping for a press tour à la Rooney Mara's: cropped bangs and bleached eyebrows. The Girl in the Spider's Web is slated to open on October 19, 2018.