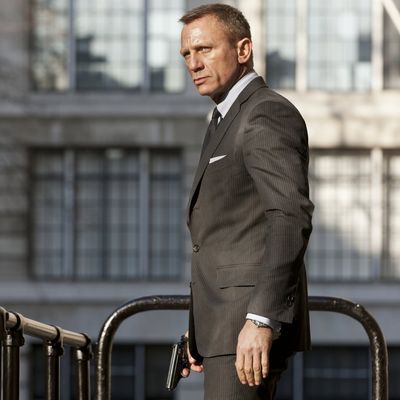 James Bond, agent 001111111.
Photo: Columbia Pictures
The bidding war for James Bond is on: THR reports that Apple and Amazon have thrown their billion-dollar hats into the ring for the rights distribute the next James Bond film, which will be Daniel Craig's final go-round in the role. This comes after earlier reports that Megan Ellison's Annapurna Pictures, which just got into the distribution game with Detroit, was also in the mix for the next Bond, alongside Warner Bros. and incumbent Sony, whose contract with the franchise expired in 2015.
Would Bond really jump to a tech company? Technically, he has before: Sony, which has distributed every Bond film since 2006's Casino Royale, started out making tape recorders. The studio's partnership with MGM on Bond has been accompanied by a period of revitalization for the franchise: Bond is one of the few remaining sure bets in Hollywood, and 2012's Skyfall was the series' highest-grossing installment ever. All involved seem to agree that Sony's done a great job with the franchise. So why the bidding war?
As the New York Times has noted, the financial benefits of distributing James Bond aren't exactly a windfall: Under the previous deal, negotiated by Amy Pascal, Sony was on the hook for 50 percent of a film's production costs, but only got 25 percent of the profits. As revealed in the Sony hack, one executive's back-of-the-envelope math figured that a Bond film that grossed a billion dollars would only net the studio around $40 million. Pascal, as you may have heard, doesn't run Sony anymore; the guy who does, Tom Rothman, has a reputation for penny-pinching, and may not be willing to shell out as much as his predecessor.
For tech-adjacent newcomers with money to burn, though, the high price is worth the small payout. Like flying private instead of first class, Bond is a status symbol. Apple or Amazon or Annapurna landing the franchise would be a sign that they'd made it, a signal to the rest of Hollywood that they deserved to be considered alongside the giants of the industry whenever A-list talent was looking for a home.
For Apple, and to a lesser extent Amazon, getting into the Bond business might very well pay for itself in brand exposure. Ever since the very beginning, Bond has used whatever products his makers have been paid handsomely to have him use, hence his recent affinity for Sony gadgets. Were the distribution rights to go to a company with a consumer-products line, the opportunities for cross-promotion would be priceless. Gizmodo imagines scenes where "James Bond jumps out of a plane and checks the altitude on his Apple Watch as he flies towards the ground [or] busts out the latest iPhone and shows off the device's new augmented reality features for some spy shit." The Amazon version might be a little less stylish ("Alexa, play 'James Bond Theme' by John Barry Orchestra,") but you've got to imagine that kind of thing is on their minds, as well.
That's what Bond can do for Amazon and Apple. What can Apple and Amazon do for Bond? It might not be enough to outbid the major studios — they'll also have to make the case that they can market and distribute a film better than a studio can. Amazon has the best track record on this front: It shepherded Manchester by the Sea through a successful Oscar campaign, though it has yet to distribute a film all on its own (Woody Allen's Wonder Wheel, which opens December 1, will be Amazon's first time distributing without a partner). Annapurna may have a harder case to make on this front, as Detroit's underwhelming opening was hardly the ideal first step for any would-be disruptor. And Apple, well, Apple has Carpool Karaoke.
THR also notes that the tech giants (especially Apple, which recently poached two key executives from Sony) might make a play not just for the distribution rights to the next film, but buy the entire screen rights outright in the hope of turning the franchise into the next Star Wars or Marvel. That would certainly be a major shift. The Broccoli family has been notoriously careful with Bond, avoiding the kind of multi-platform cinematic universe that's now considered necessary to milk every buck from a piece of intellectual property. There's been no James Bond: Origins, no Adventures of Oddjob & Jaws, no ABC spinoff about the daily life of Miss Moneypenny. As with the Beatles, that other bit of '60s pop culture that's retained its cultural preeminence, this choosiness is partly what's kept the brand so strong.
In the end, that sort of conservatism may keep the superspy with one of the majors. Warner has reportedly been "aggressive" in its pursuit, and it's widely considered the front-runner in the Bond race. And not everyone's ready to count Sony out. "Bold crazy moves have not been the strategy for the Broccoli family keeping this afloat for sixty years," the Ankler's Richard Rushfield argues. "Will 007 really leave the home where it's done very well for a studio [Warner Bros.] in the midst of an ownership hand-off with a lot of competing interests jockeying for time and marketing budget?"
Still, with the franchise one of the relatively few intellectual-property heavyweights still up for grabs, it's worth paying attention to the chase. Hopefully this one will end up less violent than some of Bond's.