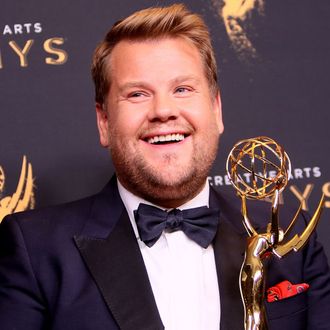 James Corden won another Emmy for
Carpool Karaoke
.
Photo: David Livingston/Getty Images
The Creative Arts Emmy Awards took place this weekend in Los Angeles, honoring achievements in animation, nonfiction/reality programming, and special presentations, along with behind the scenes personnel and guest actors.
Saturday was a particularly big night for Ava DuVernay's 13th, which — months after losing the Oscar to O.J.: Made in America — picked up trophies for writing, music and lyrics, motion design, and (the big one) Outstanding Documentary. But there was plenty of room for celebrating around it. Other multi-winners included Born This Way and Planet Earth II, while Seth MacFarlane (voice-over performance), RuPaul Charles (reality-show host), Carpool Karaoke (variety special), and Shark Tank (structured reality program) all repeated in their respective categories. Oh, and Meryl Streep won an Emmy for narration! An eclectic group, to say the least.
Sunday night's awards brought victories for SNL, with Melissa McCarthy and Dave Chappelle both taking home awards for their hosting roles on SNL (guest actress/actor in a comedy series), while Alexis Bledel was awarded "Outstanding Guest Actress in a Drama Series," for her guest spot in The Handmaid's Tale.
The official Primetime Emmy Awards, meanwhile, will be broadcast live next Sunday, September 17, on CBS. Check out the full list of Creative Arts winners below.
Saturday, September 9:
Outstanding Documentary/Nonfiction Series
Planet Earth II
Outstanding Documentary/Nonfiction Special
13th
Exceptional Merit in Documentary Filmmaking
LA 92
Outstanding Informational Program or Series
Leah Remini: Scientology and the Aftermath
Outstanding Special Class Program
70th Annual Tony Awards
Outstanding Variety Special
Carpool Karaoke Primetime Special 2017
Outstanding Structured Reality Program
Shark Tank
Outstanding Unstructured Reality Program
United Shades of America
Outstanding Animated Program
Bob's Burgers
Outstanding Character Voice-Over Performance
Seth MacFarlane, Family Guy 
Outstanding Narrator
Meryl Streep, Five Came Back
Outstanding Reality Host
RuPaul Charles, RuPaul's Drag Race
Outstanding Music and Lyrics
Common, Robert Glasper, and Karriem Riggins, 13th ("Letter to the Free")
Outstanding Music Direction
Taking the Stage: African American Music and Stories That Changed America
Outstanding Nonfiction Writing
Ava DuVernay and Spencer Averick, 13th
Outstanding Variety Special Writing
Not the White House Correspondents' Dinner
Outstanding Nonfiction Directing
Ezra Edelman, O.J.: Made in America 
Outstanding Variety Special Directing
The Oscars
Outstanding Reality Casting
Born This Way
Outstanding Choreography (TIE)
Mandy Moore, So You Think You Can Dance (Unsteady, This Is Not the End)
Travis Wall, So You Think You Can Dance (The Mirror, Send in the Clowns, She Used to Be Mine)
Outstanding Nonfiction Cinematography
Planet Earth II ("Islands")
Outstanding Reality Cinematography
Born This Way 
Outstanding Variety/Nonfiction Costumes
RuPaul's Drag Race
Outstanding Multi-Camera Hairstyling
Hairspray Live!
Outstanding Variety Series Lighting Design
Dancing With the Stars
Outstanding Variety Special Lighting Design
Super Bowl LI Halftime Show Starring Lady Gaga
Outstanding Multi-Camera Makeup (Non-Prosthetic)
Saturday Night Live
Outstanding Nonfiction Picture Editing
O.J.: Made in America
Outstanding Reality Picture Editing (Structured/Competition)
RuPaul's Drag Race
Outstanding Reality Picture Editing (Unstructured)
Life Below Zero
Outstanding Variety Picture Editing
Last Week Tonight With John Oliver (F*ck 2016 segment)
Outstanding Variety/Nonfiction Series Production Design
Saturday Night Live 
Outstanding Variety/Nonfiction Special Production Design
Hairspray Live!
Outstanding Nonfiction Sound Editing
The Beatles: Eight Days a Week
Outstanding Nonfiction Sound Mixing
The Beatles: Eight Days a Week
Outstanding Variety Sound Mixing (TIE)
59th Grammy Awards
2017 Rock and Roll Hall of Fame Induction Ceremony
Outstanding Movie/Mini/Special Technical Direction
Hairspray Live!
Outstanding Series Technical Direction
Saturday Night Live 
Outstanding Short Form Animated Program
Adventure Time 
Outstanding Short Form Nonfiction/Reality Series
Viceland at the Women's March
Outstanding Short Form Variety Series
The Daily Show: Between the Scenes
Outstanding Creative Achievement in Interactive Media (Unscripted)
The Oscars: All Access
Outstanding Interactive Program
Last Week Tonight With John Oliver
Outstanding Innovation in Interactive Storytelling (juried)
Pearl
Outstanding Motion Design (TIE, juried)
Beyond Magic
13TH
Outstanding Individual Achievement in Animation (TIE, juried)
Bryan Andrews, Scott Willis, Craig Kellman and Lou Romano, Samurai Jack
Justin Nichols, Wander Over Yonder
Sunday, September 10:

Outstanding Actor in a Short Form Comedy or Drama Series
Kim Estes, Dicks
Outstanding Actress in a Short Form Comedy or Drama Series
Jane Lynch, Dropping the Soap
Outstanding Casting for a Comedy Series
Veep
Outstanding Casting for a Drama Series
Stranger Things
Outstanding Casting for a Limited Series, Movie or Special
Big Little Lies
Outstanding Children's Program
Once Upon a Sesame Street Christmas
Outstanding Cinematography for a Limited Series or Movie
The Night Of
Outstanding Cinematography for a Multi-Camera Series
The Ranch
Outstanding Cinematography for a Single-Camera Series (Half-Hour)
Veep
Outstanding Cinematography for a Single-Camera Series (One Hour)
The Handmaid's Tale
Outstanding Commercial
Calling JohnMalkovich.com
Outstanding Contemporary Costumes for a Series, Limited Series or Movie
Big Little Lies
Outstanding Creative Achievement in Interactive Media Within a Scripted Program
Westworld
Outstanding Guest Actor in a Comedy Series
Dave Chappelle, Saturday Night Live
Outstanding Guest Actor in a Drama Series
Gerald McRaney, This Is Us
Outstanding Guest Actress in a Comedy Series
Melissa McCarthy, Saturday Night Live
Outstanding Guest Actress in a Drama Series
Alexis Bledel, The Handmaid's Tale
Outstanding Hairstyling for a Limited Series or Movie
Feud: Bette and Joan
Outstanding Hairstyling for a Single-Camera Series
Westworld
Outstanding Main Title Design
Stranger Things
Outstanding Makeup for a Limited Series or Movie (Non-Prosthetic)
Feud: Bette and Joan
Outstanding Makeup for a Single-Camera Series (Non-Prosthetic)
Westworld
Outstanding Multi-Camera Picture Editing for a Comedy Series
The Big Bang Theory
Outstanding Music Composition for a Limited Series, Movie or Special (Original Dramatic Score)
Fargo
Outstanding Music Composition for a Series (Original Dramatic Score)
House of Cards
Outstanding Music Supervision
Big Little Lies
Outstanding Original Interactive Program
The People's House – Inside the White House with Barack and Michelle Obama
Outstanding Original Main Title Theme Music
Stranger Things
Outstanding Period/Fantasy Costumes for a Series, Limited Series or Movie
The Crown
Outstanding Production Design for a Narrative Program (Half-Hour or Less)
Veep
Outstanding Production Design for a Narrative Contemporary or Fantasy Program (One Hour or More)
The Handmaid's Tale
Outstanding Production Design for a Narrative Period Program (One Hour or More)
The Crown
Outstanding Prosthetic Makeup for a Series, Limited Series, Movie or Special
American Horror Story: Roanoke
Outstanding Short Form Comedy or Drama Series
Los Pollos Hermanos Employee Training
Outstanding Single-Camera Picture Editing for a Comedy Series
Master of None
Outstanding Single-Camera Picture Editing for a Drama Series
Stranger Things ("Chapter One: The Vanishing of Will Byers")
Outstanding Single-Camera Picture Editing for a Limited Series or Movie
The Night Of
Outstanding Sound Editing for a Limited Series, Movie or Special
The Night Of
Outstanding Sound Editing for a Series
Stranger Things
Outstanding Sound Mixing for a Comedy or Drama Series (Half-Hour) and Animation
Mozart in the Jungle
Outstanding Sound Mixing for a Comedy or Drama Series (One Hour)
Westworld
Outstanding Sound Mixing for a Limited Series or Movie
The Night Of
Outstanding Special Visual Effects
Westworld
Outstanding Special Visual Effects in a Supporting Role
Gotham
Outstanding Stunt Coordination for a Comedy Series or Variety Program
Shameless
Outstanding Stunt Coordination for a Drama Series, Limited Series or Movie
Marvel's Luke Cage