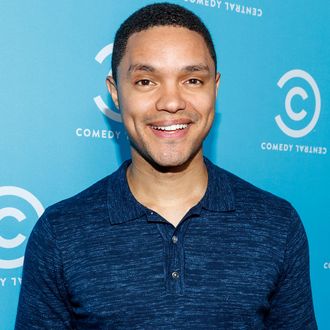 Trevor Noah could always have a future as a local-access TV psychic.
Photo: Rich Polk/Getty Images for Comedy Central
Trevor Noah was announced as Jon Stewart's replacement on The Daily Show in March 2015, but just a few months into his new job, he started to worry producers with predictions that seemed obviously untrue. Specifically, as early as autumn 2015, Noah told executive producer Steve Bodow that he thought Donald Trump might win the presidency. "I thought maybe we're in a little bit of trouble," Bodow told the crowd at a Tribeca TV Festival event according to Deadline, saying he second-guessed Noah's hiring. "The guy sees things that are obviously not true." To that Noah pointed out that "I didn't know he'd win. I just saw that he was winning." The ability to predict the election might seem like a lucky guess or a sign of predictive powers, but if it's the latter, you might be distressed by Noah's other prediction: That Trump's going to win again. "Don't be shocked if Donald Trump gets a second term," Noah said. "I'm not saying that will happen, but don't be shocked if it does." You've been warned.