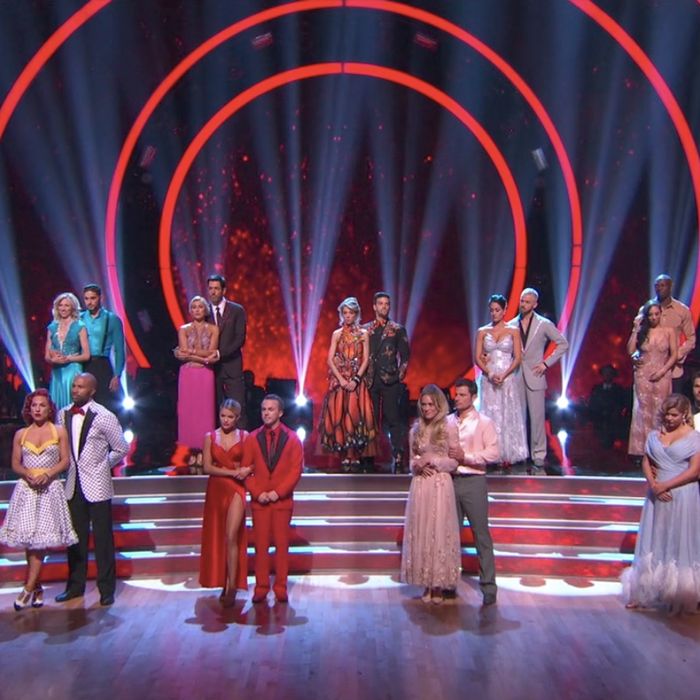 Well, here it is, my first Dancing With the Stars recap for Vulture. Tonight's show is actually episode number two, so allow me to give you a quick synopsis of last week's season premiere.
Host Tom Bergeron told a few jokes, co-host Erin Andrews tried to tell a few jokes, 13 celebrity contestants danced with varying degrees of success, judge Carrie Ann Inaba was predictably cute, judge Len Goodman was predictably cranky, and Bruno Tonioli was predictably whatever the hell you call what he is. I saw the Malcolm in the Middle kid for the first time in ten years. Singer Jordan Fisher and violinist Lindsey Stirling had the highest scores. I wanted to have a bowl of ice cream while watching, but I opted for the healthier bowl of raspberries instead. Okay, now you're caught up.
Now, on to tonight's show.
The theme is ballroom dancing, a style of dance I know very little about. That being said, I know very little about any style of dancing, except for the kind where you awkwardly shuffle back and forth while dancing with one of your uncles at a distant cousin's wedding.
First up is Debbie Gibson. Full disclosure: I became friendly with Debbie when we did a season of The Celebrity Apprentice together in 2012. But I will remain professional and not play favorites — unless she private-messages me and offers me some cash for a good review. Debbie is having a good performance, which could be a GREAT performance if I hear the message-alert bell on my phone in the next few minutes.
WWE superstar Nikki Bella is next. I don't watch professional wrestling because I'm neither a 12-year-old boy or a 27-year-old man living in his parents' basement, so I'm not familiar with Nikki. She did a waltz, and she's doing pretty good considering she probably rarely waltzes while grappling some 250-pound broad in a sweaty unitard.
Violinist Lindsey Stirling is up next, doing a quickstep. Lindsay plays the violin. That's how she got famous. So that explains why I had never heard of her — I don't listen to any music that doesn't have a cowbell somewhere in it. She's doing really well, and is very pretty and seems exceedingly sweet. Pretty and sweet. Hmm, no wonder I don't like her.
While discussing Lindsey's performance, judge Bruno Tonioli is becoming so animated I expect his handler to come onstage and shoot him with a tranquilizer dart. Unfortunately, that doesn't happen, but I can always dream.
Barbara Corcoran is next. Sixty-eight-year-old Barbara is the only contestant this season older than I am, so I have a special place for her in my postmenopausal heart. She's doing a tango, which, at her age, is probably the closest she'll get to having sex this year. I feel your pain, Barbara.
Former boy-band member Nick Lachey is the next to dance, doing a foxtrot to Barry Manilow's song "Mandy." (Just for the record, I don't think I've ever written a gayer sentence in my entire life.) Nick's dance partner, Peta, just had a wardrobe malfunction during their performance — and not even the good kind of malfunction like a nip slip or an unintended beav shot. She got her high heel caught in her dress, so they didn't do that great. But who cares? He's a good-looking guy in tight pants. He could stand onstage doing squat thrusts and I'd give him a ten. But I digress.
On the bright side for Nick, his wife — fellow contestant Vanessa Lachey — said she loved seeing her husband with Peta, so Nick might be in for a hot threesome later tonight.
Drew Scott of Property Brothers is taking the stage, doing a quickstep. I can't really comment about his performance, because the whole time I'm thinking how much he looks like Adam Carolla. But, apparently, the judges like Adam's — I mean Drew's — quickstep, because he gets a 20, which is bad for an IQ score, but pretty good for a DWTS score.
Now comes Vanessa Lachey. Now, I think she and Nick are taking a big chance competing against each other. If one of them wins, the other is going to have to look at that huge goddamned disco-ball trophy sitting on their living-room coffee table for years and years. That's the kind of stuff that breaks up a marriage. That, and thinking your wife was serious about having a ménage à trois with Peta. Note to Nick: Cancel that hotel room!
Ahem, anyway … Vanessa's foxtrot sends Bruno into a frenzy and I think he just nearly swallowed his tongue. Still, no tranquilizer dart.
Here comes Frankie Muniz. Frankie apparently broke his back a while ago, so it's pretty brave that he's fighting the pain of that injury to appear on DWTS. He's not only confronting that pain, he's also combating the agony of knowing his Malcolm in the Middle co-star Bryan Cranston went on to win no less than three Emmys for Breaking Bad while he's here on DWTS. But Frankie's determination earns him a 23, enough to make him Malcolm Near the Top. (Warning to readers: This is a good joke and I will probably repurpose it again in a later recap.)
Former NFL superstar Terrell Owens is next, and he's performing the dance with his shirt wide open, exposing his six-pack abs. What I'm trying to say is, Terrell Owens must win this competition. Seriously, he must be on every episode this season. And he must appear with his shirt off — or more clothes off, if possible.
Here comes Pretty Little Liars actress Sasha Pieterse doing a Viennese waltz. The announcement reminds me that I'm hungry so I go into the kitchen and have a couple of Vienna sausages. I assume Sasha did fine.
Next up, ESPN host Victoria Arlen, who was paralyzed by a serious illness for ten years and, through intense work and physical therapy, is now completely mobile. So screw you and your little broken back, Frankie. Interesting side note: Because of her condition, Victoria has no feeling from the waist down. So essentially, she's a 22-year-old girl stuck in a 45-year-old married woman's body.
NBA star Derek Fisher is now doing a foxtrot, but all I'm thinking is, "He's kind of short for a basketball player." This may be one of the reasons I've never been asked to be a judge on the show.
Jordan Fisher is next. He is very handsome and was in my second-favorite play (after Stuffed), Hamilton, so I'm rooting for him. Unfortunately, Jordan does NOT remove his shirt while dancing, so I'm back on the Terrell bandwagon.
Bruno is having yet another semi-psychotic episode during his explanation. Still no dart.
ELIMINATION TIME! It's either Terrell or Barbara. I will literally throw this empty Vienna-sausage can through my television screen if Terrell is voted off.
Whew! Terrell is safe and all is right with the world. I'll be watching tomorrow, and you'll be reading what I wrote about it.
Lisa Lampanelli's new play, Stuffed, begins performances on October 5 at the Westside Theatre. For tickets and more information, visit stuffedplay.com.