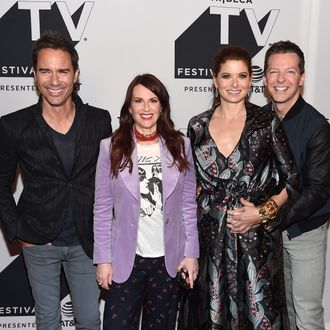 Eric McCormack, Megan Mullally, Debra Messing, and Sean Hayes at the Tribeca TV Festival.
Photo: Nicholas Hunt/Nicholas Hunt/Getty Images for Tribeca TV Festival
Ahead of the forthcoming Will & Grace revival, out this week, Debra Messing, Eric McCormack, Sean Hayes, and Megan Mullally joined co-creators Max Mutchnick and David Kohan in conversation at the inaugural Tribeca TV Festival on Saturday night to talk about what it was like to come back and how their characters have evolved. "The only thing that I asked for was that Grace be a feminist," said Messing. But other characters — *cough* Karen *cough* — won't be as woke. When Mullally was asked if she wanted to change anything about her character, she answered simply: "No."
For many of the actors, getting back into character took some time. McCormack and Messing have kept in touch since the show ended in 2006, so that helped. "We've maintained a sort of ongoing conversation that I think if we hadn't this would have been a harder sandbox to jump back into," McCormack said. "It's been 11 years, and I think that I was a little tentative," said Messing. "Eventually by the third episode I just sort of relaxed, and I was like, Okay, she's back." Hayes felt the same about returning to Jack. "There was so much response to the election video, and there's so much now more than ever," said Hayes. "But, you know, you don't think about it when you go into work … You can only do the job you know how to do, and then it's not up to you." Describing the vibe on set, McCormack said, "We're 11 years older, but on set we're 11 years old. We are four idiotic children." "Really naughty," Messing added. Ahead: eight other things we learned about the reboot at the Tribeca TV panel.
Karen is friends with Donald and Melania Trump. "She's down at Mar-a-Lago at lot with Donnie and Melania," said Mullally. "I do love that line in the first episode, that Melania called me after one of her night terrors."
Grace and Messing both went through a divorce. "Certainly, I feel Grace in my body differently because I'm 11 years older," said Messing. "Grace went through a divorce, I went through a divorce."
The show can do more around the characters' sexuality this time around. McCormack said he doesn't think the show got enough credit for Will's sexual escapades back then. "There's lots of episodes where I dated, and not just dated, I made out with Taye Diggs," said McCormack. "People are always like, Oh, Will never had any sex. Will had lots of sex off-camera. It's a sitcom. I'm not going to take my dick out. But in episode two, I take my dick out. It's a whole new world."
Messing added that the show will continue to reflect society as it is. "Back then, LGB, we stopped at B. And now 11 years later, the conversation has expanded. There's T, A, I, and gender fluidity and there are all these things that are now finally being celebrated in our culture," said Messing. "The thing we all committed to one another was that we're going to be the show that we always were. We're going to talk about what's happening now." Mullally agreed that there's more leeway in what the show can cover. "When Will & Grace was on the air, at least for the first several seasons, there were no other shows that had gay characters. We were standing alone in that regard," said Mullally. "Now, if you don't have at least four gay characters, people are like, What's this piece of shit?"
Expect guest appearances from Harry Connick Jr. and Bobby Cannavale. "We're all going to date cool guest stars," said McCormack. "That was always the fun of the show is who can we get that will bring out new things in these characters." Shelley Morrison, who played Rosario, will not be appearing. "She's retired from the biz," said Mullally. There will also be tributes to Debbie Reynolds and Sydney Pollack.
McCormack thinks he looks too tan onscreen. "I was in Vancouver all summer. I'm George Hamilton up there."
Jack has trademarked a new acting technique called "Jack-ting." Hayes will be sharing acting tips in a web-extra series named "Just the Tips."
Will and Grace will go into business together in the new series. "Grace Adler Designs has become quite a thing. And Will's job as a lawyer, he's doing as well as he can possibly do," said McCormack. "He wakes up one day and realizes that I spent my [time] around lawyers and clients, and I want to do something that I love with someone I love. So Will and Grace go into business together. I'm not cutting cloth or anything. I'm still a lawyer, but I'm Grace's lawyer. I think that's going to create a lot of hilarity."
The show is filmed with a live audience, so there's no laugh track.